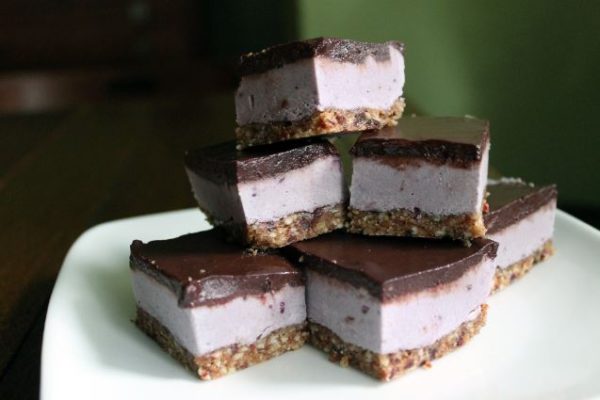 Who says you have to give up cheesecake when you're vegan? You won't find anyone at VO saying that—that's for sure!
Thank you to Renee Press with Fire and Earth Kitchen, who has provided this delicious recipe!
Berry Chocolate Cheesecake Squares
Yields about 12 cheesecake squares.
Ingredients
Crust
¾ cup raw almonds
¾ cup raw walnuts
1 teaspoon sea salt
½ teaspoon cinnamon
½ cup pitted Medjool dates, coarsely chopped
1 tablespoon agave or maple syrup
Filling
1 ½ cup raw cashews, soaked overnight in water
¼ teaspoon sea salt
¼ cup agave or maple syrup
1 tablespoon lemon juice
1 teaspoon vanilla
½ cup melted coconut oil
½ cup berries of choice (blackberries, blueberries, or strawberries)
Chocolate
¾ cup dark chocolate chips
⅛ cup almond milk
Directions
To Prepare the Crust

: In a food processor, process the almonds, walnuts, sea salt, and cinnamon until a fine crumb is achieved. Add the pitted, coarsely chopped dates and the agave or maple syrup and process again until it comes together and becomes sticky. If you pinch the nut mixture it should hold together.
Place parchment paper or plastic wrap into an 8″ x 8″ square baking dish, letting it hang over the sides a few inches so you can lift it out later. Press nut mixture into the bottom in an even layer. Put it in the freezer to chill.

To Prepare the Chocolate and the Filling

: Put chocolate chips in a small heat safe bowl. In a small saucepan heat almond milk and pour over chocolate, stirring to melt. Will take 30 seconds to 1 minute. Set aside. In a blender, put in all filling ingredients. Blend 1-3 minutes until completely creamy, scraping down the sides as needed. Add a little water if needed to make it totally smooth.
Pour filling on top of nut mixture, and spread chocolate on top of that. Cover whole dish in parchment/plastic wrap and place in the freezer for at least one hour, but up to overnight. To serve, remove from freezer and lift the entire dessert out onto a cutting board. Remove parchment/plastic wrap from the bottom and cut into cubes. Let warm a little bit at room temperature. Serve and enjoy!