By Lisa Rimmert, Director of Development
I recently provided the food for a civic engagement event in Denver, called, "March! Write! Unite!"
Over 150 people came together and enjoyed delicious vegan food while writing to their elected officials about a wide range of political issues.
With help from a few friends, I brought vegan donuts, veggies and dip, and more—but the biggest hit were the Curried Chicken Salad Wraps. Thank goodness my colleague, Alex Bury, is also a professional chef! Thank you, Alex, for the recipe!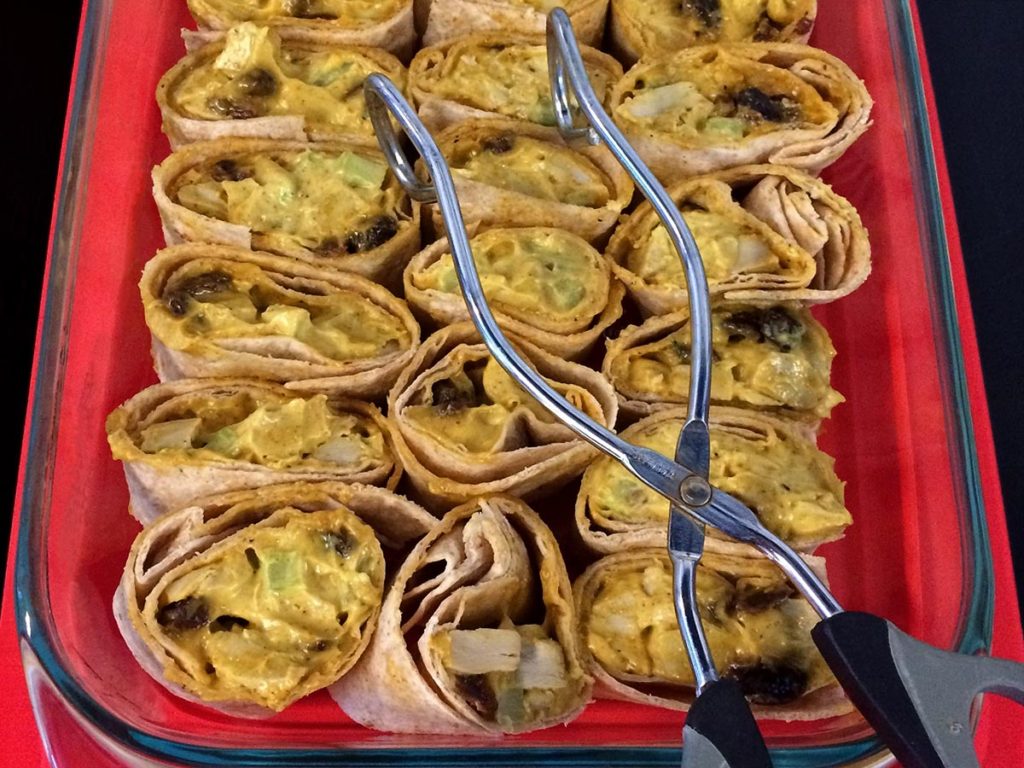 Curried Chicken Salad Wraps
These wraps are super simple to make, and you can prepare them the day before an event and refrigerate. Oh, and they're delicious!
Ingredients
4 tablespoons mild yellow curry powder
1 cups Follow Your Heart Vegenaise
1 package vegan chicken, diced. These are some of our favorites: Tofurky Chick'n, Gardein Chick'n Strips (must be lightly cooked first), or Upton's Naturals Chick Seitan
2 stalks celery, washed and diced small (optional—you can skip the celery if you're in a hurry!)
½ yellow onion, finely diced (optional—also OK to skip)
½ cup golden raisins
1 teaspoon salt
½ teaspoon ground black pepper
Red chili flakes (optional—if you like spicy food)
1 package of your favorite wraps (recommended: Trader Joe's Lavash Bread, flour tortillas, or big romaine lettuce leaves)
Directions
Mix the curry powder and Vegenaise together in a large mixing bowl.
Add the rest of the ingredients—except for the wraps—to make the curry salad. Mix well and taste. Add more salt if desired, and/or red chili flakes if you like spicy food.
Place the tortilla or wrap on a clean surface. Add ½ cup curry salad. Roll it up like a burrito.
This will make 4-6 wraps—depending on how full you make them—and they keep well overnight in the fridge. It's also a great party appetizer! Serve in a large bowl surrounded by crackers.
Recipe Tip
Try adding sliced and toasted almonds, chopped fresh cilantro, and/or lime wedges to kick up the spice and texture.
Note: Beyond Meat has the same amount of protein as chicken, but zero cholesterol and zero saturated fat. Vegenaise tastes like mayonnaise but doesn't have any cholesterol. If you serve a dollop of this curry salad on top of mixed greens, or in a sandwich stuffed with other fresh veggies, you'll have a lunch that is fast, super healthy, and super good for you!
Beyond Meat can be found in Raley's, Safeway, Target, Whole Foods, and local food co-op stores. Look in the freezer section.
Vegenaise can be found in Albertsons, Safeway, Whole Foods, and local food co-op stores. It will likely be on the shelves near the mayonnaise with animal products in it.