By Lori Stultz, Communications Manager
Just in case you didn't notice the red and pink balloons suffocating the candy aisle in the grocery stores, or the TV and radio commercials talking about the awesome sales for (fill in the blank for any business imaginable), it's Valentine's Day!
Thinking about this holiday in the context of veganism and helping animals, I decided to chat with a few people—couples and individuals—to hear their personal experiences of navigating romantic relationships as vegans. These stories vary widely, and my hope is that the overall takeaway from this post is the importance of openness, patience, and balance.
First, we'll meet Linda Connell and her husband Dan. Linda is a new mentor for Vegan Outreach's Vegan Mentor Program who, as a retiree, is doing a wonderful job spreading the word about helping animals.
Second, we'll meet Vegan Outreach's good friends, Andrew Zollman and his husband Pooran Panwar. And we'll round it out with a couple of interviews, each featuring two wonderful members of the Vegan Outreach team—Outreach Coordinator Cristina Myers and her partner Haley Arlene, and Campaigns Manager Taylor Radig and her partner Ezra Michaels.
Let's get started!
By Linda Connell, Guest Contributor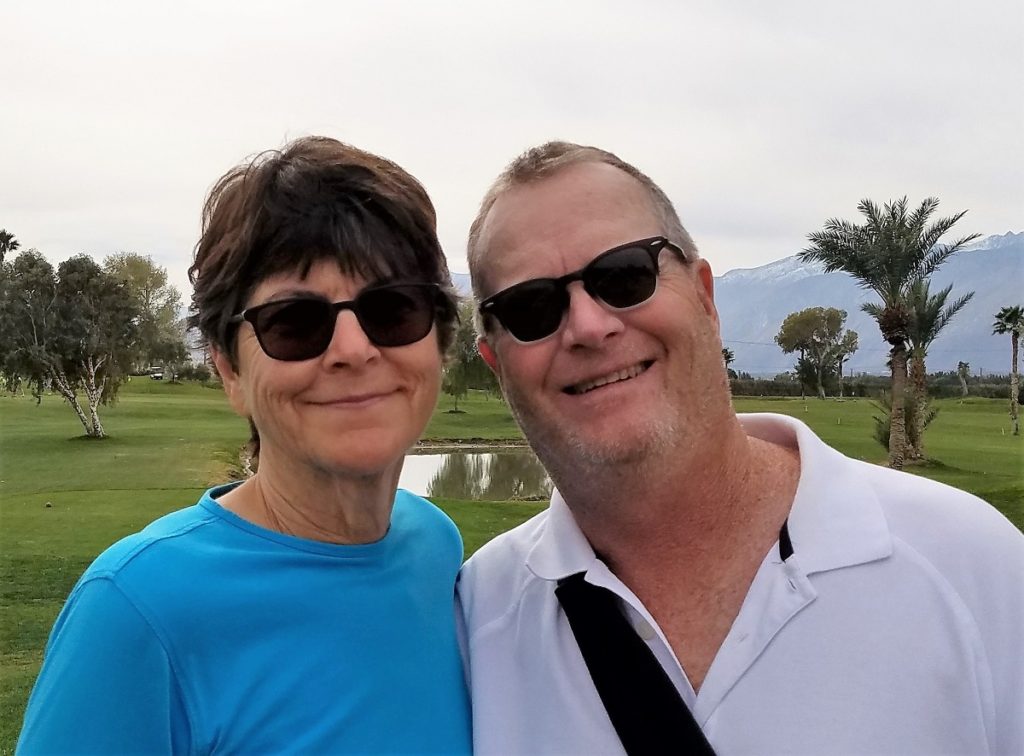 I became vegan because of two dogs who accidentally and magically found their way into my life. My love for them led me to question how I could eat morally equivalent animals. Over a year ago, after watching Mercy for Animals' YouTube videos and Earthlings, I became vegan and have never looked back. And all because I had a couple of dogs.
What was actually a rather lengthy journey for me seemed like an overnight transformation to my half-Italian, meat-and-potato-loving husband of 27 years. One day Dan went to bed with an omnivore and woke up the following day next to a vegan. You can imagine his surprise! Dan does share a deep love of our dogs and for animals in general, and he was sympathetic from the start. In reality, it's much more difficult for some people to transition to a vegan lifestyle than others. And people need to change at their own speed.
Our diet changes started immediately, and I focused not only on plant foods but on healthy options. I created plant-based meals without any processed foods and with lots of healthy vegetables. Early on, there were a lot of "new food" failures.
Looking back, our diet changes were too much and too fast. My husband and I are now a little kinder on ourselves, recognizing that we still sometimes need old familiar comfort food. So now we eat more meat substitutes, like Gardein Meatless Meatballs and pasta, Field Roast Frankfurters, and blueberry pancakes. And we've both compromised. Dan still uses parmesan cheese, egg-based mayo, and butter, but we don't keep meat, milk, or eggs in the house.
We compromise for family visits as well. I'll provide vegan food, and others can buy or bring their own non-vegan food. I've reached a point where I doubt I'll ever agree to prepare an animal product for family or friends again. Eating out is Dan's break from our vegan fare, but we always choose places with vegan options other than fries for me.
We have found that a vegan lifestyle can hold challenges beyond diet. Having become more comfortable with our diet changes, we have more recently taken on issues of tradition. Thanksgiving, for example. This last year, we offered up a vegan Thanksgiving. We carefully taste-tested every dish in advance. My husband is an excellent judge of vegan food for non-vegans! While we did have some family members agree to attend, it was disappointing that all of them found it necessary to have their own turkey dinner separately.
Another holiday tradition is grilling, which continues to be a man's sport in our family. As recent retirees traveling in a fifth wheel RV trailer, we often grilled dinner outside surrounded by forest trees or crashing ocean waves. Dan still misses his grilled meat, but we have not given up the grill. Instead, we have replaced meat with grilled fruits, vegetables, and vegan meats. Who knew grilled eggplant was so good?
And very recently our travels led us to the first Whole Foods Market we'd ever been inside. We found Beyond Meat's Beyond Burger. It grilled up nicely, and Dan loved it.
Another tradition I previously shared with my husband is fishing. Both of us grew up fishing, and we eventually bought a boat and spent many hours together on the water with each other and our dogs. I no longer fish, but he still does. I occasionally go in the boat just to spend time with him and the dogs. Even this creates a moral discontinuity for me—one that I still need to internally resolve. Change takes time.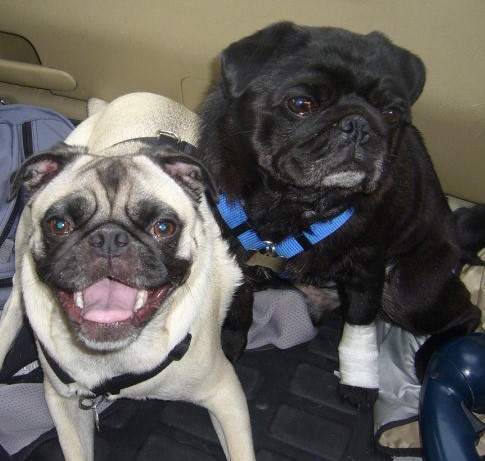 I recognize that many vegans feel they could not ethically live with a non-vegan spouse or partner. But I was not vegan when I married my husband. For me, marriage vows are also morally relevant—let alone the love we have developed during decades of sharing our lives together. Instead, we have compromised. And this is a win for animals, for my husband, and for myself. He eats way less meat, he eats healthier, and he supports me and shares in my vegan journey.
Plus, he is one more person spreading the word. He talks to his golfing buddies about the vegan lifestyle. And while this is sometimes humorous banter, it does expose a large number of non-vegans to the concept of a vegan diet. I took a homemade vegan cake to the golf clubhouse on his birthday, and it was completely consumed!
If your social life includes only other vegans, you greatly reduce your potential impact, and in some locations, you might be a lonely person. When our lives and activities include non-vegan spouses, partners, family, and friends, we have a much greater chance of sharing the joys of a vegan lifestyle.
By Andrew Zollman, Guest Contributor
I was raised in Alaska, and I feel that being immersed in nature and wilderness fostered a respect and love of animals and ecology—eventually helping with my interest in veganism. After moving to the Sacramento, CA area in the mid-80s, I stopped eating beef and pork, knowing that it was cruel and unhealthy. A few years later, I met a vegetarian who introduced me to more ethnically diverse foods and inspired me to experiment more with cooking and to become vegetarian.
After moving to the San Francisco Bay Area in the 90s, I met a vegan who inspired me to also become vegan. That initially lasted only a couple of years, and I fell back into eating cheese occasionally. About 11 years ago, I made friends with another long-time vegan, whose support helped me to again become vegan. I started participating in animal activism, joining various protests, expanding a campaign against Gay Rodeo—that other gay activists had previously started—and launching a successful campaign against sales of live chickens and game birds that were being sold at nearby farmers' markets. For more information about the campaigns visit the LGBT Compassion website.
In 2014, I met Pooran and he was immediately interested in learning more about veganism. He was not vegetarian himself but found that the vegan lifestyle aligned with his own values. He immediately began sharing and cooking vegan meals with me. He's also been very supportive of my activism, joining in protests and leafleting activities, and teaching his friends and family about veganism, animal advocacy, and environmentalism.
Most of the other people I've dated were happy to share vegan food and learn about the benefits of veganism—and have made lasting changes to their diets and lifestyles—but having a vegan life partner who completely shares and understands my values and point of view is wonderful. Although there can be many benefits to being in a relationship with a non-vegan, I don't think anyone should ever compromise their values just to avoid being alone.
Pooran and I married in April 2015. We adopted a cat, Shanti, who was abandoned and had serious health and emotional problems. She is happy and healthy now! We also have six rescued pigeons from Palomacy Pigeon Rescue, and now they live in an outdoor aviary.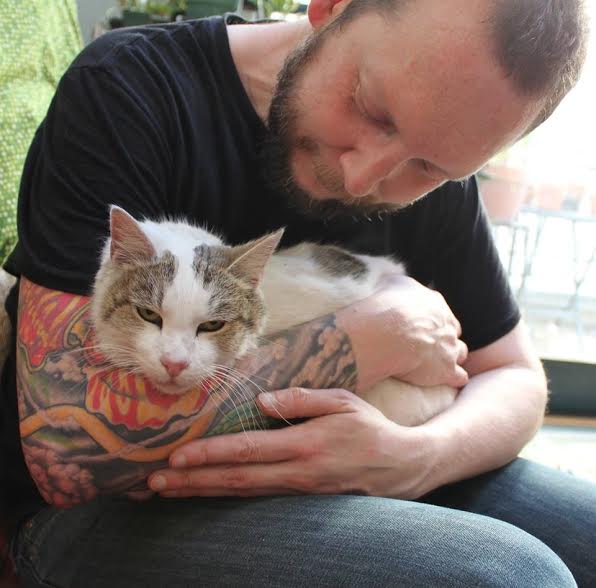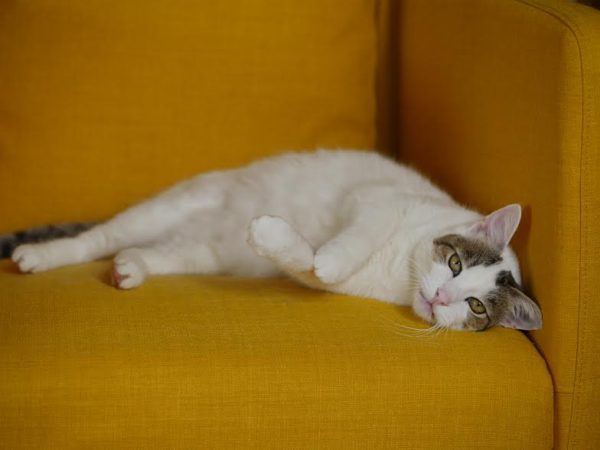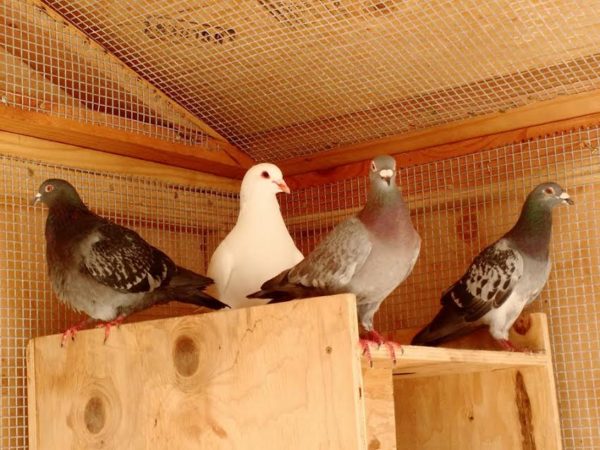 Pooran and I like to cook, and we enjoy a wide variety of foods and cuisines. Pooran tends to prefer simple, healthy Indian-style dishes. He bases his meals mostly on vegetables, legumes, and rice, and he improvises based on what he learned as a child in India watching his mother cook. He also likes simple and healthy Asian-style dishes, which I cook.
Breakfast is usually simple oatmeal or cereal, and sometimes scrambled "eggs" with Follow Your Heart's VeganEgg. A few of our other quick and healthy go-to meals are soups, bowls of seasoned quinoa with kale and assorted vegetables, and whole-grain pasta tossed with garlic, olive oil, artichoke hearts, sun-dried tomatoes, olives, and capers. We also make smoothies, muffins, brownies, tiramisu, and cashew-based cheesecakes.
Being from a white, middle-America background, I often enjoy veganized "comfort foods," made with vegan meats and cheeses. I make Italian-style dishes, like lasagna and pizza, and pies. Pooran never developed a taste for these, though he sometimes eats them to humor me.
Our favorite Bay Area restaurants are Sanctuary Bistro, Cha-Ya, Golden Era, and Veggie Grill. Pooran is currently living in Stockholm, Sweden for work, and last August we explored most of the vegan restaurants there together—Hermans Vegetarian Restaurant and Garden Café were amazing! We also recently explored most of the vegan restaurants in Los Angeles, CA, and we plan to explore more places and restaurants soon.
Pooran and I enjoy gardening, and we're working toward growing more of our own food since we moved into a house with gardening space. We like to visit and support animal sanctuaries, too—we've been to PreetiRang Sanctuary and Animal Place, and we've visited Palomacy's Pigeon Rescue at Ploughshares Nursery.
Interview with Outreach Coordinator Cristina Myers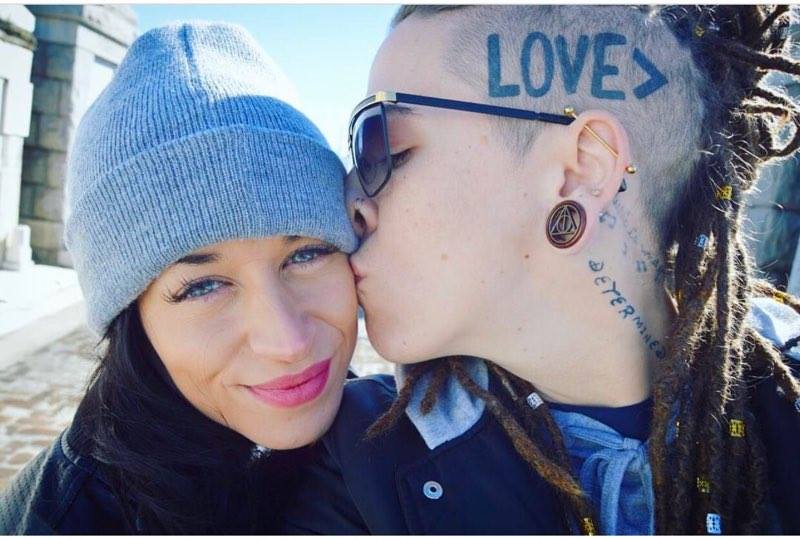 Lori Stultz: When and how did you meet, and how long have you been together?
Cristina Myers: Haley and I met this past Christmas Day at a volunteer event entertaining foster kids. We were so nervous when we saw each other that neither one of us knew how to start up a conversation, so we let the people around us take over. Hours later we were wrapping up the event and we exchanged Instagram names before she left. Haley immediately sent me a message and I had a huge stupid smile on my face on the drive home. We texted all day and she asked if I wanted to go to the movies that night. Of course, I said yes.
When she was dropping me off at home after the movie, I didn't want her to go yet. I asked her if she wanted to talk on the dock on the water canal I live on—we talked until 3 am. When we finally hugged goodbye, she stole a kiss from me and drove off.
We pretty much have been together every day since then. We've been together a month now. You caught us in the beginning of something amazing.
Lori: Were you both vegan when you started dating? If not, what sparked the shift?
Cristina: I had already been vegan for 5 years, and I initially made the change for health reasons. It was later I made the connection with animals.
When I met Haley, she had been a vegetarian on and off—she lacked the information to keep going with it. But I was happy to help! She's been vegan ever since we've met.
Lori: What forms of activism do you do together?
Cristina: Since we've been together, Haley has joined me protesting in front of the Miami Seaquarium—informing visitors about the animal cruelty via leafleting and signs. We've also hosted several events, both in and out of the state of Florida, to help feed people who are homeless.
Lori: Do you two cook together frequently? What are your favorite things to cook?
Cristina: We cook frequently together and it's mostly Haley taking over the kitchen. She's hit the ground running as a vegan chef, and our favorite meal has to be the tacos we fix on Taco Tuesday. We like to invite friends—both vegan and omnivore—to join. Haley's tacos are always a success.
Lori: What's your favorite restaurant to go together?
Cristina: Our favorite restaurant without a doubt is Screaming Carrots in Hallandale Beach, FL.
Lori: Do you plan to celebrate Valentine's Day? If so, what are your plans to celebrate?
Cristina: We don't plan on celebrating Valentine's Day just because it's felt like it's been Valentine's Day for us since day one.
Lori: What would your advice be to an omnivore/vegan couple that doesn't see eye to eye when it comes to living a vegan lifestyle?
Cristina: Everyone has a different story, a different message in life. We're no one to tell a couple what they should do besides to treat each other with respect and time will sort everything out. Every vegan knows how hard it is to be around people you love and they just don't or won't understand the lifestyle, but a quote that's always helped me is…
Compassion hurts. When you feel connected to everything, you also feel responsible for everything. You can not turn away. Your destiny is bound to the destinies of others. You must either learn to carry the Universe or be crushed by it. You must grow strong enough to love the world, yet empty enough to sit down at the same table with its worst horrors. -Andrew Boyd
Interview with Campaigns Manager Taylor Radig and partner Ezra Michaels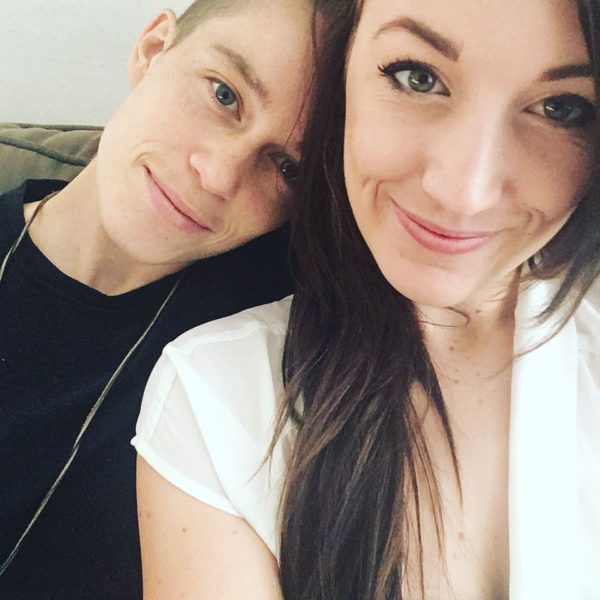 Lori Stultz: When and how did you meet, and how long have you been together?
Ezra Michaels: We met at a mutual friend's vegan Thanksgiving dinner in 2015. I had just gotten stuck in Denver, CO after my car broke down while attempting to dirtbag rock climb the West (that is, live on the road doing full-time climbing). I most definitely spent the entire dinner admiring and appreciating the kind, gentle, beautiful human that is Taylor Radig and by the end of the meal had determined that I really wanted to get to know her.
Fortunately for me, she secured that opportunity by inviting me to stay with her and her roommates for a couple weeks until I got my car fixed. There was certainly a lot of attraction and growing feelings on both sides as we spent more and more time together.
However, given each of our life circumstances at the time, we attempted for over 4 months to remain "just friends." One day, Taylor playfully tackled me to tell me she wanted to be together. Of course, at this point, I gladfully decided to stay in Denver. That was on April 10, 2016—so almost a year!
Lori: Were you both vegan when you started dating? If not, what sparked the shift?
Taylor Radig: We were! Ezra had already been vegan for almost two years, and I'd been vegan for 9 years. Not everyone at that vegan Thanksgiving dinner was vegan, and I distinctly remember staring at Ezra from across the table thinking to myself, "Gosh, I hope this cute person is vegan." Like many single vegans chatting with others, when I found out they were vegan I definitely screamed a little on the inside.
*Ezra is gender queer and uses gender neutral pronouns (they/them).
Lori: What forms of activism do you do together?
Taylor: Ezra and I love attending benefits for animal protection groups together, but most of the activism we do together is centered around racial justice—stopping police brutality—and supporting the queer community.
We've been involved with our local chapter of SURJ—Showing Up for Racial Justice—a national network organizing white folks and other privileged people to speak out about racial justice. We also love SOL—Survivors Organizing for Liberation—a local nonprofit that works to create a safer world for the queer community.
Using our privilege to advocate for marginalized communities is something we both want to center our lives around and we're constantly pushing one another to live into that.
Lori: Do you two cook together frequently? What are your favorite things to cook?
Taylor: We actually don't cook together very often. Ezra and I very quickly learned that our eating habits couldn't be more different. I mostly eat salad, anything with beans, and don't use oil when I cook. Ezra is much more physically active than I am and eats a lot of pasta, vegan bacon, potatoes, and waffles (Ezra is laughing while I write this).
However, we both have a mutual love for tacos! Typically, we'll make them with jackfruit or Tofurky's Ground Beef vegan meat. We top them off with onion, cilantro, guacamole, and a heavy squeeze of lime!
Ezra: Yeah, we don't really cook together on a daily basis. Sometimes we'll start cooking around the same time, then two minutes later Taylor is finished cooking and already halfway through eating whatever she's made while I've barely begun.
On occasion, we have some fun date nights attempting to make vegan hard cheeses, seitan, and recently cauliflower wings!
Lori: What's your favorite restaurant to go together?
Taylor: We absolutely love WaterCourse Foods and Handy Diner! For the most part, Ezra and I take pride in cooking mostly at home, but we also love to support local vegan restaurants! We're both obsessed with WaterCourse's fried buffalo cauliflower wings with ranch—I'm drooling just thinking about them!
Our favorite breakfast burrito is from Handy Diner, a small diner we love for their food and dedication to keeping vegan food affordable.
Lori: What's your favorite activity to do together?
Ezra: If we could spend time doing any one thing other than activism it would be scuba diving! Scuba diving allows you to see a part of the world rarely seen. We just got back from diving in Belize—one of the best places to dive in the world—and we were able to explore the Belizean barrier reef. One of our favorite aspects of diving is all of the wildlife you get to see! We had the chance to swim alongside curious sharks, huge schools of colorful fish, stingrays, and turtles!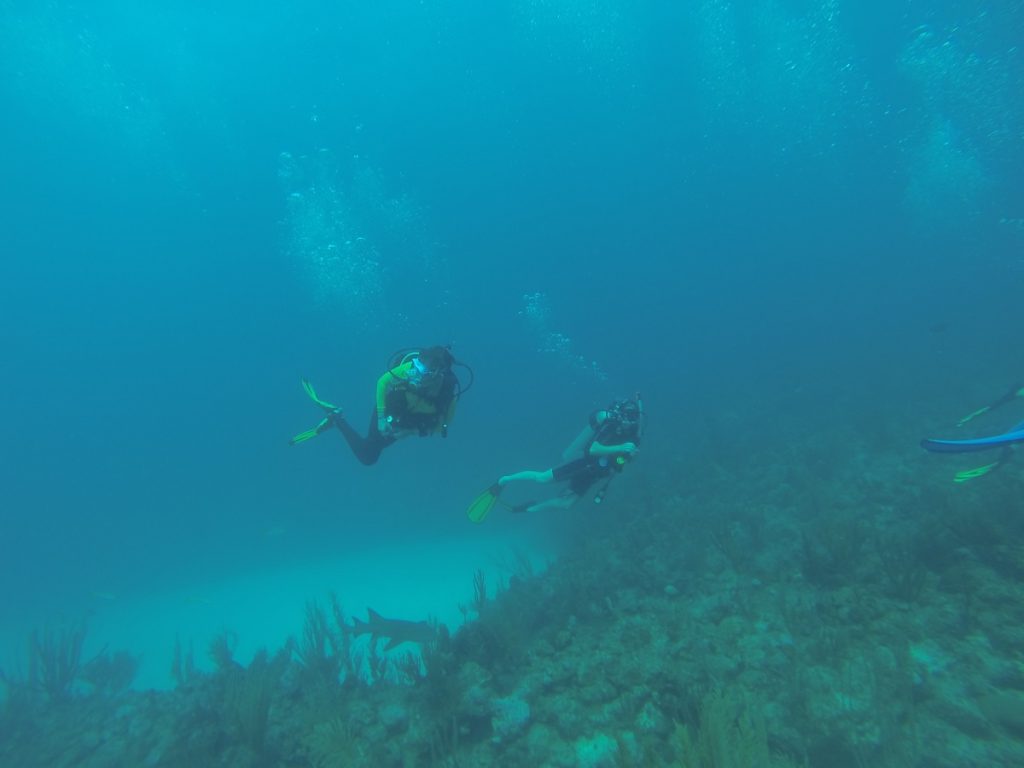 Lori: Do you plan to celebrate Valentine's Day? If so, what are your plans to celebrate?
Taylor: WaterCourse is offering a special coursed Valentine's Day dinner we're hoping to go to! Part of what's so great about dating Ezra is that we both see relationships as a beautiful opportunity for growth. We've planned to spend the rest of the night playing silly couple questionnaire games that help us not only learn more about one another but love each other better.
If you've never done this with your partner before, I highly recommend this one!
Lori: What would your advice be to an omnivore/vegan couple that doesn't see eye to eye when it comes to living a vegan lifestyle?
Taylor: I think that there are countless reasons for falling in love with someone and for me, being vegan is just one of those reasons. My advice for an omni/vegan couple would be to ensure that you each agree on healthy and respectful boundaries in relation to your diets. In my experience, the people I've dated who weren't vegan always chose to eat vegetarian—and mostly vegan—when we ate together. Suddenly their diets changed to being about 80% vegan and it showed them how delicious eating vegan really is. Although I don't advocate for "vegan missionary dating," I will say that eating mostly vegan is better than nothing, especially for the animals.