By Lori Stultz, Communications Manager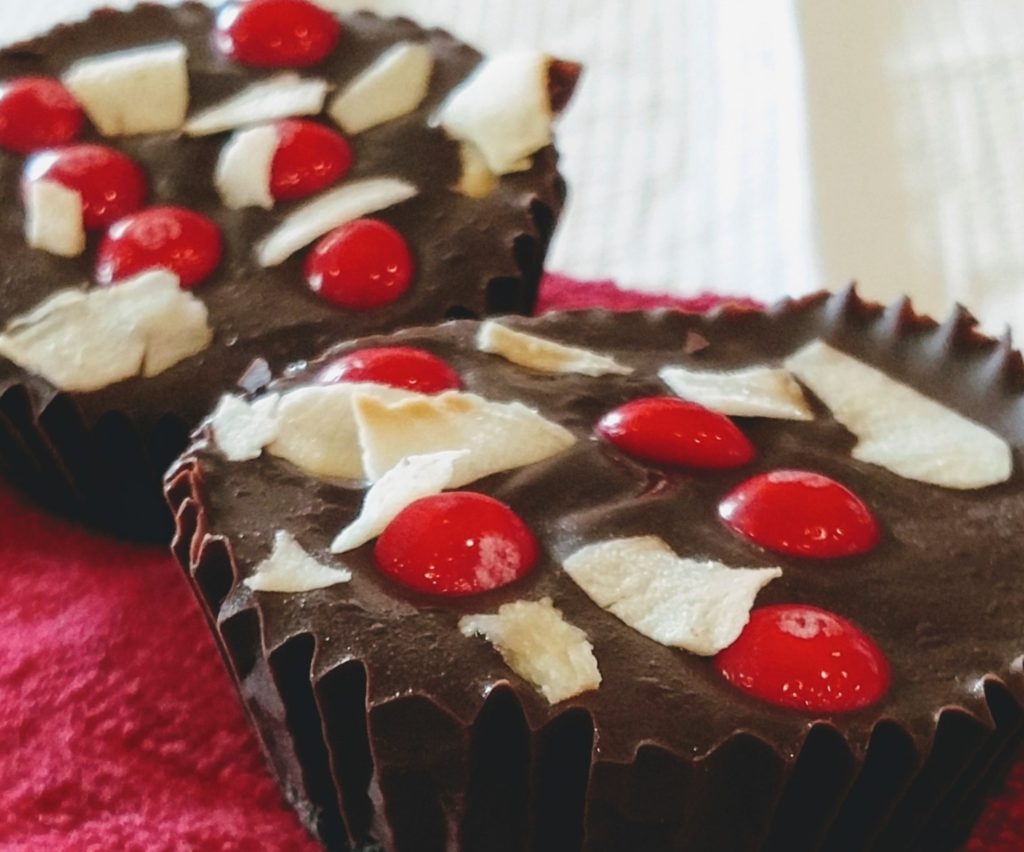 Whether you're celebrating Valentine's Day with that special someone, a group of friends, your dog or cat, or completely alone—no judgment, seriously—this delicious treat will certainly make your day a little sweeter.
This is my own version of these No Bake Mini Chocolate Raspberry Pies. I used a few "accidentally vegan" favs—Oreos and Skittles—and added a touch of coconut.
Intrigued? Good! You won't be disappointed.
Frozen Chocolate Pies
Yields 6 pies.
Ingredients
12 Oreo Cookies
2-2 ½ tablespoons coconut oil
1 package dairy-free semi-sweet chocolate chips (I used Enjoy Life)
1 package of Skittles (red Skittles picked out and set aside)
¼ cup shredded coconut
Directions
Place the Oreos in a gallon-sized Ziploc bag and crunch the cookies (using your hands or fists) into small crumbs.
Measure the coconut oil into a small pan and place over low heat until the oil is melted.
Pour the melted coconut oil into the Ziploc bag and shake the bag until all the crumbs are covered in oil.
Place 6 muffin tin liners in a muffin tin and spoon the crumb mixture evenly into each lined cup. Pack the crumb mixture down with a spoon—make sure it's packed down nice and tight!
Pour the package of chocolate chips into a small pan and place over low heat. Stir continuously until the chocolate is completely melted.
Divide and pour the melted chocolate over the packed crumb mixture into each lined cup.
Sprinkle the Skittles and coconut flakes as toppings as desired.
Place in the freezer for 4-5 hours. Enjoy!
Recipe Tips/Variations
If the chocolate does not melt into a smooth consistency, add a tablespoon or two of oil and stir.
The candy and coconut are by no means required—feel free to add whatever toppings you want to make the chocolate pies festive and fun!