By Lisa Rimmert, VO Director of Development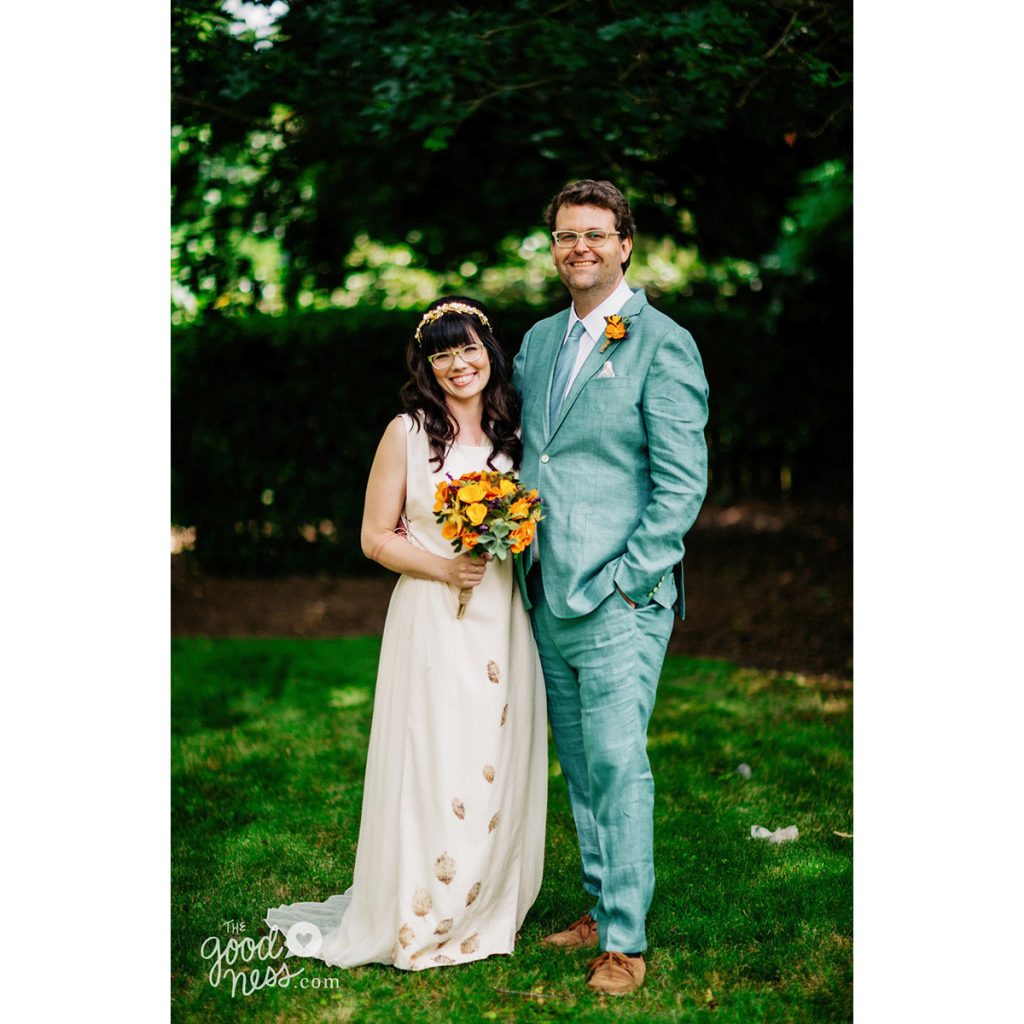 I don't consider myself a sentimental person, but boy do I love a good wedding. What's even better? A vegan wedding!
On May 21, 2016, VO donor and volunteer, Corinna Fish, celebrated a vegan and green wedding with her now-husband Chad Stockdale in Sacramento, CA. We asked Corinna to tell us about it, and I think you'll love how they incorporated VO into their special day. We certainly did!
Lisa Rimmert: Tell us about yourself, Corinna.
Corinna Fish: I'm a proposal writer for the University of California – Davis. When my hands aren't typing, they're pressed against my yoga mat or crafting—I love crochet, embroidery, and paper crafts.
Lisa: How did you become involved in animal protection?
Corinna: My best friend became vegan when we were teenagers, and in my early twenties I had a vegan roommate who was an incredible chef and baker. I didn't know how to cook at all, so I lucked out in that she helped me with my first vegan cooking attempts, and everything she made turned out delicious. She also had a lot of animal rights literature, including Vegan Outreach booklets, that influenced me.
To be honest I'm only vegan when it comes to grocery shopping and cooking at home—I'm still flexitarian at family holiday gatherings and when I'm dining out with friends or coworkers. But part of the reason I support VO is because its work made me realize I can still help animals even if I'm not a perfect vegan. And staying involved with VO inspires me to keep striving toward a completely cruelty-free diet.
Lisa: How did you first get involved with VO and what inspires you to donate and volunteer?
Corinna: In my early twenties I struggled with wanting to be 100% vegan and activism burnout. Around 2004 I read most of what VO had published up to that point and the essays were a huge influence on me, especially the ones about working toward a vegan world instead of a vegan club and making the movement as effective as possible. I appreciated the transparency and solid analysis behind choosing to focus on leafleting, and I really trust that my donation dollars are having the maximum impact on ending animal suffering.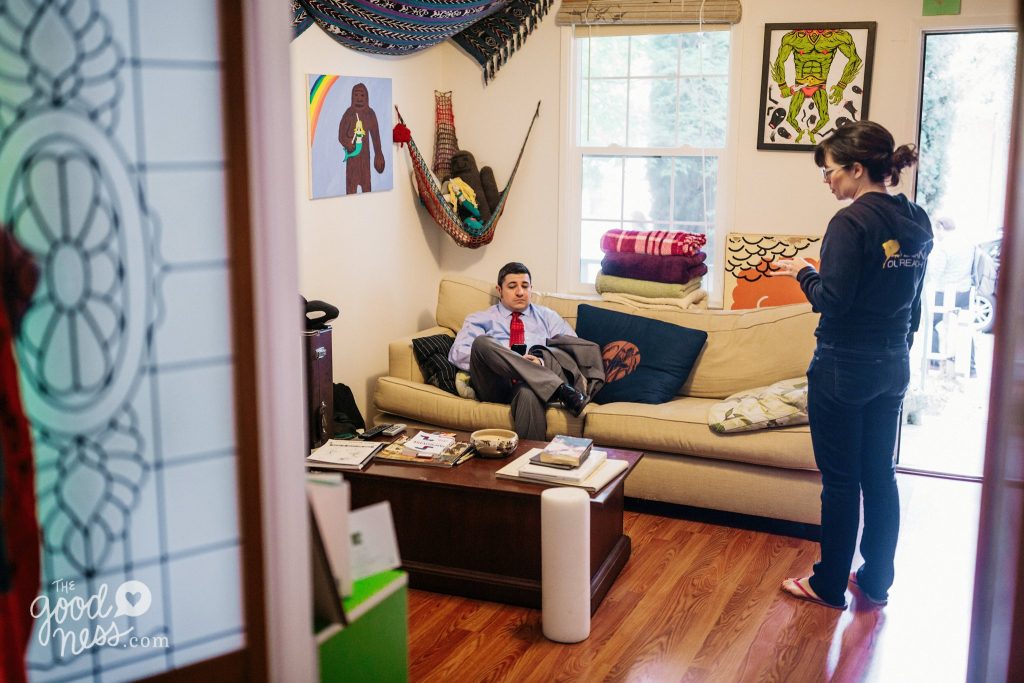 Lisa: You got married this summer. Congratulations! Will you tell us why and how you incorporated VO into your special day? What did your guests think?
Corinna: It was important to Chad and me to have a green wedding, so we looked into purchasing carbon offsets. But after some research we decided they weren't very effective. So we used a carbon footprint calculator, which also provides a suggested offset cost, and donated that amount to Vegan Outreach instead. We included a short explanation of why we did that on our wedding website, along with a link to VO's Diet and Global Warming article.
We also displayed a small sign near the guestbook to let guests know we made donations to Vegan Outreach and another animal organization we support. That sign hangs in our house now and is one of our favorite keepsakes from that day.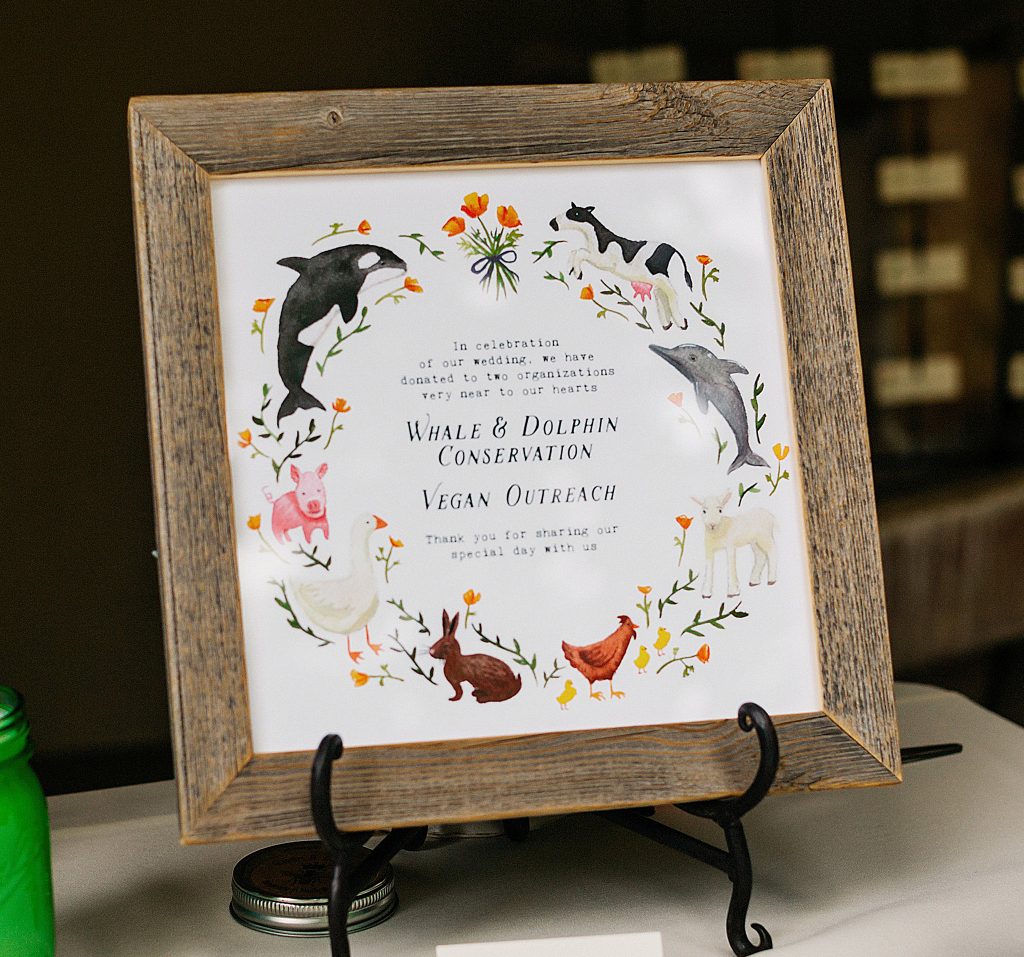 Lisa: How was it planning a vegan wedding? How did guests respond?
Corinna: We are lucky enough to know Joshua Ploeg—the Touring Vegan Chef and author of many cookbooks including In Search of the Lost Taste—and we both adore his cooking, so it was an easy decision to hire him.
I did read wedding planning forums where there was a passionate consensus against serving vegan food to non-vegan guests, but it seemed like the primary concern was the common perception that vegan food is flavorless. So I think the key is to make the quality of the food a priority. Top shelf alcohol helps too!
We specified on our invitations and wedding website that there would be a vegan buffet. Nobody asked about it before the wedding and as far as we know everyone was happy. Many omnivores commented on how good the food was, including a die-hard carnivore uncle.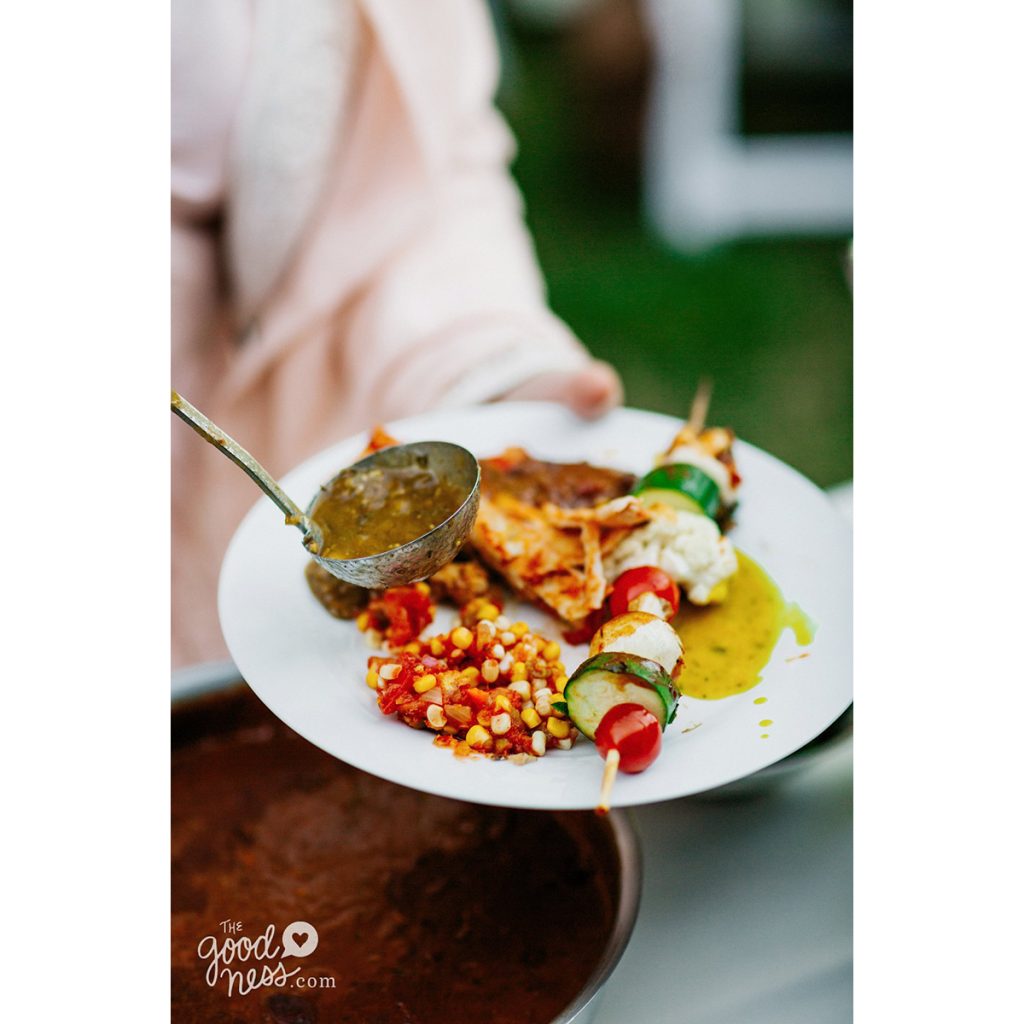 Lisa: What is your favorite vegan meal to eat with your new spouse?
Corinna: Our favorite quick-and-easy meal is soyrizo and spinach in a tortilla. When we want something fancy and have the time, we love Pumpkin Baked Ziti with Caramelized Onions and Sage Crumb Topping from Veganomicon. I don't think we've ever tried a recipe by Isa Chandra Moskowitz that we didn't like!
Lisa: Thank you, Corinna, and congratulations to you and Chad!
Photos: © The Goodness