By Lori Stultz, VO Rocky Mountain Outreach Coordinator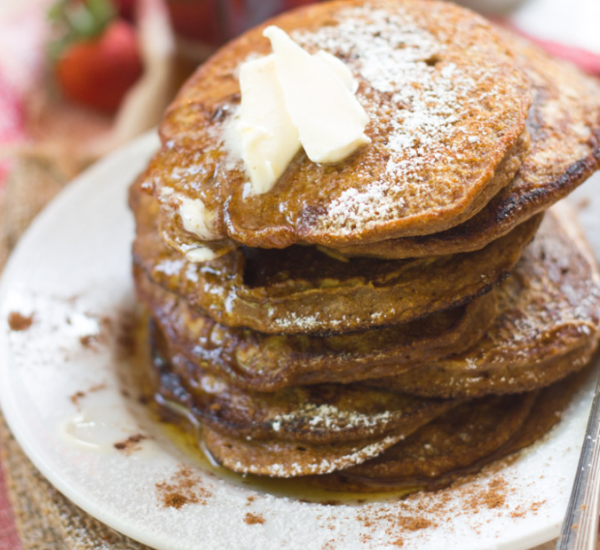 Keeping with the theme of breakfast—thanks, David!—today we're serving up pancakes!
But not just any kind of pancakes—pumpkin pancakes!
If you're mourning the end of summer like me, this recipe will help ease the change of seasons.
And if you're happily embracing the shifting temperatures and fall-like flavors popping up in almost every kind of food you can imagine, then you're probably going to love this recipe!
Pumpkin Pancakes
Serves about 3-4.
Ingredients
1 ¼ cups spelt or all-purpose flour
2 teaspoons baking powder
1 tablespoon ground cinnamon
1 teaspoon powdered ginger
½ teaspoon allspice
¼ teaspoon nutmeg
¼ teaspoon ground cloves
¼ teaspoon salt
1 ½ cups unflavored soy, almond, or other plant-based milk
⅓ to ½ cup canned pumpkin puree
2 tablespoons unsulfured molasses
1 teaspoon vanilla extract
Oil, for grilling
Directions
Place all ingredients, except the oil for grilling, into a blender and blend until completely smooth—about 30 seconds—stopping to scrape down the sides as needed.
Lightly oil a griddle or skillet and place over medium heat. When the cooking surface is hot, drop ¼ cup of batter down. You can spread the batter out a bit by wiggling the pan around. Cook until batter begins to brown around the edges and a bubble or two forms in the center, about 4 minutes. Flip and cook about 2 minutes on opposite side. Repeat until all batter is used, adding oil to cooking surface as needed between pancakes.
Enjoy with vegan butter, maple syrup, and/or cinnamon!
Recipe Tips/Variations
⅓ cup of pumpkin puree will yield fluffier pancakes, but with less pumpkin flavor. ½ cup will yield moister pancakes with more pumpkin flavor.
If you choose to combine the ingredients by hand—instead of in a blender—the batter will mix better using only ⅓ cup of pumpkin puree.
This original recipe can be found on Connoisseurs Veg.