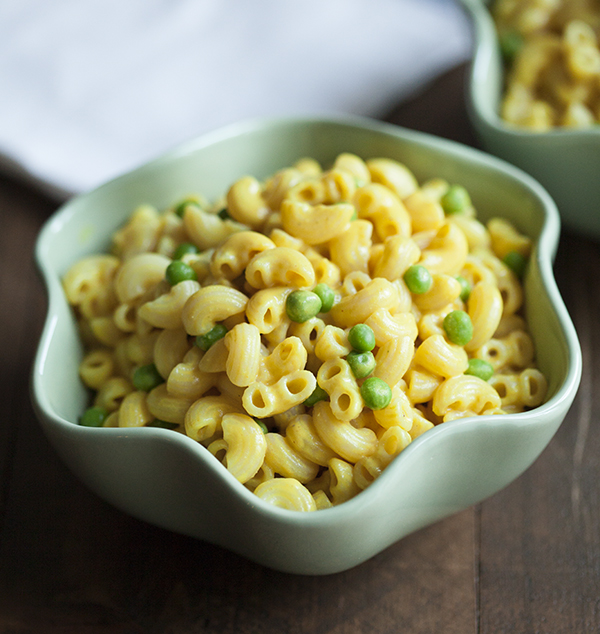 Get ready for a bowl of mac and cheese that's pea-licious!
A big thanks to our good friend—and vegan food blogger—Gena Hamshaw, who shared this unique and tasty recipe.
Enjoy!
Easiest Mac and Cheese Plus Peas
Yields 4-6 servings.
Ingredients
⅔ cup (about 3 oz) raw cashews, soaked in water for at least 2 hours (and up to 8), drained
½ cup cooked cannellini, great white northern, or navy beans
2 tablespoons freshly squeezed lemon juice
½ teaspoon smoked paprika
1 teaspoon ground turmeric
2 tablespoons miso (mellow white miso or chickpea miso)
¼ cup nutritional yeast
1 clove garlic
Dash cayenne
½ cup water
Salt
12 oz elbow pasta (for a gluten-free recipe, use brown rice pasta)
1 cup green peas (frozen or fresh)
Directions
First, make the pasta sauce. Place the cashews, beans, lemon juice, paprika, turmeric, miso, nutritional yeast, garlic, cayenne, and water into a blender or a food processor and blend/process until totally smooth. The sauce should yield about 1 ½ cups. Set it aside until you're ready to use it.
Bring a pot of salted water to boil and add the pasta. Cook the pasta, stirring frequently, until the pasta is tender, using the package instructions to help inform cooking time.
While the pasta is cooking, cook the peas accordingly—this will depend on whether you're using fresh or frozen.
Drain the pasta and return it to the pot. Add the cooked peas. Add the sauce and fold everything together gently, until the pasta dish is creamy and evenly coated. Adjust seasoning to taste. You may not need to use all of the sauce—if you have a few tablespoons left over, you can reserve them as a dip or a dressing for a salad or a grain bowl, or you can use them to top leftovers.
Divide the mac and cheese onto four plates or bowls and serve. Leftovers will keep for up to three days in an airtight container in the fridge.
You can get Gena's original Mac and Cheese recipe here.