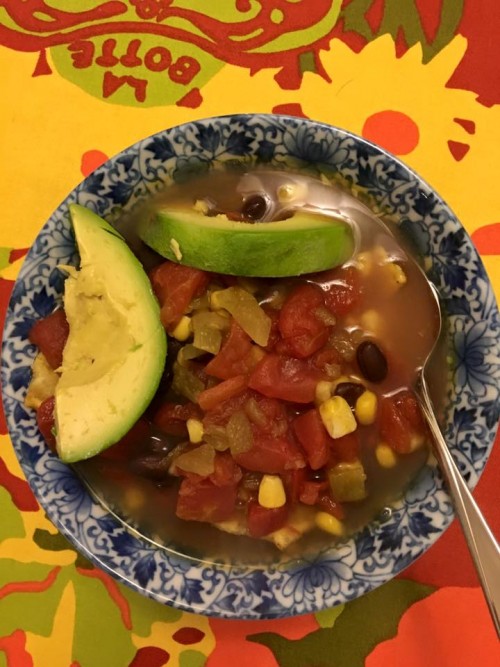 By Lisa Rimmert, Director of Development

Recently, a Vegan Outreach supporter shared via Facebook a recipe by her daughter, Maddie, who is vegan because she loves animals. At only ten years old, Maddie makes dinner once or twice a week, and this tortilla soup is in frequent rotation because it's easy, fast, and tasty. The soup was inspired by an online recipe, but Maddie modified it so that it is easier to make.
Maddie uses cumin and chili powder rather than a commercial taco seasoning, and she's eliminated ingredients that aren't essential to the soup. Feel free to add fresh herbs, more veggies, or lime juice. Mix it up and use chickpeas and pita chips instead of black beans and tortilla chips! When I saw this recipe on Facebook, I was impressed by its simplicity and ease–not to mention Maddie's kitchen skills! I asked her mom if I could share it with all of you on the VO blog, and here it is!
Recipe by Maddie R.
Ingredients:
6 cups low-sodium vegetable stock
28 oz low-sodium diced tomatoes
1 cup frozen corn
15.5 oz black beans (drained)
Small can diced green chilis
Tortilla chips
Avocado
1/4 tsp chili powder
2 tsp ground cumin
Directions:
Put the vegetable stock in a stockpot and heat on high.
Stir in chili powder and ground cumin.
Add diced tomatoes, frozen corn, black beans, and diced green chilis.
Once the soup is hot, pile tortilla chips in a bowl, pour the soup over, and garnish with avocado.
Let us know in the comments below how yours turns out!