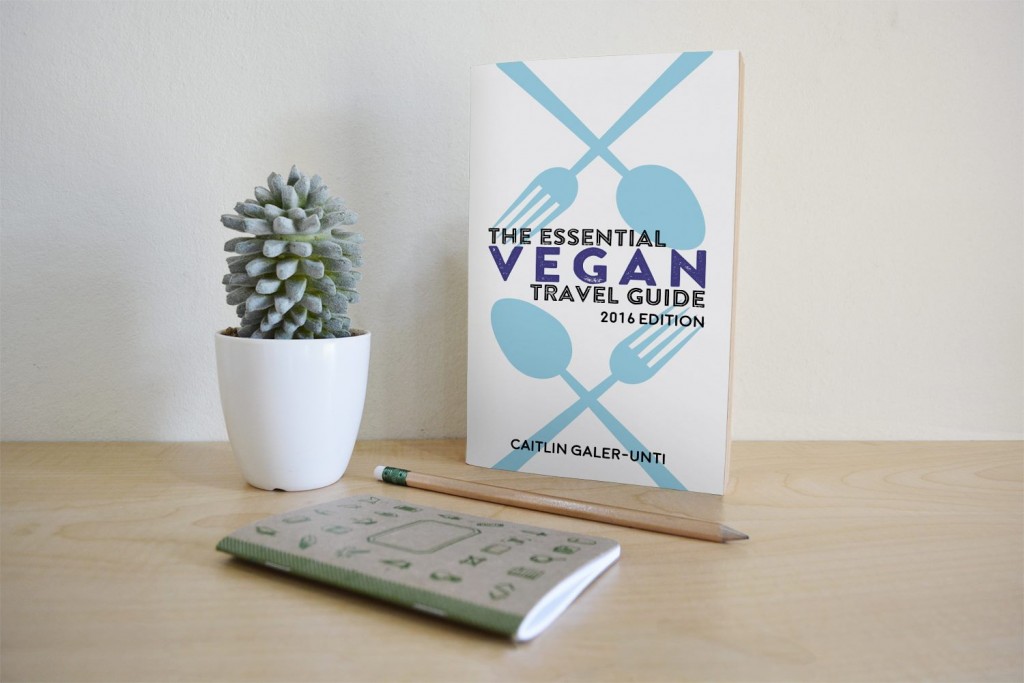 By Josie Moody, Office Manager
Whether you are trying to satiate your own wanderlust or looking for a great gift for that vegan in your life, we've got the perfect suggestion for you: The Essential Vegan Travel Guide by Caitlin Galer-Unti.
If you're vegan and you're like me, you've probably read a lot of guides (including Vegan Outreach's Guide to Cruelty Free Eating!) and thankful for every last one of them. The Essential Vegan Travel Guide is a wonderful addition to that collection, as it is a must-have for anyone traveling, whether nationally or abroad.
It's no exaggeration that the word "essential" is in the title. Divided between both practical and fun sections, like How the Hell Do I Find Somewhere to Eat?, Preparing for Your Trip, and Emergency Recipes for the Road (like Couscous in a Coffeemaker!), Galer-Unti seems to have all bases covered.
I think what I like most about this book is the mix of technology and "old school" solutions and suggestions. The section Making Connections and Meeting New Friends is a great reminder of how you can use online resources to help you on your way, but what it really comes down to is getting out of your comfort zone and putting yourself in new situations to meet people.
This passage sums up the vegan travel experience nicely:
"…I'm going to put this out there: I enjoy travel even more as a vegan. Sure, maybe my restaurant choices are more limited, but that means I have to be choosier with where I eat. It means I can't just settle down at the first (likely overpriced, tourist-trap) restaurant I find. And I eat so much better for it."
In addition to authoring this great book, Caitlin Galer-Unti has a beautiful website that definitely deserves a look. The Vegan Word contains a wealth of additional travel tips and destination-specific information (as soon as I'm done writing this post, I plan on reading her post entitled Vegan Guide to Transylvania!)
The travel guide is available on Amazon via Kindle or Kindle e-book if you'd like to save it to your device and toss in your suitcase. Prefer the tactile version of books? It's also available in paperback here.