by Jack Norris, President
I was happy to see the March 15, 2016 article from EcoRazzi, Former NFL player David Carter goes from pigskin to vegan outreach, by Eva Lampert.
Excerpt:
For former NFL star David Carter, lovingly known as the 300 Pound Vegan, it's not enough to sit on the sidelines. The Daily Collegian shared the story of his recent visit to Penn State University, in which he spoke about the dietary benefits of cutting out animal products.
It's a short article that starts nice but by the end Lampert calls me out for promoting cheese!
I wouldn't want [Carter] to go the route of Vegan Outreach president, Jack Norris, and promote eating cheese.
Lampert's comment is in reference to this recent Facebook post that caused quite a kerfuffle: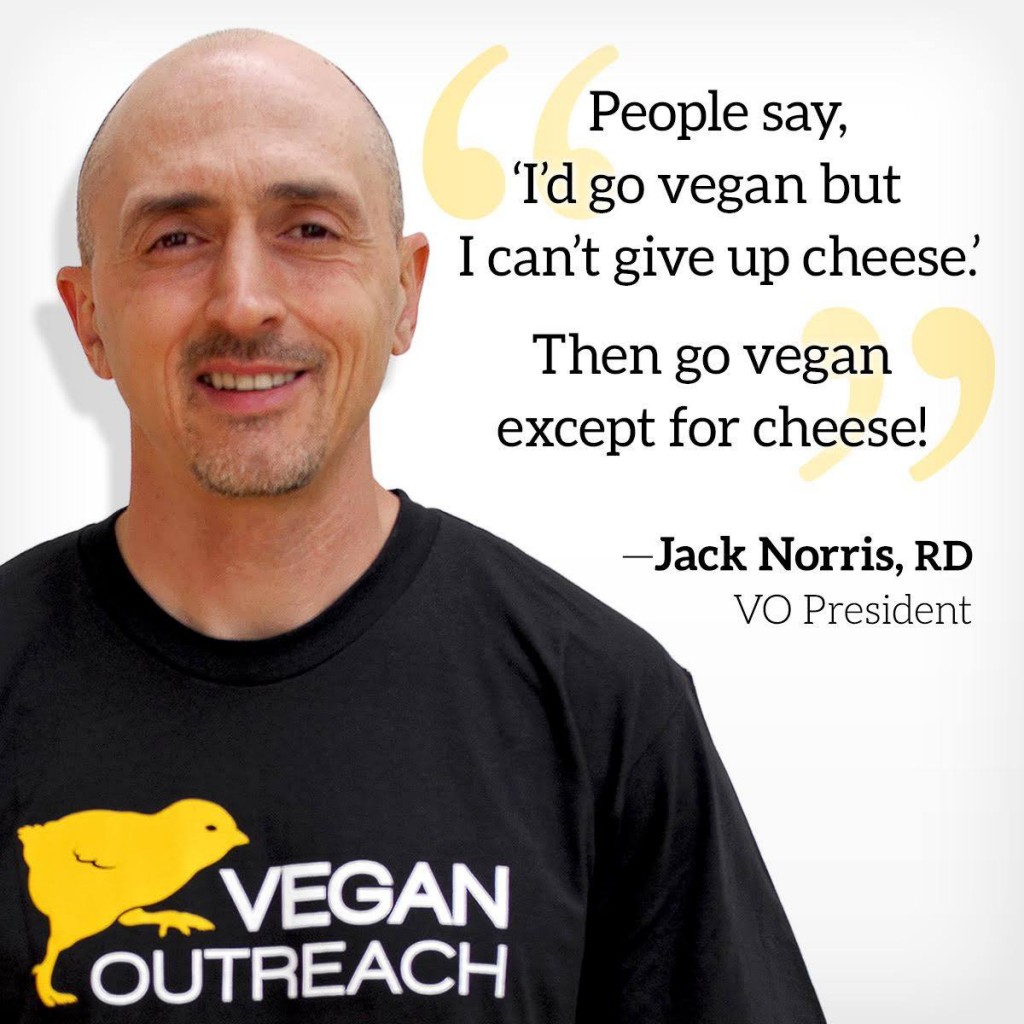 This has long been VO's unofficial position, and while many vegan advocates appreciated the post, many others criticized it.
A couple of the criticisms were misinterpretations–I'm not suggesting that current vegans should start eating cheese, nor am I suggesting that people who eat cheese call themselves "vegan." And for anyone this post reached who is having a hard time giving up cheese, there were links from the text to some delicious vegan cheeses.
Some activists criticized me for implying that it's okay to eat cheese. They believe it's important for us to send a consistent message to the public and, apparently, think the meme should have read:
People say 'I'd go vegan but I can't give up cheese.' These people are immoral.
I hope such critics will consider these two points:
Many people have told us that because we did not push an "all or nothing" view to them, they were encouraged to take the first steps when they otherwise would not have done so–and eventually they became vegan.
The largest study on veg recidivism, conducted by Faunalytics, found that current vegetarians and vegans were more likely to have transitioned gradually than former vegetarians and vegans (Study Of Current And Former Vegetarians And Vegans: Secondary Findings).
While I think we should encourage people to adopt the view that it's wrong to kill animals for food, we can also promote the idea that any steps taken towards a vegan lifestyle are positive.
David Carter agrees.