By Alex Bury, Organizational Development Consultant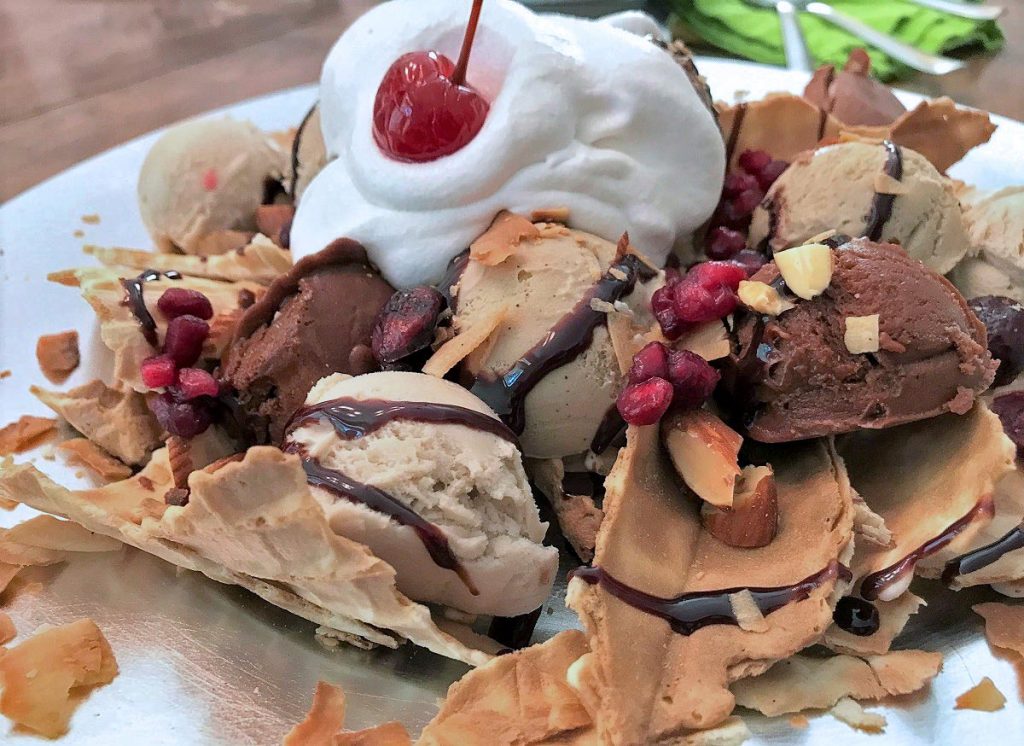 Ice cream nachos are really a "thing."
I was in a gourmet ice cream store in Anchorage, AK last month when I saw a sign that read, "Ice Cream Nachos." And, yes, the store had vegan flavors—Anchorage is awesome for vegan eating! I was in a hurry and didn't get to try them, but I knew I'd be making my own when I returned home.
This is what the set up looks like—
Pieces of crispy ice cream cone to replace the corn chips
Ice cream to replace the "meat"
Whipped cream to stand in as the sour cream
Chocolate syrup, fruit, and nuts replace the olives, onions, and avocado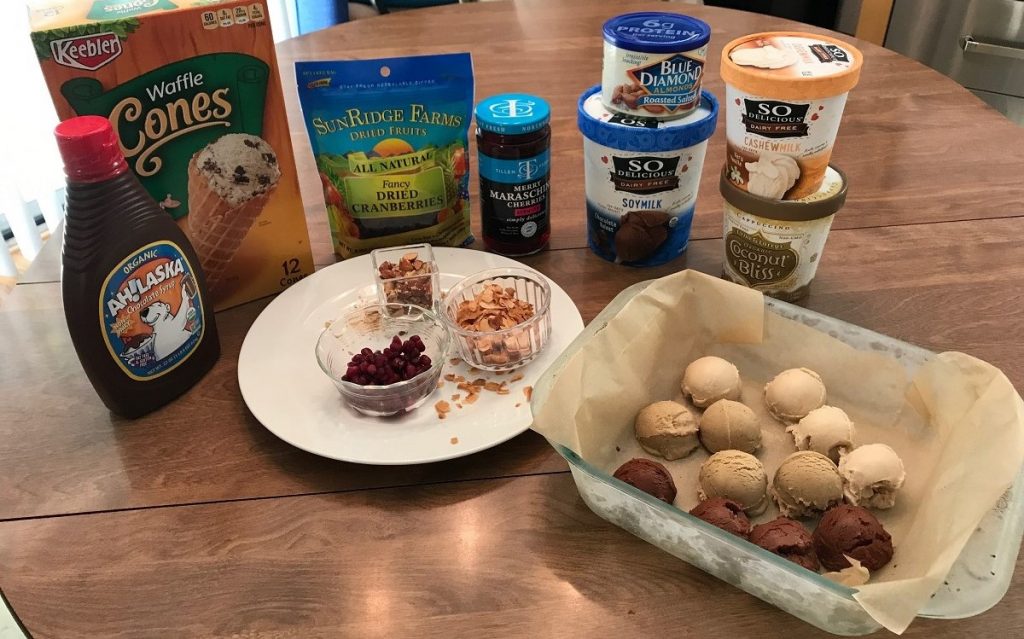 Most of the ingredients are easy to find at any grocery store, anywhere you live. The only tricky thing could be the vegan whipped cream. Either plan ahead and ask your local store to special order it or make your own sweet, yummy whipped cream using aquafaba or coconut milk.
My recipe is below, but adjust it according to your tastes. Fresh strawberries would be nice in the summer, or banana-walnut ice cream with strawberry syrup? Or what about chocolate-peanut butter ice cream with chopped peanuts and a cinnamon sprinkle?
Espresso Ice Cream Nachos
Yields 2-3 servings.
Ingredients
1 box of your favorite ice cream cones*
1 bottle of your favorite chocolate syrup*
Several scoops of 1, 2, or 3 flavors of your favorite vegan ice cream—I used chocolate soy, coconut cappuccino, and vanilla cashew
½ cup chopped nuts of your choice—I used roasted and salted almonds. The salt adds a nice touch
Maraschino cherries*
Fresh or dried fruit of your choice—I used ¼ cup dried cranberries and ¼ cup fresh pomegranate seeds since it's fall. I wanted some red color!
¼ cup toasted coconut
*All of these things are usually naturally vegan. Give the ingredients a quick scan before buying. It's a pretty easy shopping list, and you can grab it all at your local Safeway, Fred Meyers, Publix, Target, etc.
Directions
Break up the cones into large, uneven pieces. Lightly toast so they're warm and extra crispy.
Top with the syrup, nuts, fruit, and coconut.
Right before serving, top with the ice cream, whipped cream, and cherries.
Recipes Tips and Variations
I scooped the ice cream the night before and kept it frozen. That way the nachos didn't melt quite so quickly when I was assembling the masterpiece…I mean the dish.
These are best served to a group of hungry 10 year-olds at a slumber party. I don't know that many kids, so I tested the recipe on a hungry group of Vegan Outreach staffers. It was a smashing success!
Leave a message in the comments below if you come up with cool new flavors!