Yuri Mitzkewich, VO's Southeast Outreach Coordinator, has placed booklets into the hands of 57,238 students at 85 different schools this semester!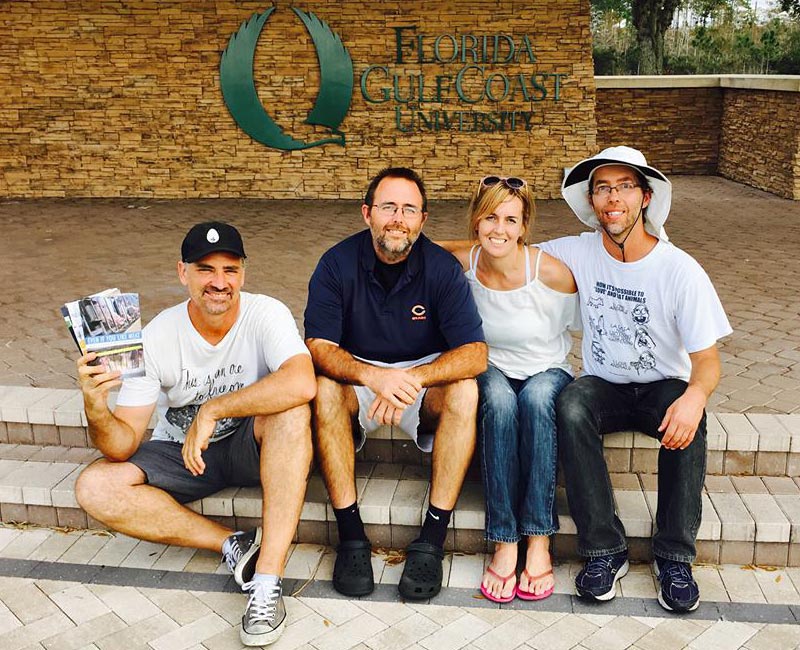 Above (from left) are Yuri, Jean Paul Grisales, Sarah Kiser, and John Sakars at Florida Gulf Coast University, where they reached more than 3,100 students in a single day – a new record for the campus!
At Hillsborough Community College's Dale Mabry campus in Tampa, Yuri spoke with several interested students:
Josh [below, left] stayed talking a good 20 minutes at least, taking a Guide to Cruelty-Free Eating, as well as other info to read through. Having already tried vegan one time for a short period, he got all the help he wanted towards giving it another go. We also signed up several future volunteers in our time here, and even made contacts to do a presentation for a nutrition class possibly in the spring!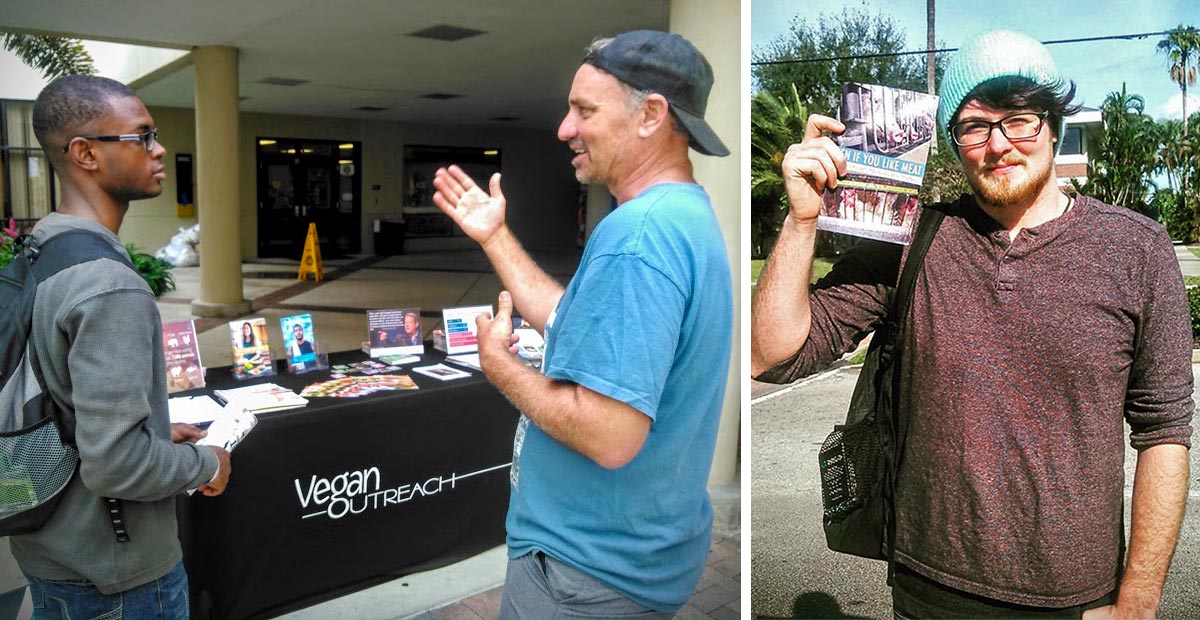 At the Florida Institute of Technology, Yuri and John reached 1,204 students:
We got the literature flowing out fast, and already before 11 am we had beat the previous FIT record. Reception was mostly good, but even better were the amazing conversations we kept having with students. The best one was with Dustin [above, right], who came back to me after checking out his Even If You Like Meat during class. Formerly vegetarian for over a year, he said the info made him remember why he'd chosen to go veg in the first place, and now would be going back. One of many here today inspired, I'm hoping, to make the change!
Yuri teamed with Julie Henry at Florida A&M University, and together they reached 1,000 students:
The highlight was Kerry [below, left], who was impressed greatly by the Compassionate Athlete he got. After talking a few minutes, digging a little deeper into things, he thanked us for being there getting him the info. First confirmed new vegan of the week at FAMU!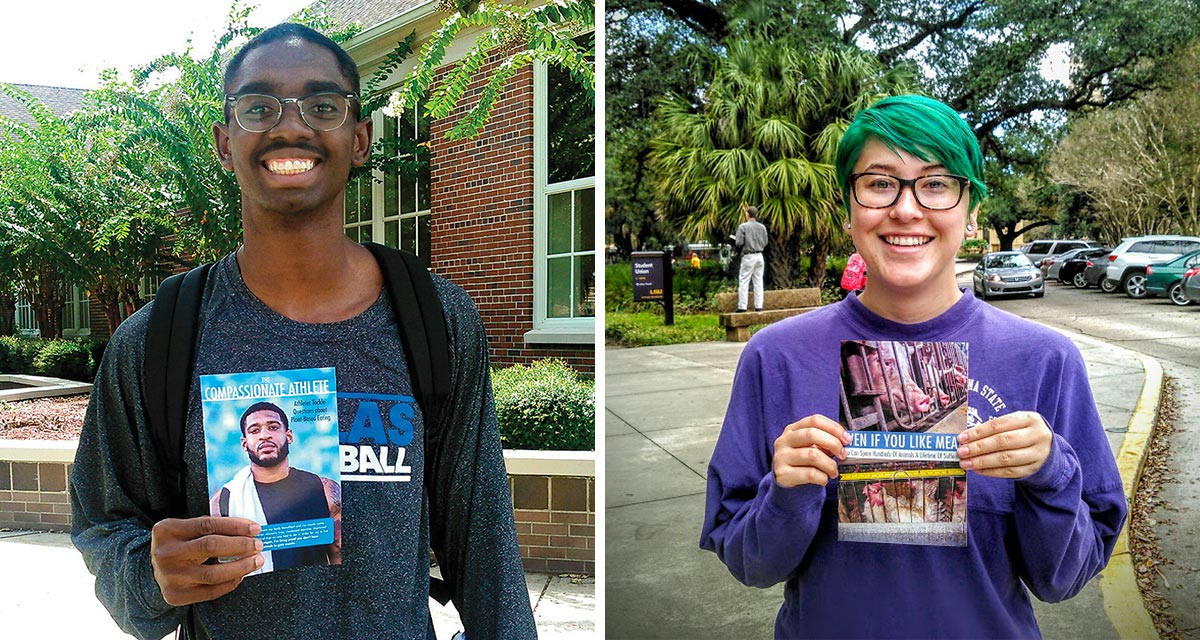 On November 18, Yuri and John had a huge day at Louisiana State University:
I was stoked to have the help of LSU's new AR student crew for the first time ever. Group members Sarah Buckley and April Ahmed came out first, joining during the breaks they had in their morning class schedules. Both did awesome. Just before lunch we were joined by the group president, Jesse Clifton, who was also great getting the info out right from the start. He enjoyed the action thoroughly and now wants to get the group into leafleting regularly.

Jesse even got new group members signed up during the outreach – seven in total, including Carrie [above, right], who reported she went vegan from getting a booklet three years back while attending Tulane University!

With Jesse and crew on hand, we kept the numbers flowing steadily, and by the end had again broken the campus record, only just done here last year: 4,452 reached in total – not just a record for LSU, but the biggest day now in Louisiana outreach so far!
Take advantage of our year-end matching campaign: Through December, Your Donation to VO = 2 × More Vegans = 2 × More Animals Spared!