By Alex Bury, Organizational Development Consultant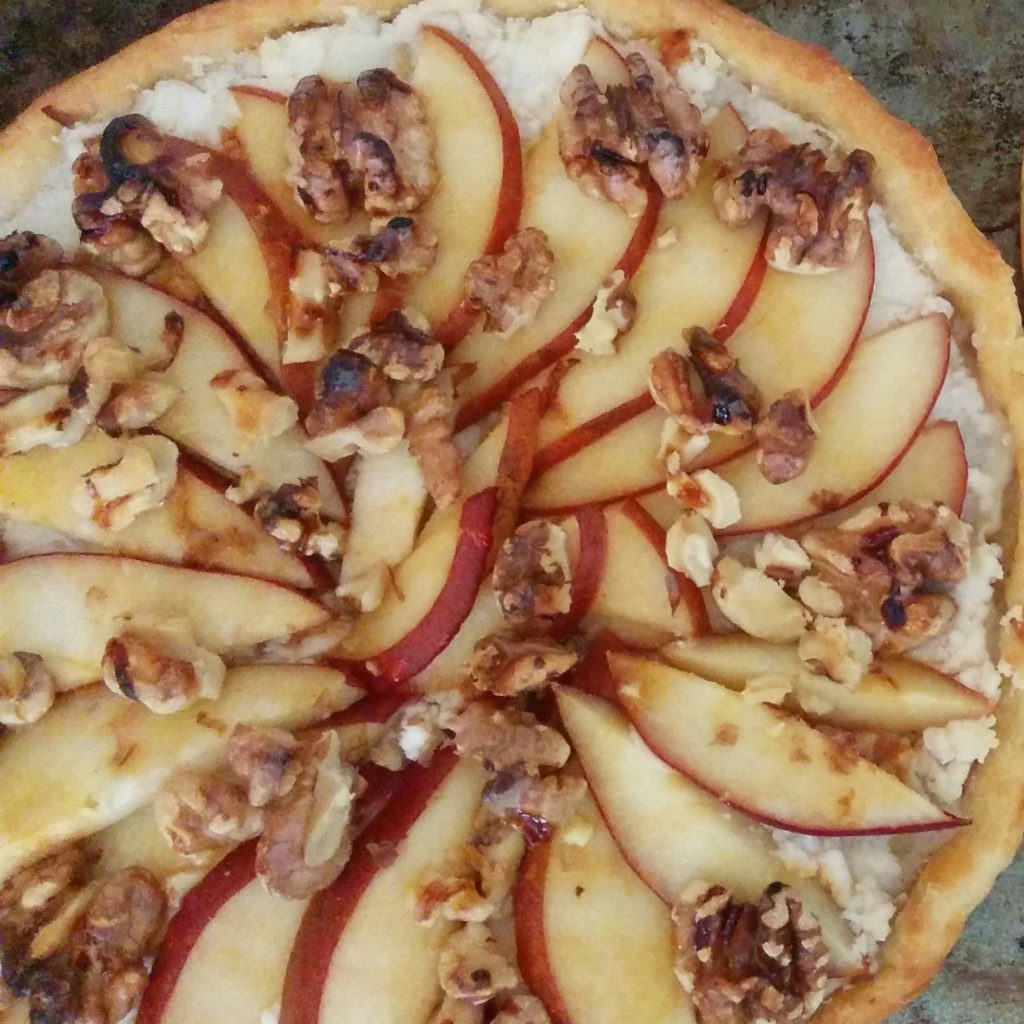 Is fancy better? Can we ever answer that question? Is a vegan Tofurky Frozen Pizza served on paper plates better or worse than a gourmet, homemade pizza served on Grandma's china? If a tree falls in the forest and nobody is around to hear it, does it make a sound? What if you're in the forest having a pizza picnic and unable to concentrate on nature sounds because Tofurky pizza is so delicious?
While you work on that, I'll share one of two awesome pizza recipes I made recently. Why only one? Because I want to spread out the deliciousness. Don't worry, the second one will be posted next week!
These fancy pizzas are ones you can serve at a dinner party, or to the people you hope will one day become your in-laws if you play it right.
The best part? It's a lot easier than it looks! And it's lighter than a traditional tomato pizza, so it makes a great appetizer that will leave room for a heavier main course. The mix of sweet, savory, creamy, and crunchy is delicious! You can also make this the night before and reheat.
Fancy Pear Pizza
Yields 8 slices.
Ingredients
1 package of Vicolo frozen Corn Meal Pizza Crusts (some stores like Trader Joe's sell these in the cooler section instead of the freezer section)
1 tub of Kite Hill Ricotta Cheese or 1 batch of Homemade Vegan Ricotta (recipe below)
2 red Bosc pears (should be ripe, but not too ripe—firm enough so they hold their shape)
1 cup of walnut halves and/or pieces (not finely chopped)
2 tablespoons orange marmalade mixed with 2 tablespoons water or 4 tablespoons of Apple Cider Reduction (link to instructions below)
A pinch of salt and pepper
Before you start to prep your pizzas—take a moment to appreciate those crusts. Of course, you can get super fancy and make your own pizza crust from scratch, but these Vicolo crusts are amazing. You'll want to keep some in your freezer at all times! The corn meal crunch is a really nice addition to this sweet and savory pizza.
Directions
Heat your oven to 400°F.
Cover each crust with ½ the ricotta (whether you've made your own or are using Kite Hill's).
Slice the pears thin and arrange the slices on top of the ricotta.
Scatter the walnuts over the ricotta and pears.
Drizzle 2 tablespoons of the fruit mixture (orange marmalade or Apple Cider Reduction) over each pizza.
Sprinkle with a pinch of salt and pepper.
Bake until the crust and the walnuts are a nice golden brown.
Homemade Tofu Ricotta
Yields enough for 2 pizzas of 8 slices each.
This ricotta recipe can be used for lasagna, traditional pizza, and any other recipes that call for ricotta cheese. If you can get your hands on Kite Hill, be sure to try it at least once—it's delicious! This recipe will cover you if Kite Hill isn't available in your area.
Ingredients
2 lemons, juiced (about 1/3 cup)
1 12 oz block extra firm fresh tofu, drained
1 Mori-Nu Firm Silken Tofu, drained
3 tablespoons nutritional yeast
½ cup fresh basil, finely chopped
1 tablespoon dried oregano
4 tablespoons extra virgin olive oil
2 teaspoons salt
½ teaspoon pepper
1 teaspoon sugar
2 tablespoons vegan parmesan cheese (optional)
Directions
Purée all of the ingredients in a food processor. Add more salt and pepper if needed.
Recipe Tips/Variations
If you like your ricotta on the thicker and lumpier side, don't purée it for too long.
If you're cooking for meat-eaters, double the oil and the salt—no, I'm not kidding.
You can vary the herbs to your taste and convenience—use more or less, use dried instead of fresh, etc.