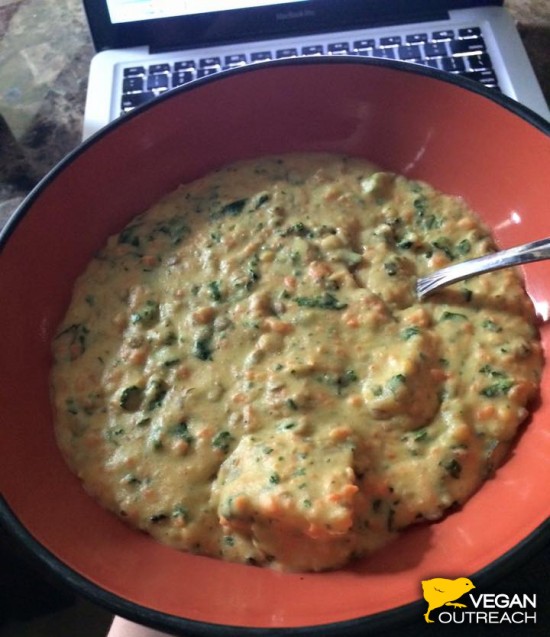 By Lisa Rimmert, VO Director of Development

This is my first recipe posting! That means two things: 1) You'll have to forgive me for not knowing all the right lingo, and 2) this newfound fame is sure to go straight to my head! My goal is to be 10% as cool as Toni. I have a long way to go! 🙂
I have to admit: I usually don't get excited about soup, unless it's Ramen. For soup to impress me, it has to be very filling and flavorful, and I give bonus points if it's easy to make. Since it's chilly outside (and since I needed to use two potatoes before they grow a bunch of weird potato-cysts), I decided to give soup a chance today.
I guess working on our end-of-year newsletter and fundraising letter has my creative juices flowing, because I made this soup without a recipe. Brave, huh? Nice plug for donating to VO, huh? There's another one later, and it's even more impressive. Anyway, this soup turned out great, so I want to share it with you. Here's what I did:
Ingredients:
2 potatoes
2 carrots (I actually used a handful of baby carrots)
1/2 cup frozen kale
1/4 cup lentils
1 can coconut milk
1/4 cup soy milk
4 tbsp nutritional yeast
1 tsp garlic powder
1/2 tsp curry powder
1/2 tsp cumin
1 tbsp olive oil
Directions:
Peel the potatoes and cut into bite-size pieces. If you're using a regular sized carrot, chop it. No prep is required for baby carrots.
In a large pot, bring water, potatoes, and lentils to a boil. Heat medium-high for about 15 minutes, until potatoes are soft enough to stick a fork in. Around minute 10, add in the carrots.
Drain and blend with remaining ingredients until smooth. Add more soy milk if it's too thick.
Donate to Vegan Outreach. Not required, but definitely recommended.
While the potato mix is blending, heat oil on medium in the same pot (less cleanup!), add kale, and cook for a few minutes, stirring often.
Add potato mixture to pot and mix together with the kale.
Serve in a bowl at the coffee table, so you can work while you eat!