By Lori Stultz, VO Rocky Mountain Outreach Coordinator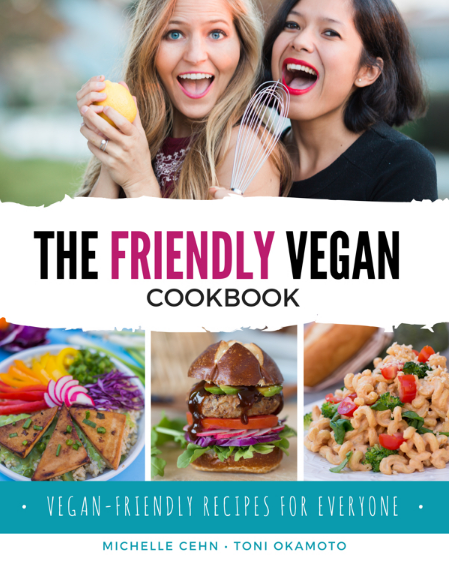 Looking for a friendly, upbeat vegan cookbook to inspire you in the kitchen?
Look no further!
The Friendly Vegan Cookbook is a new e-book packed with 14 delicious plant-powered recipes to get you cooking up a storm! Recipes include—
Hella Healthy Mac 'n' Cheese
Bodacious Black Bean BBQ Burgers
Tofu Scramble
Herbed Polenta Fries
Poppin' Jalapeño Poppers
PB&J Chia Pudding Parfait
2-Way Cookie Dough
…and so much more.
The book—by our very own Vegan Outreach Social Media Manager, Michelle Cehn, and former VO Food and Lifestyle Coordinator, Toni Okamoto—features their favorite recipes along with their vibrant food photography.
The best part—40% of all proceeds benefit Vegan Outreach! Just make sure you use the link we've included in this post!
______________________________
We couldn't contain our excitement about this e-book, so we've decided to give you a taste!
The following recipe, Garlicky-Ginger Tofu Triangles, is for tofu fans and non-tofu fans alike! We promise—even the most skeptical meat-eating friends of yours will love these flavorful tofu triangles!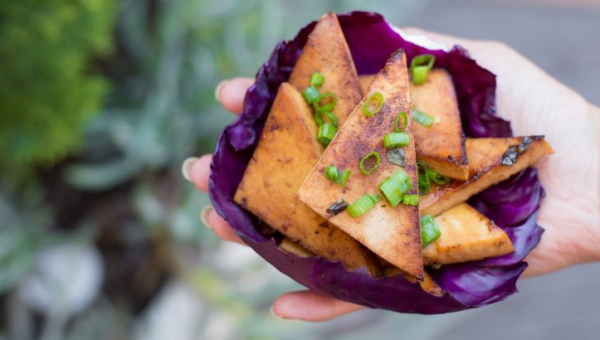 Garlicky-Ginger Tofu Triangles
Serves about 4.
Ingredients
12 oz extra firm tofu, drained
2 garlic cloves, minced
2 tablespoons soy sauce
3 stalks of green onion, thinly sliced, plus more for garnish
Juice of 1 small lemon
2 tablespoons brown sugar
1 ½ teaspoons fresh ginger, grated
¼ cup water
Directions
Cut tofu into ⅓" thick triangular slices, place in a large casserole dish, and set aside.
To create the marinade, thoroughly mix together the rest of the ingredients in a medium bowl and pour over the tofu. Allow tofu to sit for a minimum of two hours, or overnight for a richer taste. Flip tofu halfway through the time allotted for marinating.
Once tofu is marinated, place a large sauté pan over high heat. Add just enough oil to coat the bottom of the pan.
Add as many tofu slices as will fit in one layer. Cook until tofu is browned on the bottom, 2-3 minutes. Flip the pieces, and brown on the other side, about 2 minutes. Pour in the marinade mixture, and cook until tofu darkens slightly, about 45 seconds. Flip tofu and repeat.
Garnish with remaining thinly sliced green onion and enjoy!