By Steve Ann Chambers, VO President
This is my mom's Shepherd's Pie recipe that I learned to make in second grade—with hamburger and dairy back in those days. She went back to finish college and had evening classes on Wednesdays, so I was in charge of dinner. This is what I made every Wednesday! We still like it, and it's very simple to make!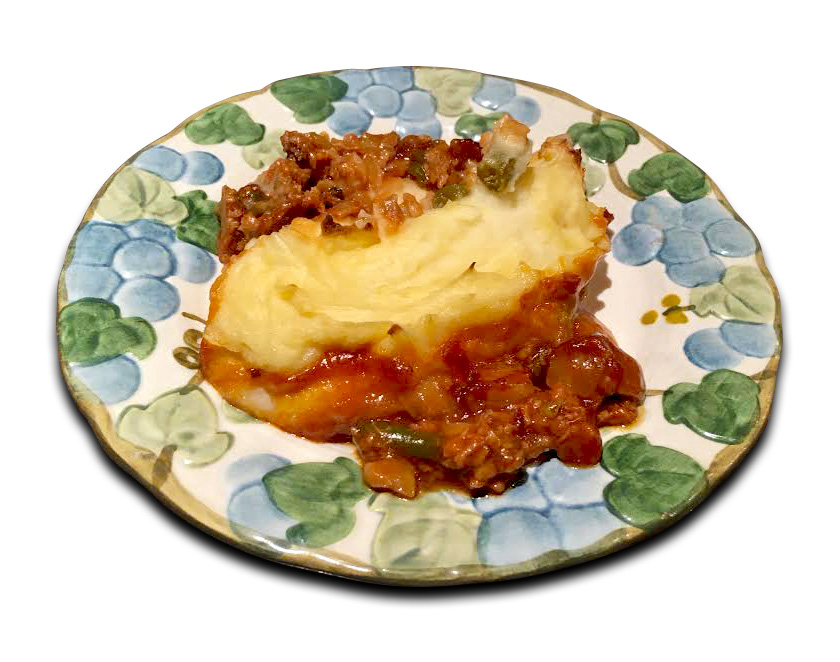 Grandma's Shepherd's Pie
Serves 2-3.
Ingredients
3 medium to large potatoes
2 low sodium vegetable bouillon cubes
1 tablespoon olive oil
¼ cup onion, diced
½ package of your favorite plant-based "crumbles" (Gardein, Beyond Meat, Boca, etc.)
1 can of tomato soup
1 can of green beans, drained
2 tablespoons vegan sour cream
Directions
Peel the potatoes and put them in a pot with enough water to cover the potatoes. If you cube the potatoes, they will cook quicker.
Add the bouillon cubes to the potatoes and place the pot over medium-high heat until the potatoes are fork tender. This will take 20 minutes.
Preheat the oven to 350°F.
While the potatoes are boiling, put the olive oil into a skillet and cook the onions until translucent.
Add the crumbles, tomato soup, and green beans. Stir and heat thoroughly.
When the potatoes are tender, drain them and reserve the vegetable broth in which they've been cooking. Mash the potatoes with whatever utensil you prefer.
Add about ½ cup of the vegetable broth and sour cream to the mash potatoes. Mix until creamy. If the potatoes are too dry, add a little more broth and sour cream.
Put the crumbles mixture into an approximately 8″x8″ cooking dish. Cover with the whipped potatoes and place in the oven about 25 minutes.