By Alex Bury, VO Organizational Development Consultant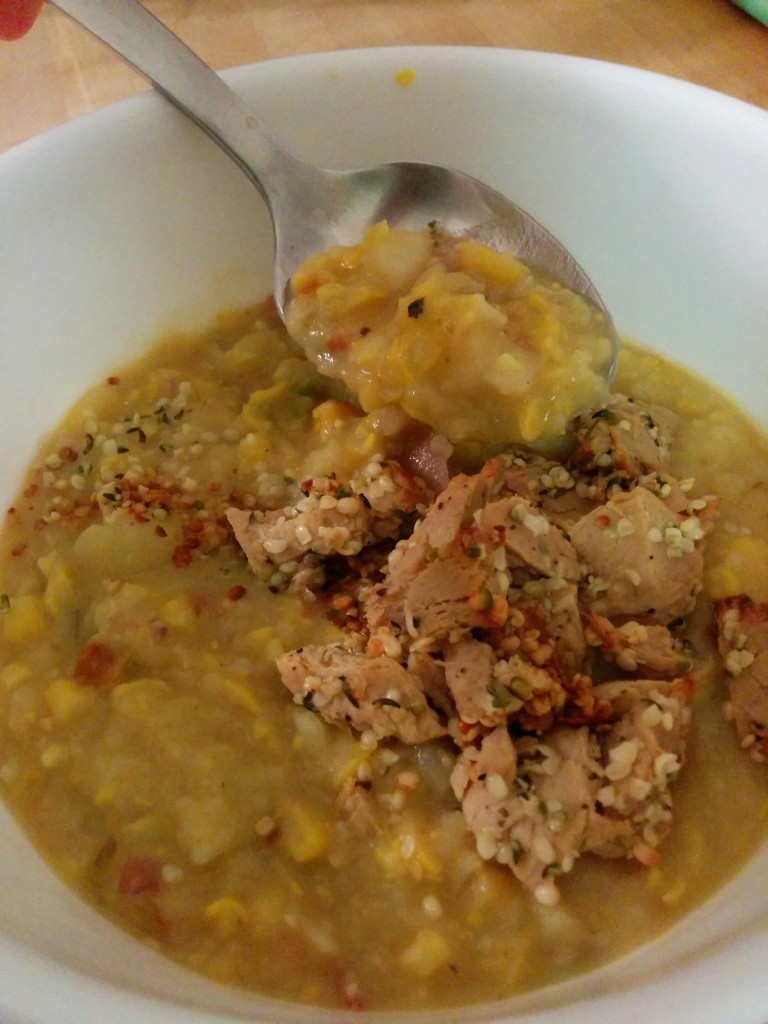 When my coworker asked me to make a recipe using a hemp food product for Hemp History Week, I thought of chowder right away. Hemp seeds have a mild, natural sweetness. I had already been craving a good chowder, and I knew the sweetness of hemp would be a perfect flavor.
Hemp seeds are high in quality protein, and they contain the omegas stearidonic acid and gamma-linolenic acid.
I created the delicious, nutritious recipe below, and I'll definitely make it again!
This is a rich, filling soup with added protein from Tofurky's Lightly Seasoned Slow Roasted Chick'n strips.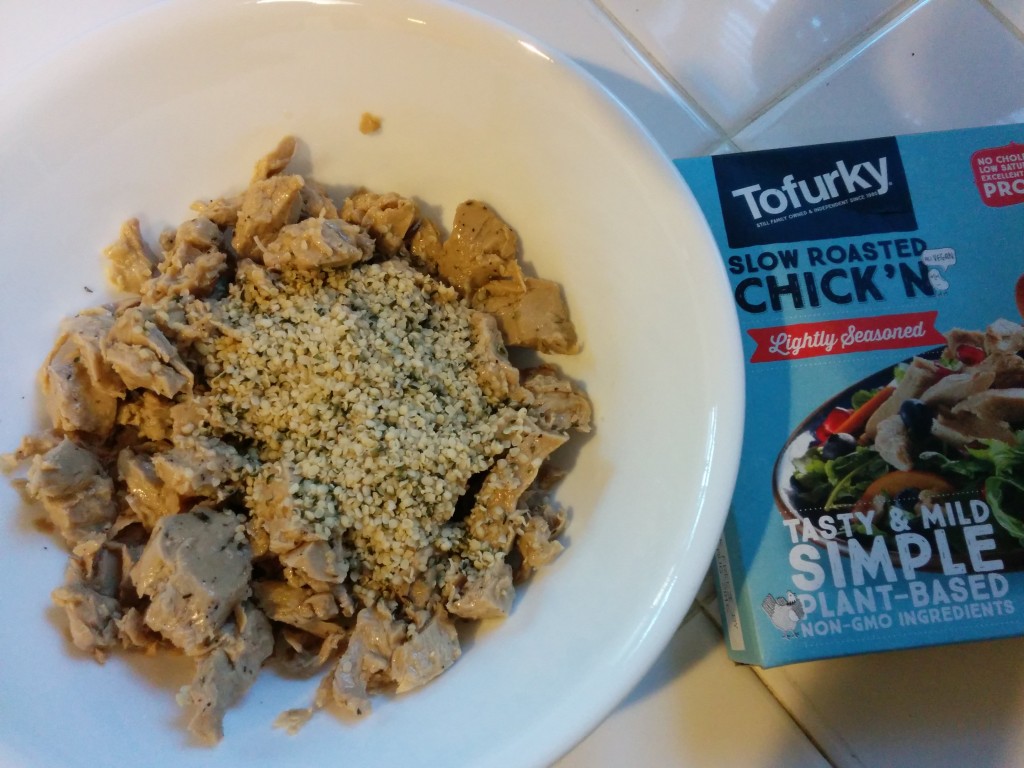 Hemp milk gives the chowder a wonderful creaminess. I roasted half the veggies for extra flavor—the deep caramelization of roasting adds a layer of taste. If I'd roasted all the veggies, it might have been too "roasty" and less like a delicate chowder. Simmering half and roasting half turned out perfectly!
If you're wondering about the cabbage, trust me! When cabbage cooks, it becomes sweet and a little earthy. It adds a great background flavor that you won't even recognize.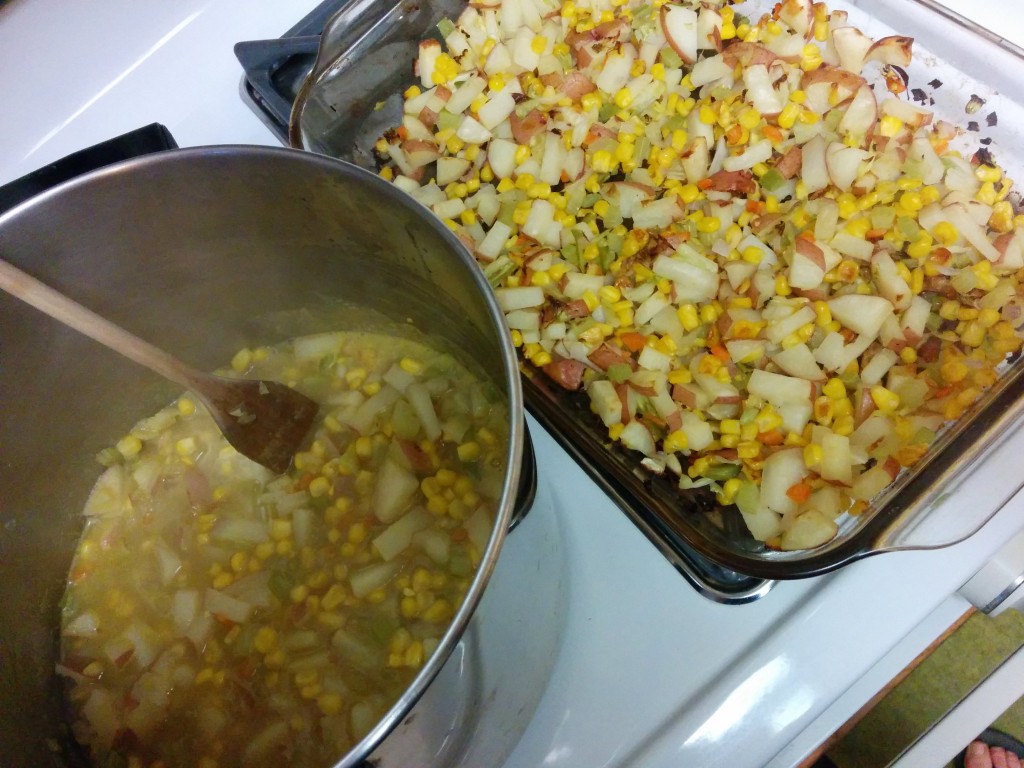 Serves about 6.
Ingredients
2 stalks celery, chopped
½ yellow onion, chopped
1 carrot, chopped
¼ green cabbage, chopped
4 cloves garlic, peeled and minced
2 bags frozen organic sweet corn, or the kernels from 4 ears organic sweet corn
4 medium red-skinned potatoes
1 32-oz container vegetable stock (or substitute with plain water)
2 tablespoons safflower oil
1 container unsweetened hemp milk
¼ cup fresh hemp seeds (I found them in the spice section of my store, but you may need to ask your grocer)
Water as needed
2 teaspoon salt
1 teaspoon black pepper
¼ cup nutritional yeast
Directions
Mix the chopped vegetables together in a big bowl (celery, onion, carrot, cabbage, garlic, corn, and potatoes). Divide in half.
Heat the oven to 450°F.
Add half the veggies and the entire container of stock (or equivalent amount of water) to a large soup pot. Bring to a boil, then let simmer.
Spread the other half of the veggies onto a cookie sheet or baking dish. Drizzle with the oil and then roast in the hot oven for about 15 minutes. The timing depends on your oven—you want them nice and brown but not burnt. It's okay if they're not tender all the way through.
While the two batches of veggies cook, make the Chick'n strips:

Toss the Chick'n lightly in about 1 tablespoon of hemp milk.
Coat with hemp seeds and toss.
Carefully arrange on a baking dish (I used parchment paper and they came out perfectly) and bake in the same hot oven for 10 minutes. Set aside.

When the oven veggies are the color you want, carefully add them to the soup pot. Add water if you need to. You want enough liquid to cover, but it should still be on the thick side. Simmer for about 10 minutes until all the veggies are very tender.
Turn off the heat. Stir in the hemp milk, salt, pepper, and nutritional yeast.
Puree about ⅓ of the soup. An immersion blender is best for this step, but if you need to use a blender or food processor instead, wait until the soup cools first.
When the soup is partially blended, it should be rich and creamy with lots of tender chunks of vegetables. Taste and adjust for seasoning. If you used water instead of stock, you may want more salt. Add it carefully!
Serve hot bowls of chowder topped with baked hemp Chick'n strips and salad. I sprinkled more hemp seeds on my salad!
I'm enjoying the rest of the hemp milk in my morning coffee and I'll have leftover chowder for lunch. It was a hit here at home, and I hope you like it too!