By Melissa Li
My family and I are very lucky to live in Portland, Oregon, one of the top vegan cities in the country. You may have read articles about the Vegan Mini-Mall, which features Sweet Pea bakery, Herbivore Clothing Company, Food Fight grocery, and Scapegoat Tattoo. Yes, I hate to rub it in, but it's a great city to live in, and the vegan businesses are continuing to grow in number and popularity. I love living here!
There are too many veg restaurants to list, and far more that offer dedicated vegan options. I'm very comfortable knowing that when I go out to eat, I'll undoubtedly have a vegan meal.
I'm particularly lucky that I have all this in reach, because I have a really busy schedule with work, soccer (three, and sometimes four teams), and dogs. I find that I don't really like to cook, nor do I have the creativity. It's a catch-22–the more I avoid cooking, the more I fear cooking, and then the less likely I will try it.
I have many cookbooks on the counter, all hidden by bags of vegan snacks–I have yet to make a single dish from any of them–I'm hoping the information diffuses into me like osmosis! And believe me, I've tried to dumb down the cookbooks, from The 30 minute Vegan to the 4 Ingredient Vegan–anything to make it easier! This has yet to work.
The farmers markets in this city are reportedly amazing, but I have never even gone because I know I won't cook the vegetables before they go bad. I'm vegan for ethical reasons not for health–and I'm not a foodie–this may explain my lack of enthusiasm in cooking.
My routine is to have breakfast in the cafeteria at the hospital where I work. It has vegan a la carte options such as vegan burritos and roasted potato wedges. For lunch, there is an amazing salad bar, with kale and pasta salads. There is always a meatless soup option and sometimes it's vegan. At the grill, there is a vegan burger. On Mondays, my the cafeteria participates in Meatless Mondays.
Dinner is the meal that I have to fend for myself, and I'm comfortable eating essentially the same thing every night. Dinner has slowly evolved from just rice and black beans with salsa to including Daiya cheese, cilantro, red and yellow peppers, red onion, and occasionally chopped Tofurky or Field Roast sausage. With steamed rice already prepared, it used to take only five minutes to make dinner—now it takes a full fifteen!
My weekends are a little more challenging, and for breakfast or lunch, I often have a sandwich with Just Mayo and Tofurky deli slices on top of Dave's Killer Bread.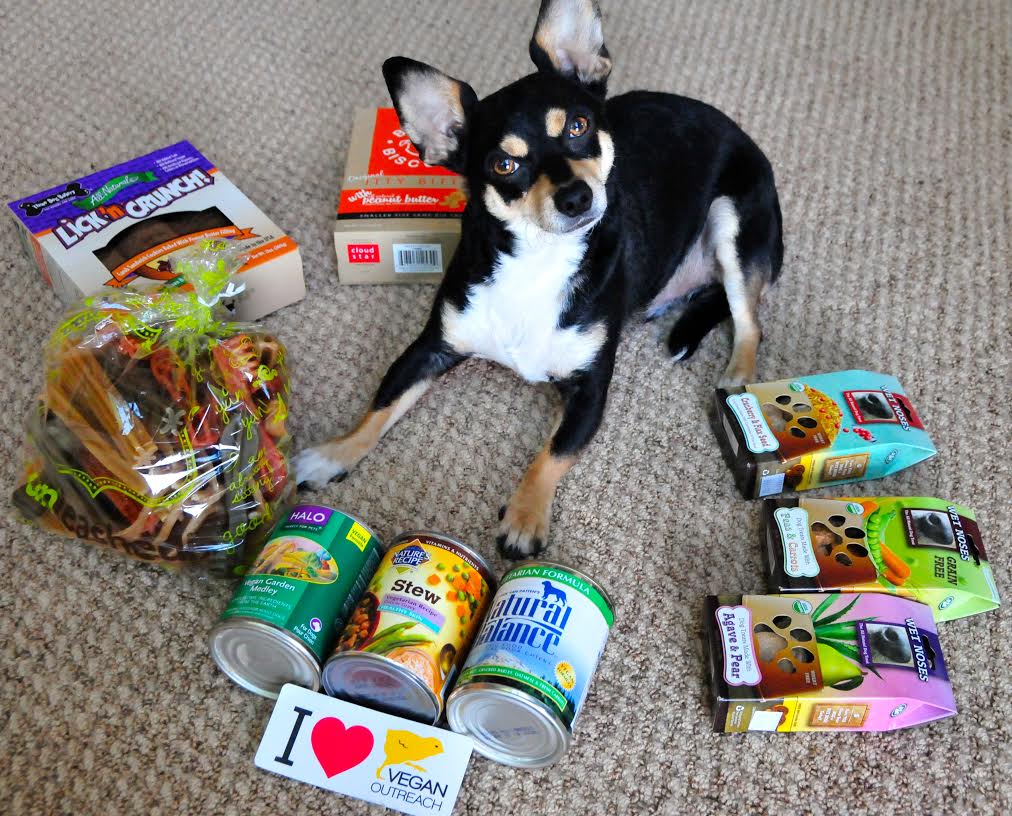 I have actually devoted more time to my dogs' diets than my own. They are also vegan and subsist on Natural Balance Vegetarian Formula mixed with a rotating variety of canned food: Halo Vegan Garden Medley, Nature's Recipe Vegetarian Stew, Natural Balance Vegetarian Formula, or Honest Kitchen dehydrated dog food. I will add water and brown rice to the mix of canned and dried food.
For daily treats, the dogs get an assortment of Whimzees, 3 Dog Bakery Lick'n Crunch Carob sandwich cookies with peanut butter filling, Buddy Biscuits peanut butter, and Wet Noses biscuits.
I like to keep it simple and routine because everything else in my life takes up so much time. However, I continue to make resolutions to strengthen my cooking skills. It would be nice to have a repertoire of meals, to cook for friends, or to bring treats for non-vegan colleagues at work in order to influence them. We'll see what happens!