By Alexis Clark, Outreach Coordinator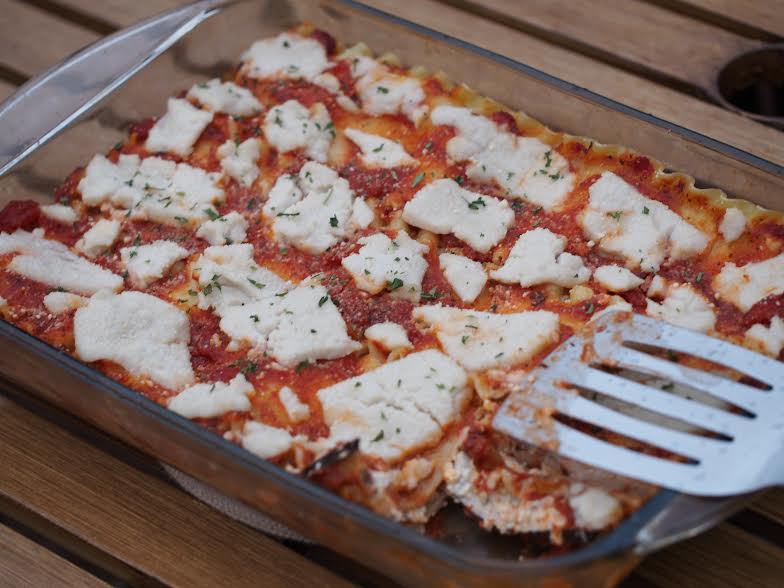 Growing up, my large, hungry family frequently indulged in the classic heavy and meat-laden dishes of our Italian-American heritage—chicken parmesan, fettuccine Alfredo, spaghetti and meatballs, and, my favorite, lasagna. Lasagna is action packed with a horde of different flavors and textures, especially when you add fresh veggies! It's the embodiment of comfort food.
Those considering going vegan often stress over the idea that they'll no longer get to eat their favorite dishes from childhood. I assure you, that's not the case! And I intend to prove it with this veganized version of my grandma's lasagna—even my carnivorous family loves it!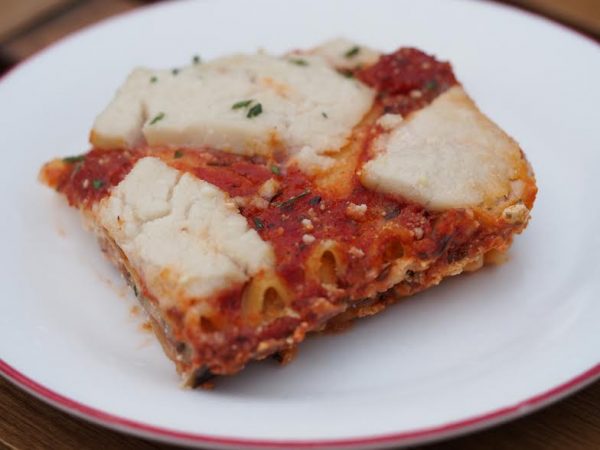 Irresistible Lasagna
Yields 6-8 servings.
Ingredients
Cashew Ricotta (recipe below)
½ to ¾ package of lasagna noodles
½ medium eggplant
Sprinkle of salt
1 small zucchini
1 package extra firm tofu
Dried parsley
Jar of store-bought tomato sauce (or homemade if you prefer)
Vegan mozzarella (I used Miyoko's)
Vegan parmesan
Cashew Ricotta
¾ cup raw cashews
2 tablespoons nutritional yeast
½ tablespoon lemon juice
1 clove garlic
½ teaspoon sea salt (plus more to taste)
¼ teaspoon ground black pepper
¼ cup water
Directions
Soak and cover the cashews for a few hours in the fridge (if in a hurry, you can soak them in boiling water for a few minutes).
Preheat the oven to 350°F.
Boil the lasagna noodles according to the package instructions. Make sure to only boil the noodles until al dente—they'll continue to cook in the oven. Drain and rinse with cold water and set aside.
While the noodles cook, slice the eggplant lengthwise into thin, ⅛" slices. Sprinkle the eggplant slices with salt to draw out excess liquids and place them in a colander for about 10 minutes. Then lightly rinse, pat dry, and set aside. Slice the zucchini the same way and set aside.
Drain and rinse the cashews. Blend them with the remaining cashew ricotta ingredients in a high-speed blender or food processor.
Drain and thoroughly pat dry your tofu. In a bowl, mash the tofu into the cashew cheese. Add dried parsley and salt to taste.
Cover the bottom of a 9″ x 13″ baking dish with a layer of tomato sauce. Layer on the sliced zucchini, cashew ricotta, and the noodles.
Repeat this layering process, but alternate the eggplant and zucchini slices. When you're done layering, finish off with a layer of tomato sauce and as much vegan mozzarella and parmesan as you want.
Bake for 30-35 minutes.
Remove from the oven to cool and add a garnish of dried parsley.
Recipes Tips/Variations
I used 9 long lasagna noodles. However, you'll want to cook more than you are using just in case some of the noodles break while cooking. I suggest making about 13 noodles or ¾ of the package.
You can make your own vegan parmesan by processing ¼ cup walnuts, 2 tablespoons nutritional yeast, and about a teaspoon of sea salt in a food processor.
This lasagna can be made in a smaller, deeper dish. Use extra layers for a more stacked lasagna.