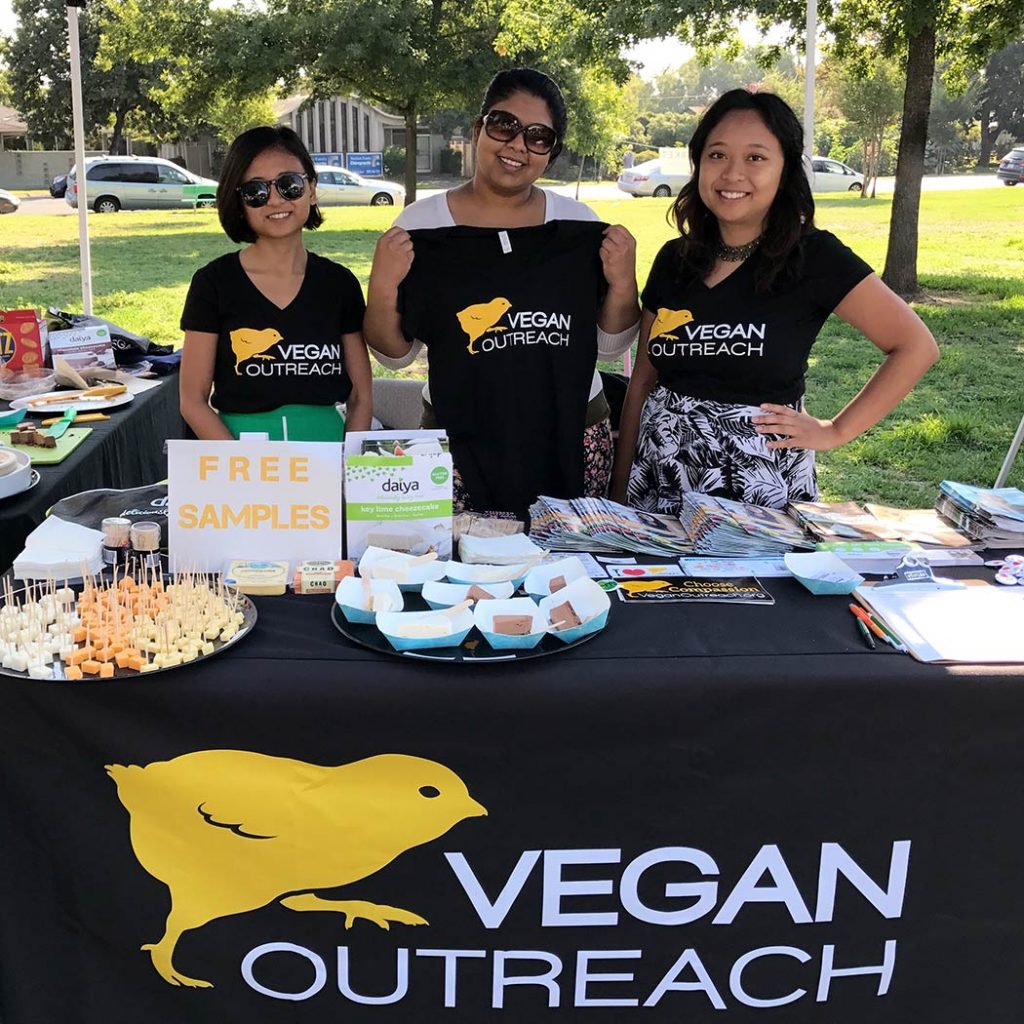 As part of our activist profile series, today we meet Jackie Va, VO's Interim Office Manager. Jackie is filling in while Josie Steiger is on family leave. She's sending out booklets, processing your donations to VO, and much more—and when Josie returns, Jackie will take on a new role with VO's Community Engagement team.
Where are you from, where did you go to school, and what did you study?
I'm from Stockton, CA, and I went to the University of California, Santa Barbara. I first studied fine art, but after a while I couldn't see myself going into that career field. I switched my major to geography to learn how to make maps. I graduated in 2014.
When did you become vegan and why?
I went vegetarian when I was 16 because I learned about global warming, and it just made sense because I always thought of myself as an animal lover. I became vegan at age 22 after I visited cows at the PreetiRang Sanctuary in Dixon, CA. After playing with the cows, I just couldn't eat cheese anymore. My sister was already vegan, so she helped with my transition.
Has your family been supportive?
Yes! When I first went vegetarian, my mom would still offer me meat, but she wasn't upset when I declined. My sister went vegan after adopting a bunny, which was a few years after I went vegetarian, so the whole family understands that we don't eat animals.
The older generation in our Cambodian family also likes to tell people in our community, especially the monks, that we're vegan. They think we're so cool!
What do you do outside of work?
Outside of work, I'm a busy bee! I work on the Stockton Vegan Living group page on Facebook and organize seasonal potlucks and social outings.
I'm also a community organizer with the group Khmer Space. We create events to unite the Cambodian community in Stockton. It's been wonderful creating social/cultural events for my Cambodian community, since I feel like we lost so much of our culture after the genocide.
I also used to volunteer with bunny rescues, and I've shared my home with many bunnies in the past. I'm taking a break from bunny care for now, but I'm probably going to end up adopting a cat and a pair of bunnies soon! When I'm not community organizing or managing bunnies, I like to go beer tasting in Sacramento and exploring vegan food in California.
What are you looking forward to most about working for VO's Community Engagement, and what's been your favorite part of the interim position so far?
I'm looking forward to exposing people to good vegan food, like vegan cheeses and meats—not salads! My favorite part of the interim job so far is answering emails from people who are looking for advice. It feels so good to connect people with veg resources. I also like interacting with Richard, the VO office rescue turtle.