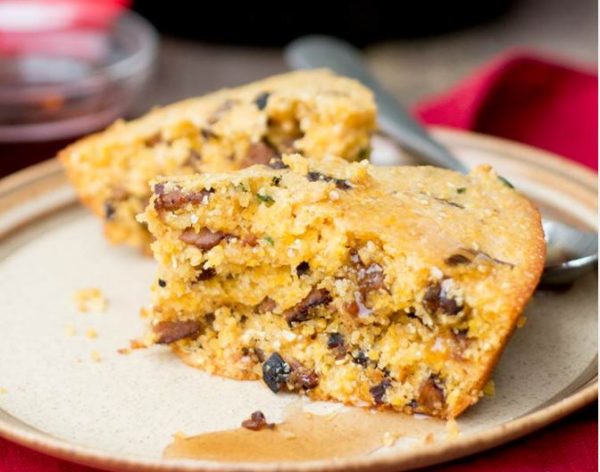 Our friends at Tofurky certainly know their way around the kitchen! This cornbread is just one of their unique and savory recipes we're literally drooling over!
Jalapeño Bacon Cornbread
Yields 12 servings.
Ingredients
6 tablespoons vegan butter spread, melted and divided
1 package Tofurky Smoky Maple Bacon Tempeh, diced into ¼" cubes
1 ½ cups cornmeal
½ cup conventional or gluten-free all-purpose flour
1 ½ teaspoons baking powder
1 teaspoon sea salt
1 cup non-dairy milk
3 tablespoons pure maple syrup
1 small jalapeño, seeds removed and minced
Directions
Preheat oven to 400˚F. Lightly grease a cast iron skillet or 9" glass pie pan.
In a large skillet over medium heat, warm 1 tablespoon vegan butter. Pan-fry tempeh until browned, about 4-5 minutes. Remove from heat.
In a large bowl, whisk together cornmeal, flour, baking powder, and salt. In a separate mixing bowl, whisk together milk, syrup, and remaining melted butter. Add to the dry mixture and stir just until combined. Fold in the tempeh and minced jalapeno.
Pour into prepared skillet or pan, and bake until golden brown, about 20-25 minutes. You can test that a toothpick inserted in the center comes out clean. Allow to cool for 10 minutes in the skillet or pan before slicing into wedges.
Click here for the original recipe.