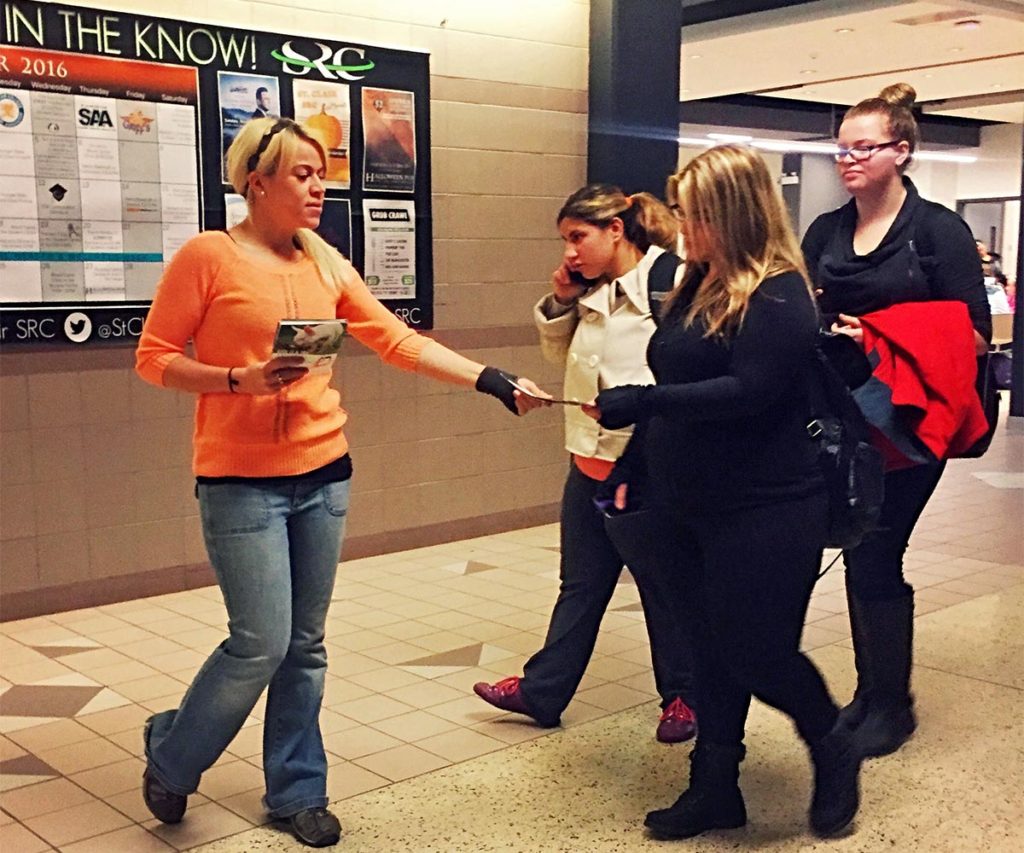 Continuing our series of activist profiles, today we talk to Vegan Outreach's Canada Outreach Coordinator, Jevranne—"Jev"—Martel. This is Jev's first semester leafleting for Vegan Outreach, and her work has been nothing less than impressive! She's been to more than 30 college campuses this fall and has distributed over 28,000 booklets!
Where are you from and where do you live now?
I was raised in Portage la Prairie, MB, which is a small farming community. I moved to Ottawa, ON when I was out of school to explore and find a place of my own that I could call home. I adore Ottawa—it's a beautiful city with a ton of nature and water everywhere.
What got you interested in animal rights and veganism?
I'd been vegetarian for over 8 years. I went vegetarian because I felt better knowing no animals were dying for me, but I didn't do the research to find out what else was happening.
Over the years, I'd embarked on a spiritual journey where I was meditating more regularly and focusing on health and fitness. As a result, I started noticing major shifts in my body. These shifts made me more aware of my body and what was happening after eating certain foods.
One day, I had a major shift and I felt I had to do more research on veganism. I came across the "Best Speech You Will Ever Hear" by Gary Yourofsky. I became vegan and an animal rights activist immediately after hearing that speech.
How did you get involved with Vegan Outreach and leafleting?
I got involved in leafleting and doing outreach three and a half years ago. I noticed there weren't as many outreach events being held as I would've liked, so I decided to organize a few on my own and get volunteers out there with me as often as I could.
I would organize a good number of events, using different outreach techniques, and I'd hand out whatever literature that I had on hand. When I came across Vegan Outreach booklets, I thought they were perfect! I would've loved to use them all the time, but due to a lack of funds—to ship them to Canada from the U.S.—I couldn't afford to. [Editor's note: Thanks to a generous donor, we currently are able to cover most shipping to Canada for those who cannot donate the shipping costs.]
A couple years later, much to my surprise, I got an amazing opportunity to work for Vegan Outreach and hand out as much of their literature as possible. I feel so grateful and happy every day!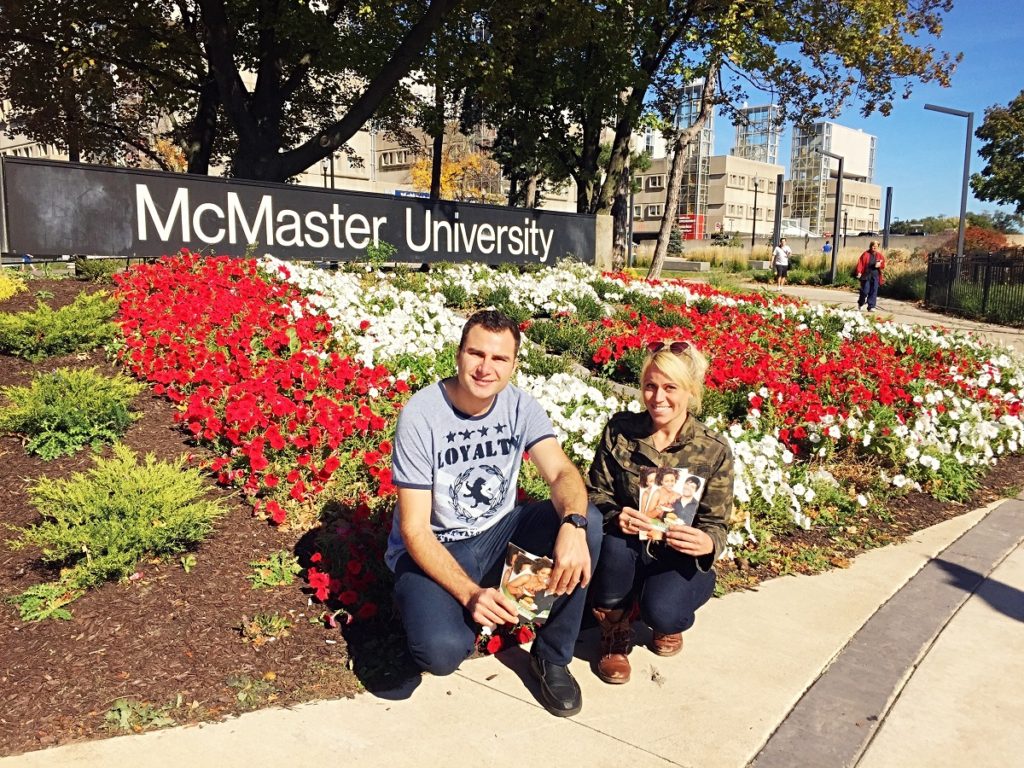 Do you have a favorite leafleting moment to share?
One time I had someone trying to give me a hard time. No matter what I brought up, he had an answer for it. Throughout the whole conversation, I was giving him some really good questions to sit on and I kept a very positive attitude. At the end of our conversation, he admitted to me that when he talks to vegans he usually goes out of his way to get a reaction, but he said my composure and delivery was really great. He ended up taking a booklet, telling me to keep up the good work, and he said he'd look into the issues further.
What do you do for fun when you're not leafleting?
I'm typically sidewalk chalking, hanging posters, doing a protest, demonstration, or doing an event of some kind for an animal rights issue. Animal rights activism is my life, and it always will be. I never mind putting aside time for the animals.
I also enjoy being in nature, going for bike rides with friends and family, meditating by the water, and camping when I can.
Do you have anything else you'd like to add about leafleting?
Have fun with it—bring your personality to the mix. Being genuine will attract more people and you'll hand out more information.
Also, don't be scared to approach people and ask thought-provoking questions. I generate so many conversations with people that have the time, but aren't feeling forced to stay and talk. I always tell them that I value their time, and if they don't have time to stay and talk I let them know that's okay. This usually intrigues them to engage in a conversation.
Can you tell us one of your favorite vegan products to share with our readers?
I love the tofu nuggets made by La Soyarie. It's my go to "junk food" snack or meal. It's super simple and super satisfying!