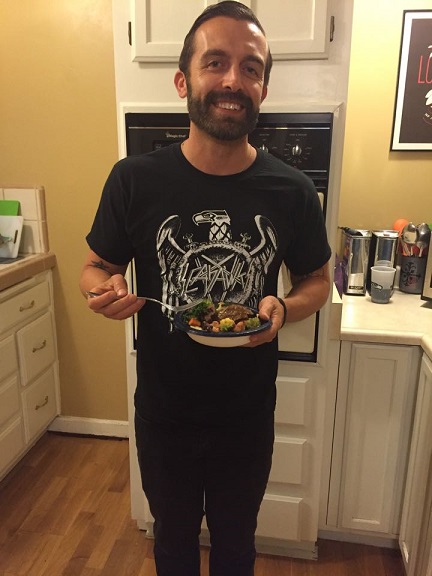 By Josie Moody, Office Manager
I often refer to myself as the, "Everything-but-the-kitchen-sink" kind of cook. I look at what I have in the fridge, and see what I can literally throw together to make a delicious meal. For me, no dish illustrates this better than my vegan breakfast hash. I really think I've never had the exact same ingredients every time I've made this meal. The only ingredient that I always include is the pre-cooked polenta, which I buy at Safeway and has a long shelf life.
This is a hearty meal that can can be served at any time of day, and is easy to make for a group of people. The best part is that you don't need exact measurements of anything and it's a great way to use that produce in the fridge whose days are numbered.
Ingredients:
Pre-cooked polenta
olive oil or another plant based oil
any variety of potato or sweet potato
your choice of greens (such as kale or spinach
canned beans
fresh (steamed) or frozen vegetables
salsa (optional)
avocado (optional)
vegan cheese (optional)
vegan meat (optional)
nutritional yeast (optional)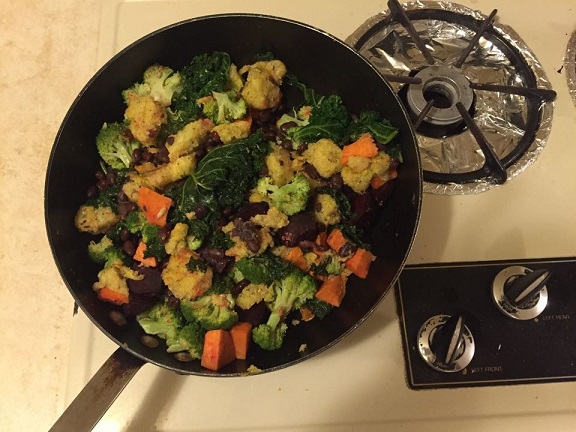 To prepare: Wash all of your produce. Skin and cube potatoes, chop veggies, cube polenta, de-spine greens and chop into strips. Open and rinse canned beans.
To cook: steam potatoes and fresh vegetables, if using, either with microwave steamer or in steamer basket over a pot of boiling water. Set aside.
Warm beans by either putting in microwave or heating on stove over low heat, stirring occasionally. Do the same with vegan meat, if using.
Put a dollop of olive oil on the bottom of a frying pan. Turn on to medium-low heat, and add polenta. Make sure the cubes are coated in oil, and cook until they start to turn golden, flipping occasionally. Add greens. Keep stirring and add more oil if needed. After greens start to shrink, add potatoes, then vegan meat and nutritional yeast (if using), beans and steamed vegetables. Continue to cook over medium-low heat until everything is warmed.
Put on a plate and serve. Feel free to top it with vegan cheese, salsa, avocado, vegan sour cream, or any of your other favorite vegan condiments. We even added tortilla chips here. Get creative, and enjoy!