Kassy Ortega, VO's Washington, DC Outreach Coordinator, has leafleted 45 different schools this semester, handing out over 34,000 Vegan Outreach booklets!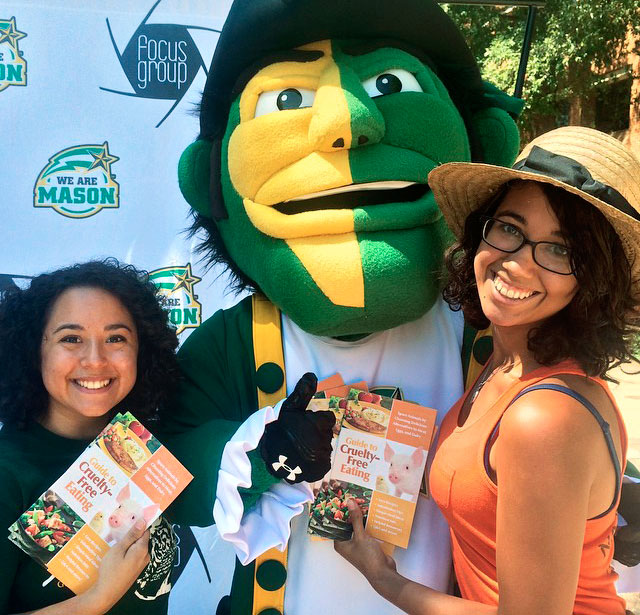 Above are Mia Amado and Kassy with the George Mason University mascot. Mia, a vegetarian freshman, was inspired to join in when she saw Dave Mosick and Kassy leafleting her school; and she's now interested in starting an animal advocacy club on campus!
I had two great conversations at Millersville University: one with a student, Hailey, an understandably "angry vegan," and one with another student who was excited to get the booklet and wants to go veg! I explained to Hailey why it's so important for animals that we remain positive and advocate for animals, despite our unfortunate circumstances. I told her to remain hopeful – that if someone like her in Central PA can go vegan, so can other students at her school – and that she should be a positive activist (no one wants to join / listen to a group of negative people). My other conversation was with a non-veg student [below] who came up and told me he was inspired and now wants to start cutting meat from his diet. (See, Hailey! Hope!)

—Kassy Ortega, 10/9/14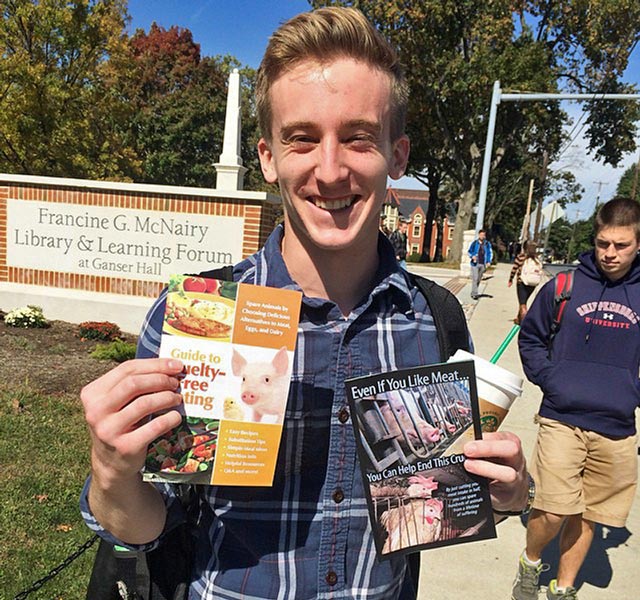 Inspire more students to go veg: Give to Vegan Outreach by December 31 and your donation will get VO booklets into the hands of twice as many young people!