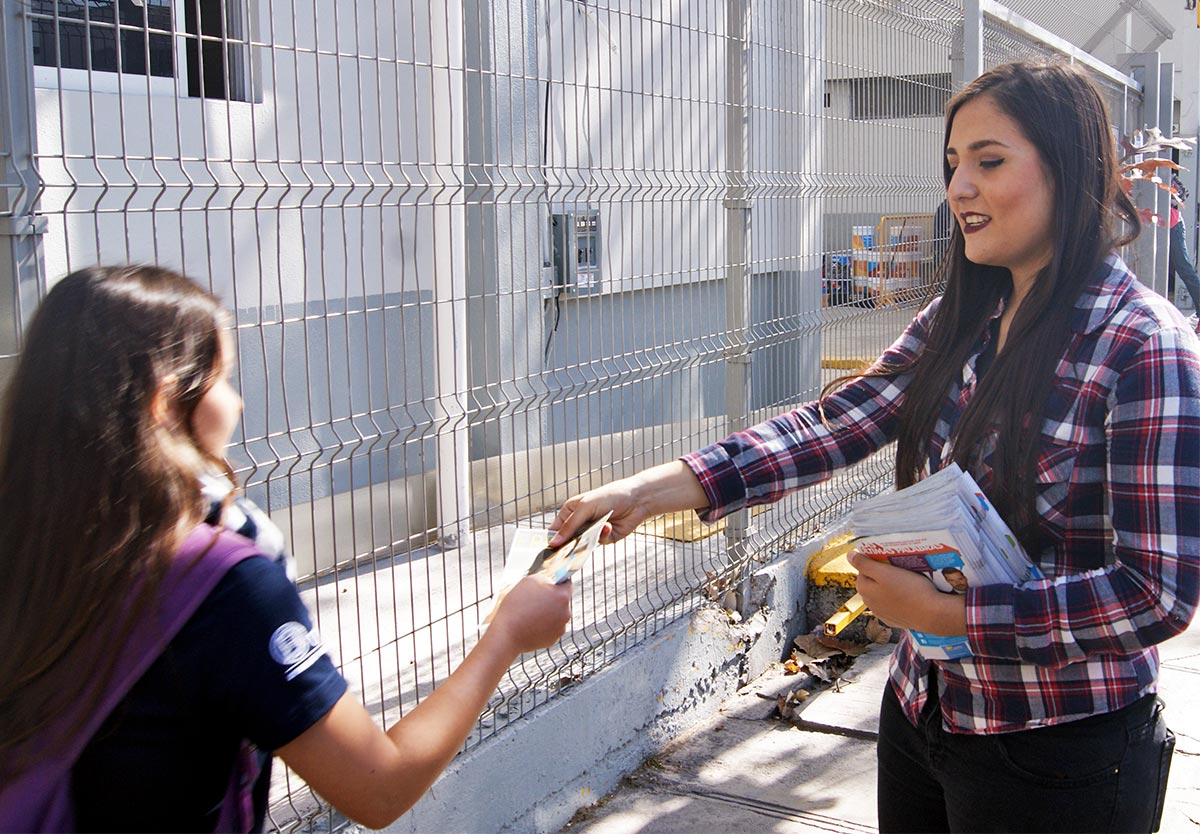 Continuing our series of activist profiles, today we talk to Katia Rodriguez, Vegan Outreach's Mexico Campaigns & Spanish Media Coordinator. In addition to helping run VO's Español pages, Katia has leafleted 36 different schools, reaching more than 29,000 students, and holds the all-time record for the most booklets handed out in a single day with 6,496 booklets at her alma mater, the Universidad Autónoma de Nuevo León!
Where are you from and where do you live now?
I was born and raised in Monterrey, México, and am currently living there.
What got you interested in animal rights and veganism?
I've always loved animals and music. I was invited to a concert where several bands were going to play, and one of my favorite bands was one of them. I was told that the money raised at this event was going to be donated to a local animal shelter, so I invited more friends so that there would be more money for animals in need of a loving home. Since there were more than 10 bands playing, there was a short period of time that was given to the bands to tune their instruments; during that time PETA's 30 Reasons To Go Vegetarian video was being played on a big screen on the stage. I decided to go vegetarian after watching it. I thought helping animals by not eating them or supporting any form of exploitation was not enough, so I decided to speak up for them and started giving conferences, setting up tables, leafleting, getting involved with animal rights organizations, and I also became vegan.
How did you get involved with Vegan Outreach and leafleting?
I had handed out leaflets about animal rights a few times before during my PETA internship, at my high school and at other animal rights demos, but it was back in 2013, when some vegan friends told me a guy named Vic Sjodin from Vegan Outreach was going to be leafleting at my university and that it would be good to have more volunteers. That was the first time I leafleted with Vegan Outreach.
Do you have a favorite leafleting moment to share?
So far, I can't say that I have only one favorite moment, I definitely have a few, but one of the most memorable is when I offered a leaflet to a guy who said no in a rude way and walked away. Then, he came back where I was standing and asked for a leaflet, said he was sorry for rejecting it and explained why he did it. He said he kind of knew what the content was going to be about, that he knows eating animals is wrong, but he has been avoiding reading more about it. He said it was time to face the truth, took the leaflet and continued walking. Another favorite moment was when I gave a leaflet to a guy named Israel the day VO officially started its first tour in Mexico at the Universidad Autónoma de Nuevo León [below]. He read the booklet and decided to join us, and he handed out over 1,000 booklets that day.
What do you do for fun when you're not leafleting?
I love reading, attending concerts and visiting my friends that were rescued and now live in an animal sanctuary. I enjoy watching 90s cartoons and horror movies, walking around store aisles discovering accidentally vegan food and hanging out with my friends.
Do you have anything else you'd like to add about leafleting?
Leafleting is a very effective way to reach a great amount of people and creates a positive impact. Every time I leaflet and hear someone say they are seriously considering going vegan, every time I see someone reading the booklet, every time someone asks me for more information or thanks me for being there, they are all special moments that remind me how important creating awareness is and how important this is for the animals.