By Lisa Rimmert, Director of Development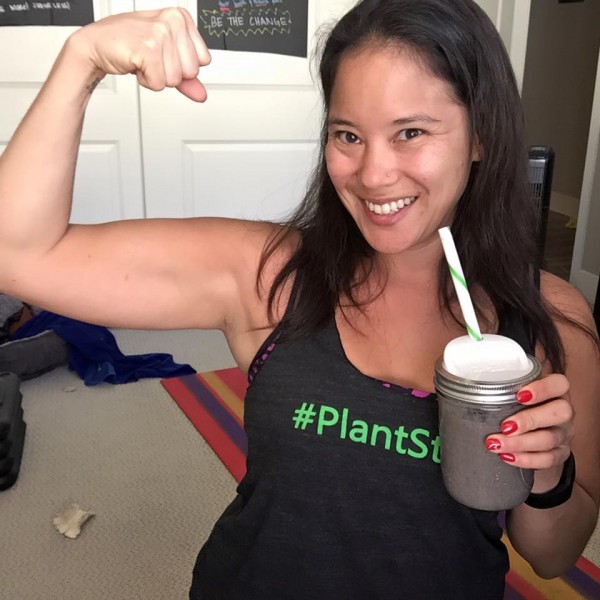 Terry Hagio is one of the activists making Team Vegan a success this year. Through her Team Vegan page, Terry was raising funds for outreach on Day One!  She's raised over $100 so far, and she hopes to bring in $1,000 by June 30—to be matched dollar-for-dollar to make a huge impact on what work Vegan Outreach can do this fall. I asked Terry if I could highlight her campaign—and her work for animals—and she graciously agreed. Thank you, Terry!
How and why did you become involved in animal issues?
I went vegetarian in 1996 when I realized the food on my plate used to be alive. I went vegan in 2011 after learning about the horrors of the egg and dairy industries from my sister. Once I went vegan, I knew I had to do more and use my voice to help the voiceless by volunteering with organizations like Vegan Outreach, Mercy for Animals, and The Humane League.
What drew you to participate in Team Vegan?
I did my first race in 2011 and that was my first experience with running and fundraising. I have done some sort of "fundracing" every year since and love supporting amazing organizations that align with my beliefs, like Vegan Outreach.
Many Team Vegan members choose to complete a physical or other challenge to accompany their fundraising goal. What is your Team Vegan activity and how did you decide on it?
I have a new goal of running a half marathon in every state, so I picked the Rock 'n' Roll Half Marathon in San Diego. I also have a bucket list item of completing a triathlon, so I signed up for the Chicago Triathlon with some friends in Chicago! I love finding new races in new places with friends! My last race of the year will be the running leg of a half Ironman relay in Austin!
Thank you, Terry, and best of luck on your half marathon and other runs!
If you'd like to show support for Terry and Vegan Outreach, donate to her Team Vegan page today! Every donation is doubled! Thank you!