This semester, Rachel Shippee has handed out 7,974 booklets at 15 different schools, and John Deetjen has traveled to 36 different campuses, handing out 5,480 booklets!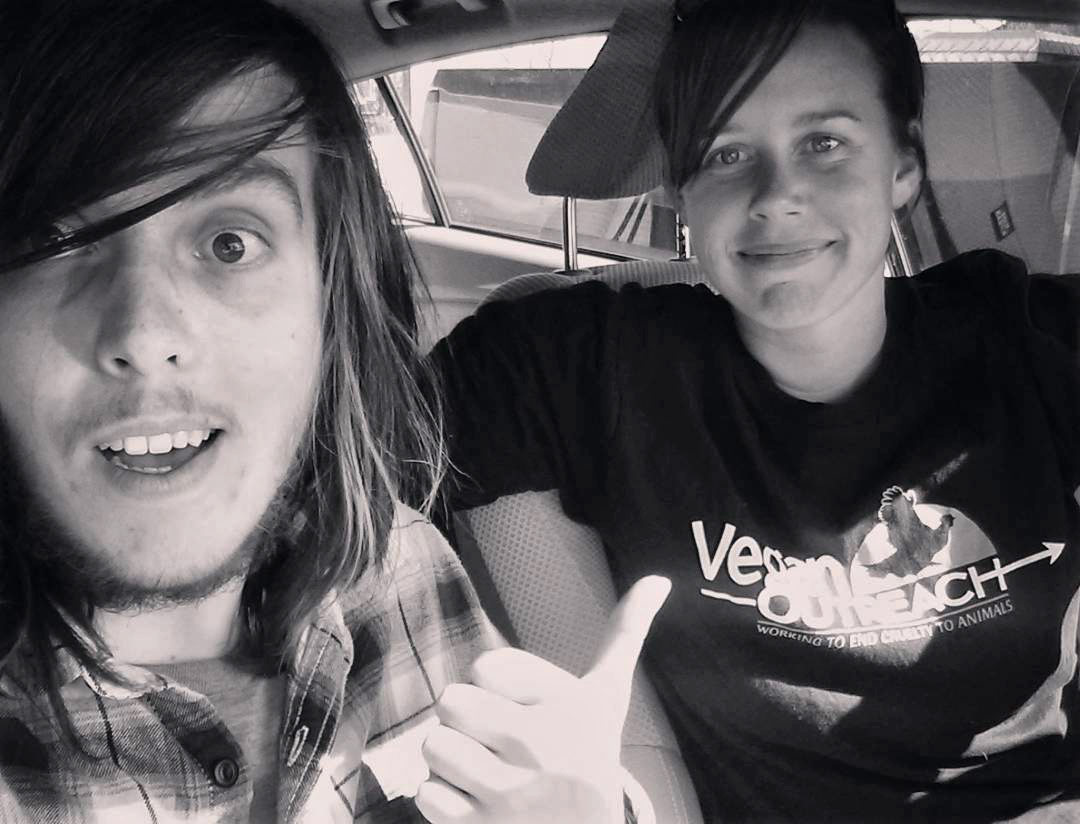 Above are John and Rachel after handing out 960 booklets at Northern Illinois University on April 11, which marked an Adopt a College milestone for Rachel:
We had a tough time with the wind and cold, so we tried leafleting inside the student union; it wasn't very busy there but it's a good option during extreme weather. They have tables set up too, which worked perfect for us.

Students here are always really nice and interested in the information.

Despite the weather, I was thrilled to hit my goal of 200K leaflets handed out! Hopefully many more to come.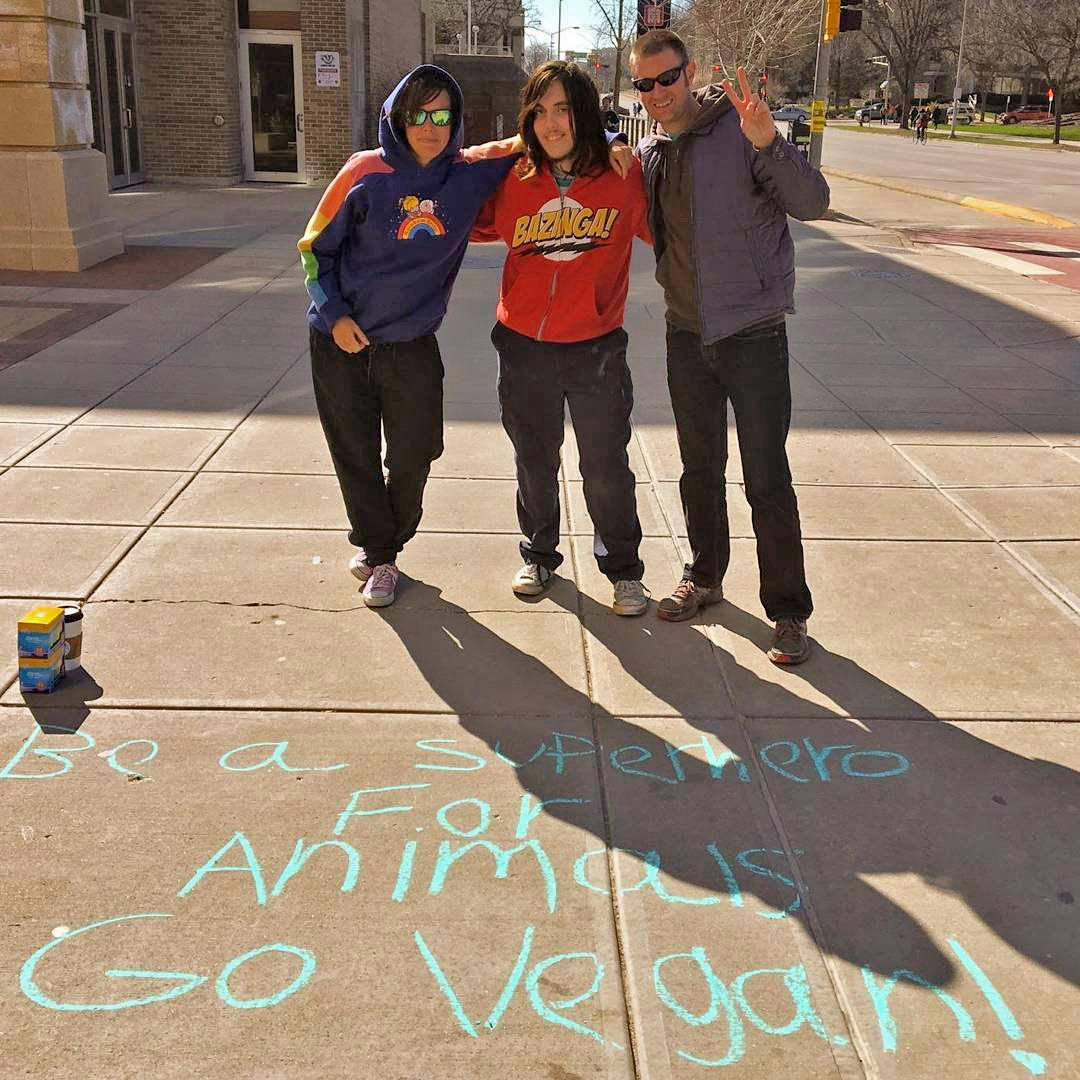 On April 9, Rachel, John, and fellow activist Kevin Cooney (above) leafleted Wizard World Comic Con in Madison, WI:
Kevin, Rachel and I had a great day of activism in Madison! We reached 894 people with Vegan Outreach booklets at Comic Con and drew this for the #veganchalkchallenge!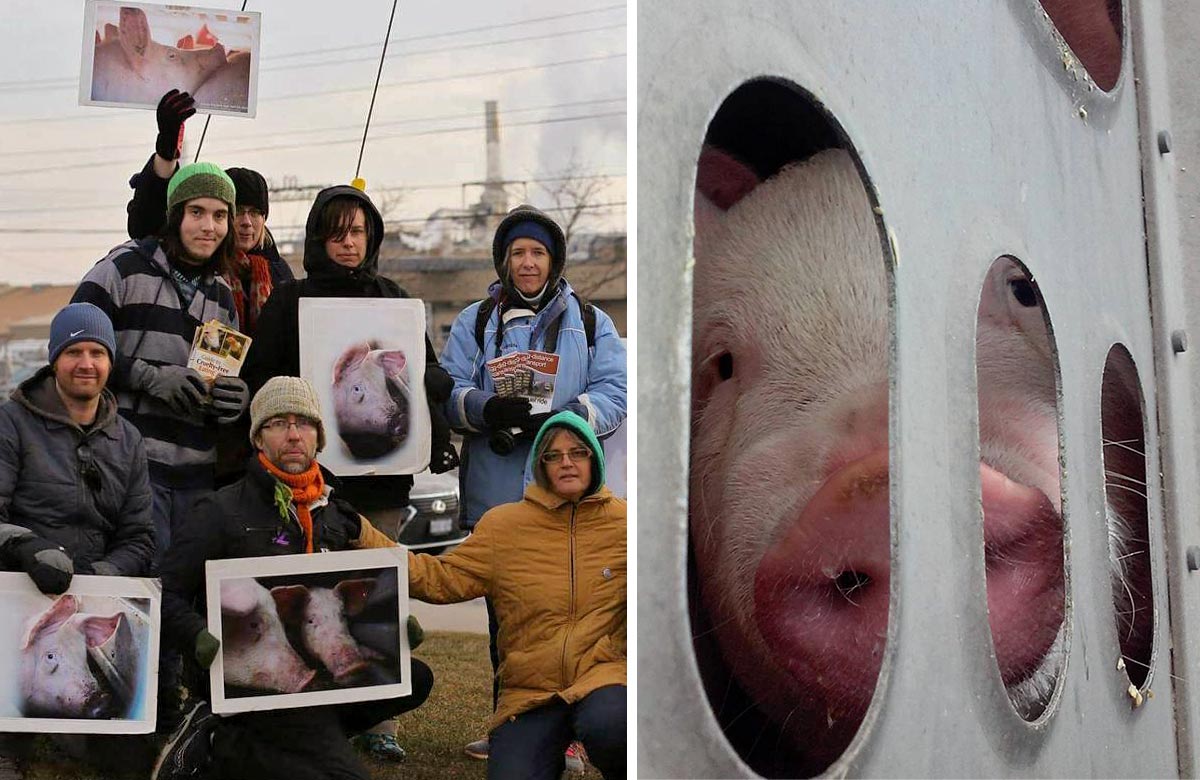 Rachel, John, and Kevin traveled to Canada in January and joined John Sakars, Alex Greenwood, Anita Krajnc, and other activists at a Toronto Pig Save vigil outside a slaughterhouse in Burlington, Ontario (above). John reports:
During the time that we were there, we saw four full transport trucks with pigs. Talk about a moving and activism-motivational experience!

I leafleted cars that were stopped at the stoplight…people seemed very receptive and curious to learn why we were out there!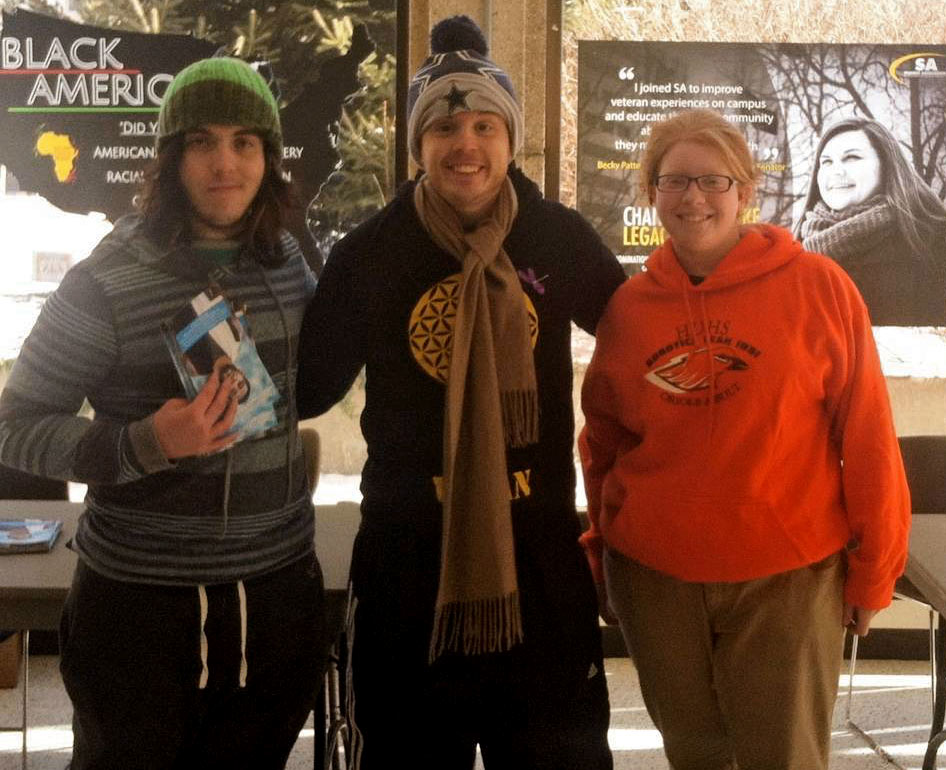 On February 17, John teamed with Thomas Goodman and first-time leafleter Amanda McCrary at the University of Wisconsin (above):
Huge day of veganizing Milwaukee! This crew reached 2,377 people with Vegan Outreach leaflets at UW Milwaukee and an additional 262 students at Riverside University High School! One student told us that getting a VO booklet is what made her and her family go vegan!
You can help more students and their families go vegan by taking part in VO's Team Vegan campaign! Register for your own fundraising page and post a profile pic by May 20, and a generous donor will seed your campaign with $100! You can also help Rachel and other team members reach their fundraising goals, or make a donation to the general fund. All contributions up to $200,000 will be matched, inspiring twice as many people to go vegan and sparing twice as many animals from suffering!