By Lori Stultz, Outreach Coordinator
Howdy! I hope the month of March is treating y'all well! … Did you catch that? That is my inner Texan, who I didn't know existed, coming to the surface. But really, how could she not? I have been in the state for nearly a month, and let me tell you, it has been a wonderful experience!
I started in the northwest part of the state, in El Paso. I had an amazing reception from the students at El Paso Community College and the University of Texas at El Paso! The students were very friendly and expressed a great deal of curiosity about the issues surrounding farmed animals.
San Antonio was my next stop. I put in a full week of leafleting there and in and around the nearby city of San Marcos. The most memorable day of leafleting was when I was at Texas State University (TSU). Volunteer Morgan (who is a student at TSU and president of the TSU Animal Rights group) and I passed out 2,000 leaflets in a little over two hours! It was a crazy two hours, but so much fun!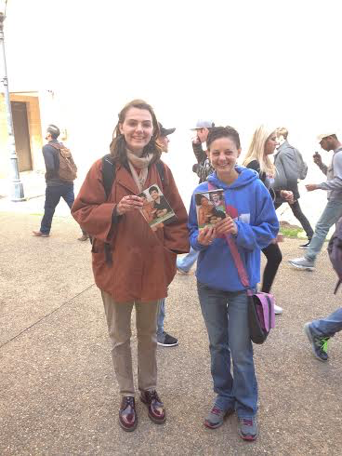 TSU was not the only school where I couldn't pass out leaflets quickly enough! When I was farther south in Edinburg at the University of Texas Rio Grande Valley a week later I had a similar experience. In fact, the leafleting was happening at such a rapid pace that I didn't notice a bee buzzing around my boxes of leaflets. When I reached down to grab another handful of leaflets, I must have made the little fella angry—he stung me. Luckily it didn't hamper my progress and it was still a fantastic day of outreach!
Right now I am in Houston, and today was the last day of a week-long Houston leafleting marathon. Three volunteers from a local Houston vegan group joined forces with me and we handed out more than 1,600 leaflets at the University of Houston. We heard from several students who were already vegan or vegetarian, and we had a few conversations with individuals who had some great questions about farmed animals. Between the local Houston group and a new animal rights group at the University of Houston, there are going to be many more days of leafleting at this campus!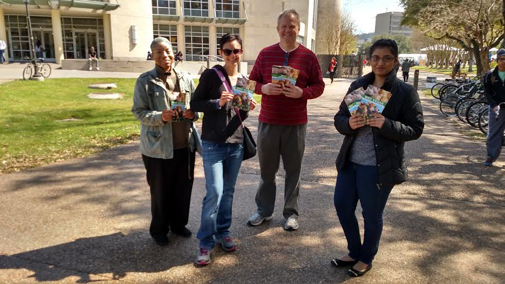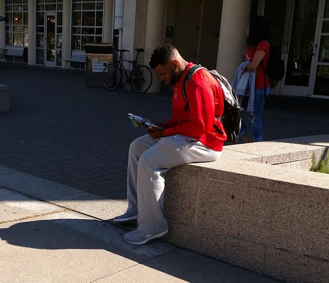 In addition to the rewarding days of leafleting, I've had the opportunity to participate in many fun activities during my time in Texas. I had the pleasure of doing some sightseeing and spending time out in the 80-degree weather when I was in San Antonio. My San Antonio host, Kaz Sephton, chauffeured me to several really unique places including the Alamo and the heart of historic downtown San Antonio, where we took a boat ride along the famous San Antonio River Walk.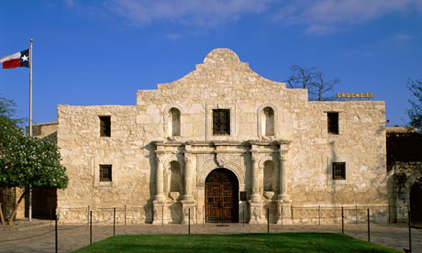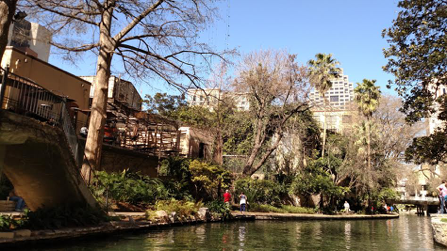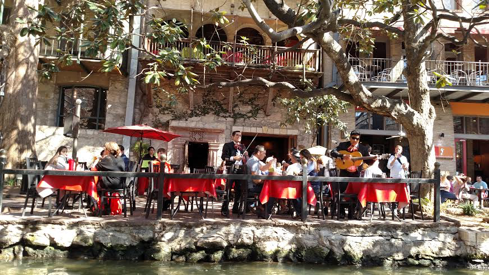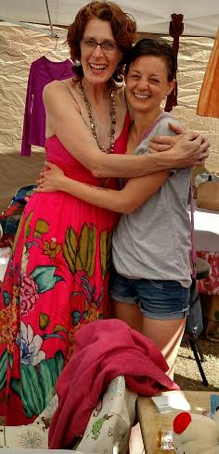 She also took me to four different vegan-friendly restaurants in the city, none of which disappointed in yumminess.
The first restaurant we went to was an entirely vegan, gluten-free Tex-Mex restaurant called Viva Vegeria, where Kaz and I enjoyed the nachos and street tacos.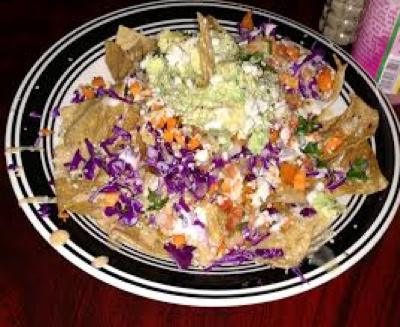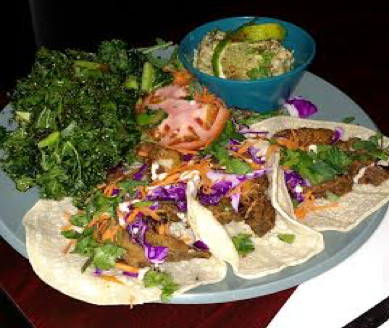 The second eatery was another entirely vegan Tex-Mex restaurant called Señor Veggie. This restaurant offered its own versions of delicious Mexican food, and after staring at a menu for about 20 minutes, Kaz and I finally ended up ordering two dishes, sharing the Portobello Fajitas and Mini Chalupas.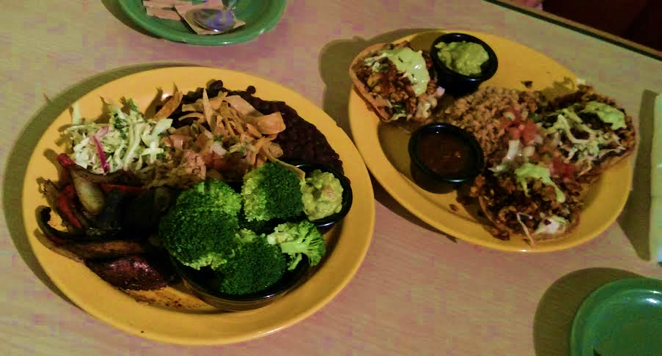 The third restaurant I had the pleasure of trying (twice!) was Green Vegetarian Cuisine. Green offered a wide array of dishes that could be made vegan, ranging from American cuisine to Mediterranean. I fell in love with the Protein Salad, which I ordered both times, and Kaz enjoyed the Artichoke and Portabella Quesadilla with mashed potatoes and the daily special, which was a Sesame Tofu Bowl.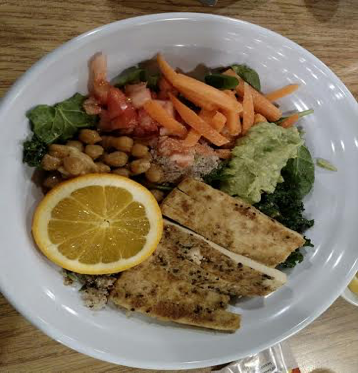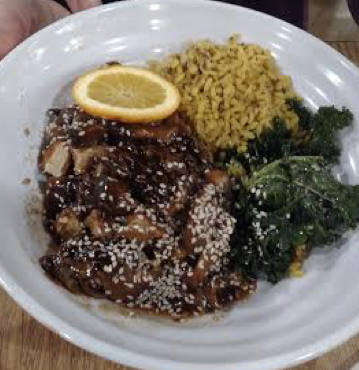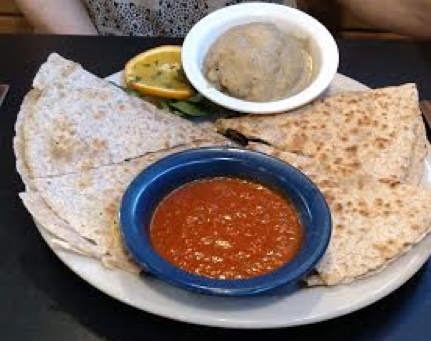 Green's sister restaurant, Earth Burger, is a vegan fast-food burger joint that offered a ridiculous number of vegan veggie burgers. Regretfully, I didn't take any pictures of the food, but I can tell you that the best option on their menu isn't a vegan burger—it's the coconut soft serve ice cream. Yes, that's right–they had a coconut soft-serve ice cream machine! Who votes that we get one of those machines in every restaurant that serves dairy soft serve? I do, I do!!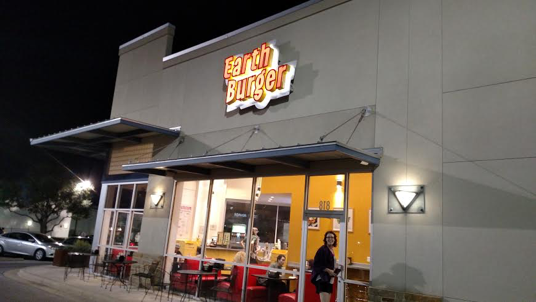 Well, as sad as it is to say, I imagine my inner Texan will slowly retreat as I move on to Kentucky and Tennessee next Friday. Beaumont, Nacogdoches, and Tyler will be my last three stops in The Lone Star State.
I am thrilled to say that the next time I write, I will have my wonderful intern, Holly Brown, with me. Holly will be joining me on the road for a little over five weeks (mid-March to mid-April), and I am so excited!  I am looking forward to not only having consistent help leafleting, but am also happily anticipating the opportunity to share the experiences on the road with another person. I will properly introduce y'all to Holly next time (my inner Texan lingers!) as well as update you on how our joint leafleting efforts are going as we make our trek through the South.
Until then…