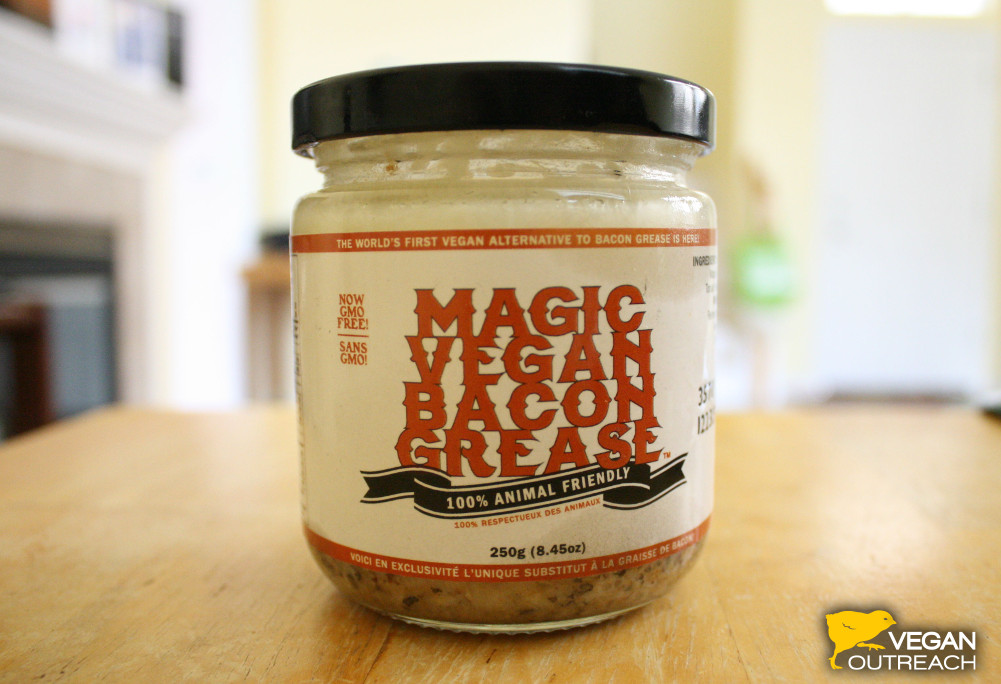 By Toni Okamoto
A friend of mine recently contacted me asking how she could replace bacon fat in a recipe. I was stumped! I asked the Vegan Outreach office staff if they knew of a good replacement, and our office manager, Josie, sent me a link to this product: Magic Vegan Bacon Grease. Immediately I wondered what crazy ingredients it included for taste, but I was pleasantly surprised to see that they only use: Coconut Oil, Non-GMO Soy Protein, Sea Salt, Pure Maple Syrup, Black Pepper, Onion, Garlic, Torula Yeast, and Natural Smoke Flavor.
Prior to my friend's question, I had no idea that bacon grease was an ingredient that people regularly used in cooking. Turns out it can be used it in any dish that you'd add oil to usually. With a quick Google search I found recipes for cookies, salad dressings, brownies, pasta dishes, etc.
Still a little skeptical, I decided to try the Magic Vegan Bacon Grease out for myself. I made a fantastic veggie-loaded Tofu Scramble, served with Biscuits & Gravy.
The first noticeable thing on their website was the image of ingredients with the text "Is it really so strange?". I decided to assume that it was a Smiths reference because that usually means that a company is awesome. And I was totally right … an awesome company made an awesome product!
Right now, the product is only sold in few places, you can see the store locator here: http://veganmagic.cc/where.html I highly recommend giving it a try!
Gravy: The gravy turned out amazing! I've made this recipe a million times only using regular oil, but the vegan bacon flavor really added a kick. I served with store-bought biscuits from Safeway.
Ingredients:
1 cup water
1 vegetarian bouillon cube
1 tbsp magic vegan bacon grease
1 tbsp oil
1/8 cup yellow onion
2 tbsp flour
Directions:
I start by either boiling or microwaving the water and bouillon cube until it's a well mixed broth, then set it aside.
Over medium heat, put Magic Vegan Bacon Grease, oil, and onions into a small sauce pan and cook until the onions become translucent. Lower the temperature, add flour and stir until your roux has a smooth consistency.
Add broth and stir over low heat until it thickens.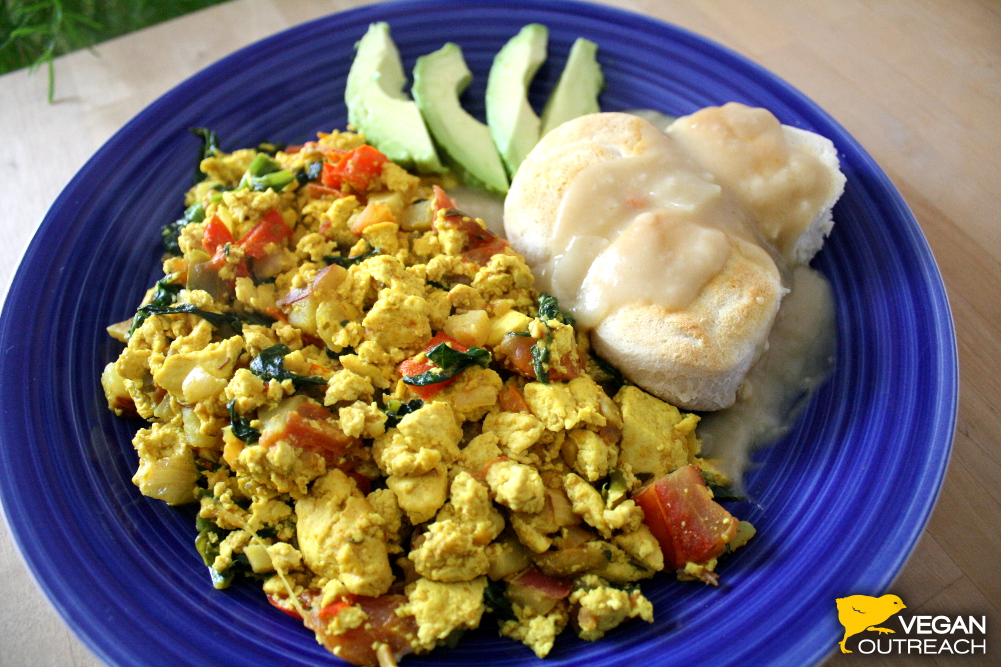 Tofu Scramble: I was a little nervous about the flavor overpowering my breakfast, but there were so many flavors in the tofu scramble that the vegan bacon grease seemed perfectly subtle.
Ingredients:
1 package of firm tofu (12oz), crumbled
1/2 yellow onion
2 cloves garlic
4 tbsp magic vegan bacon grease
1 1/2 tbsp turmeric
1 tsp oregano
3 tbsp nutritional yeast
salt & pepper to taste
your favorite veggies
Directions:
In a large frying pan, cook the tofu, onions and garlic in Magic Vegan Bacon Grease for a few minutes — stir so that it coats the tofu. Add turmeric, oregano and nutritional yeast and stir again. Add most of your veggies. If you are using veggies that cook longer such as broccoli, carrots, or potatoes you want to let them cook for about 10 minutes before adding in veggies that cook fast. Including: mushrooms, kale, spinach, and tomatoes. You should cook the whole mixture for about 15 minutes.