Interview by Toni Okamoto 
Today we meet Renee Press of Fire and Earth Kitchen.  As you can see in this interview, she is really knowledgeable about different aspects of food and food preparation, and has the sweetest way of explaining so it is easy to understand.
We're thankful that Renee took the time to chat with Vegan Outreach about the questions commonly asked about veganism. Check out her answers below, and if you have the chance, try that tasty Sunflower Seed Pesto. I have made batches of the pesto and froze it in individual servings — it's amazing! So much cheaper than using walnuts or pine nuts, too.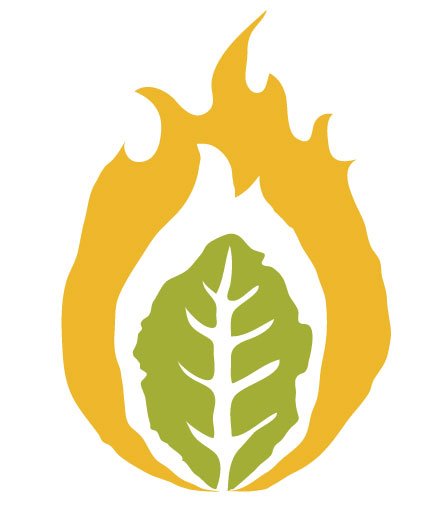 What chain restaurant do you recommend if you're traveling or in a hurry? Hmm, probably Chipotle. If Veggie Grill is around, I'd go there for sure.
Is it expensive to be vegan? It can be as expensive to be vegan as being an omnivore, it depends what you buy and where you shop. Buying in bulk (if available) saves a lot of money, as does buying fresh produce and certain staples, rather than pre-packaged meals. Shop around for the best deals and make a grocery list of what you'd like to buy that week.
Is it possible to be vegan if I live with family members who are not vegan? Yes, you just need to plan. Think ahead to make dishes that would appeal to everyone (veggie lasagna, rice and beans, curries, stir fries) meals that can easily be enjoyed veg.
Is it boring to cook only vegan foods? Learning to cook with plants has been the most rewarding thing I've ever done. You hear time and time again, "The day I went vegan, the doors of culinary experimentation were opened to me" And it's true, vegan cooking is one of the most versatile, healthy, and delicious ways to cook. You just need to ignite that spark by giving it a try.
What easy recipe do you have to share with Vegan Outreach supporters who are interested in learning to cook veg foods?
This Sunflower Seed Pesto  is spectacular on pasta, veggies, pizza, toast. The light nuttiness of the sunflower seeds mixes with the punch of the fresh garlic, and the bright taste of basil wonderfully and really captures the essence of summer. The photo shows it mixed with gluten-free spaghetti and a mound of fresh vegetables. But it's so tasty, anything goes. Double this recipe if you like it!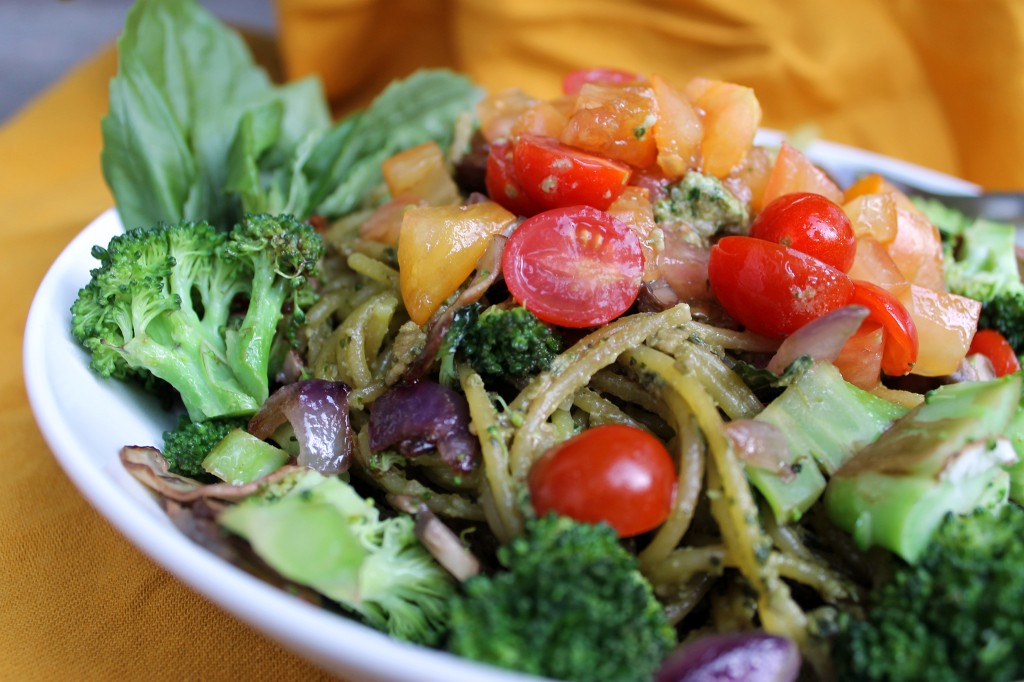 Ingredients
1 cup basil
1/2 cup raw sunflower seeds
1/4 cup olive oil
3-4 cloves garlic
1/4 tsp salt
1/4 tsp sugar
1/4 tsp black pepper
1 Tbsp nutritional yeast
1 Tbsp fresh lemon juice
Directions:
Combine all ingredients in food processor and process until creamy. Usually 1-2 minutes, stopping to scrape down the sides as needed. Toss with warm pasta, spread on toast or pizza, or use as a dip.