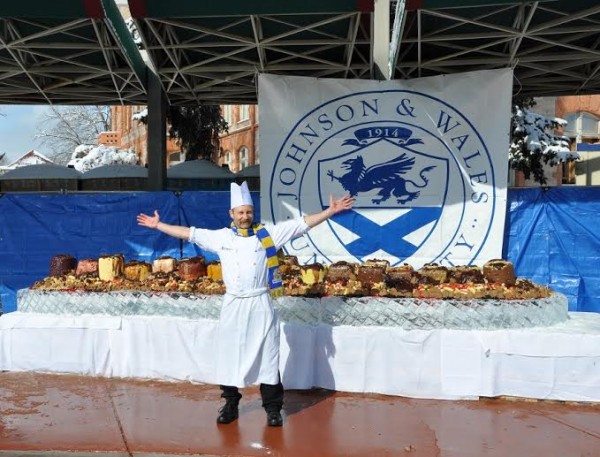 By Lisa Rimmert, Donor Relations Manager
If you're already vegan, or you've been following our blog, you're probably well aware that most – if not all – animal foods can be made vegan and taste great, including the most decadent dishes like ice creams and other desserts. That's the point one instructor and his Culinary Nutrition students set out to prove when they created a 1,251 lb vegan banana split. Yes, you read that correctly.
Last week in Denver – where I live – I attended a community event at Johnson & Wales University at which Chef Sacks and seven students unveiled what they hoped would be the world's heaviest vegan banana split, and that's exactly what it was.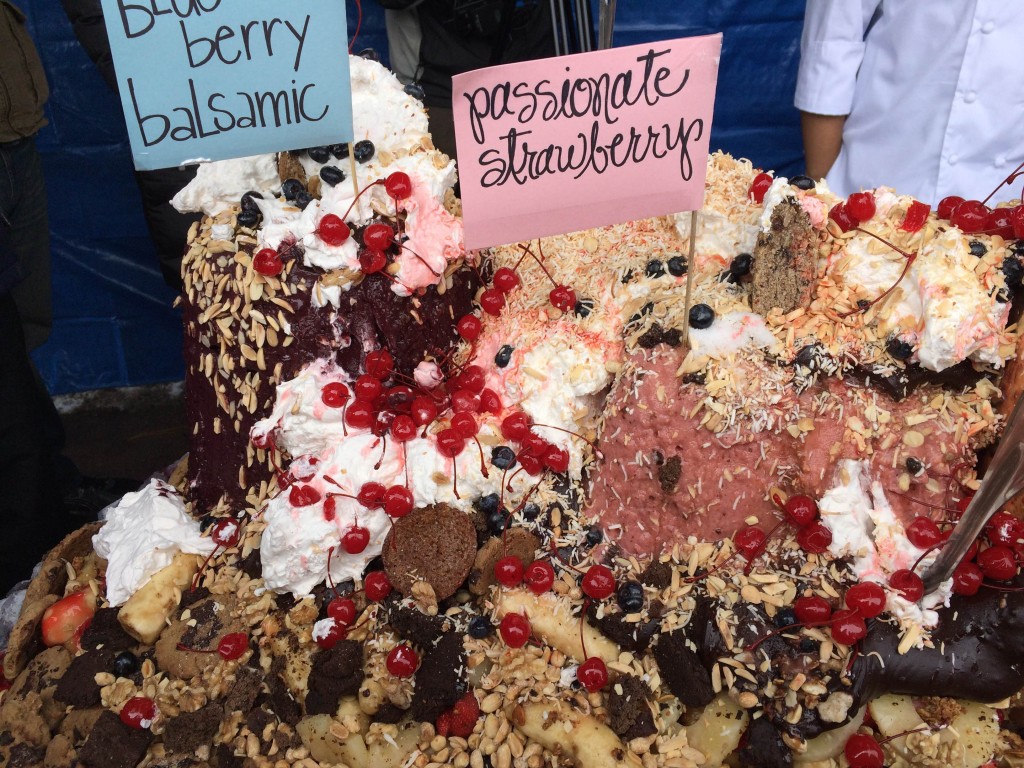 The enormous dessert consisted of more than 700 lbs of ice cream (made from a base of beans), over 200 lbs of bananas, and a variety of toppings like cherries, coconut and soy based whipped cream, cookies, nuts, and more. Ice cream flavors included pumpkin ginger, jalepeño corn, shoo-fly pie, and black bean molé.
The reason for making the banana split vegan, said Chef Sacks, was to "share with the rest of world that vegan cuisine is limited only by one's imagination." He added, "It is not a sensory sacrifice! It is a truly exceptional way to appreciate our food."
The event was a project of the University's vegetarian cuisine course, in which students learn to prepare nutritionally balanced vegetarian dishes. They also explore the importance of why people choose vegetarian diets. The banana split took five and a half weeks to create.
Despite below freezing temperatures, the unveiling and final weigh-in brought dozens of community members, each of whom had the chance to add a cherry as the "finishing touch" before the banana split was weighed. It has been submitted for entry in Guinness World Records.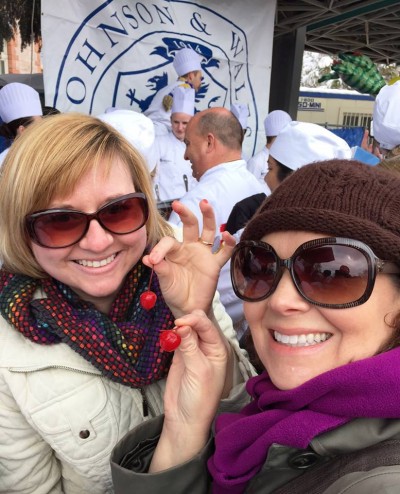 Chef Sacks said he considers the event a success. I have to agree. It was pretty thrilling to see so many people eating and enjoying vegan food. Chef Sacks said, "I really loved watching all the younger kids gorge themselves on bean-filled ice-cream. If they only really knew!"
Johnson and Wales University made available one of the recipes, and we've shared it below. Enjoy!
RECIPE: Pumpkin Ginger Vegan Ice Cream
Number of servings: 10
Ingredients:
Cannellini beans (canned) 5.25 oz.
Soy or rice milk 16 fluid oz.
Pureed pumpkin 5.25 oz.
Evaporated cane juice powder (raw sugar) 3.75 oz.
Ground cardamom 1 teaspoon
Ground ginger powder 2 teaspoon
Vanilla extract 1 tablespoon
Directions:
Rinse beans and simmer for 4 minutes.
Drain and rinse again.
Combine all ingredients in blender, blend until smooth.
Process in ice cream maker and freeze.
Allergy info: contains soy if using soy milk.