Interview by Toni Okamoto 
Sapling Vegan's founder, Stephanie Lundstrom, is fantastic! She's hilarious, her food is delicious, the photography is beautiful — she has contributed photos to several of Vegan Outreach's booklets and our website. It is only natural that we'd ask her to be featured for Veg Food Fridays!
Below you'll find our interview with Stephanie, as well as a delicious recipe from her blog! Enjoy!

How will you live without cheese or ice cream?
I was vegetarian for 11 years before going vegan. I thought chickens were laying eggs anyway, so why not eat them? Cows made milk anyway, so why not drink it? Then I read Skinny Bitch and that got the ball rolling. I decided cheese and ice cream weren't worth the animals having crappy lives. There are TONS of amazing vegan ice creams. My favorite is So Delicious Almond Milk Mocha Almond Fudge. It also makes a perfect milkshake. I made one for a friend and it he couldn't believe it was all vegan.
Before I became vegan, I LOVED cheese. It was flowing through my veins. But after a while the cravings stop. Your taste buds actually change and you like new flavors. That may sound scary, but cheese does not control you! You can do it! On pizza I leave off the cheese and use pesto or peanut sauce. It's always a pot luck hit.
Is it possible to be vegan if I live with family members who are not vegan? 
Oh yes! That's what most vegans do! I was 14 when I went vegetarian. My Mexican family didn't know what to do with me. I was still living at home when I went vegan. I was in Hawaii when I decided to ditch dairy and eggs. I told my mom, "When I come home I'm going to be vegan." So upon my return she tells me she bought me a carton of eggs and a gallon of milk because she thought I would have changed my mind by the time I got home. Five years later and I'm still sure I made the right choice.
If you can, take an afternoon to make yourself a bunch of food so if your family didn't make you a veggie option, you have stuff already made to pop in the microwave. It was hard at times. Expect a little teasing, and have a light hearted non-judgy come back. When you can, bring a veggie dish to family gatherings to show you don't have to eat salad alone in a corner. My aunts now make the rice and beans vegan for me or they'll put a small portion aside of dishes before adding in cheese ot meat. They ask me for recipes now! It takes a while but people come around when you show it's important to you and you are going to stick with it. I'd say join a veggie meet up to make some friends. If there is one thing vegans like, it's talking about being vegan. If a new vegan wanted to pick my brain, I'd so so stoked.
Is it boring to cook only vegan foods? 
Nooooo. It's not at all. I have eaten so many things that I love that I never tried as a meat eater or vegetarian. When I cooked as a vegetarian, I relied on cheese to make things better. My meals were heavy and left me in a food coma. You get creative with flavors and trying new things. It's really opened up my life so much mush good food.
Best veggie tip? 
Make batches of different flavored overnight oats for quick easy breakfast. Always have frozen bananas in the freezer for extra good smoothies. Everything tastes good in a burrito or over a bed of garlic-y sauteed kale.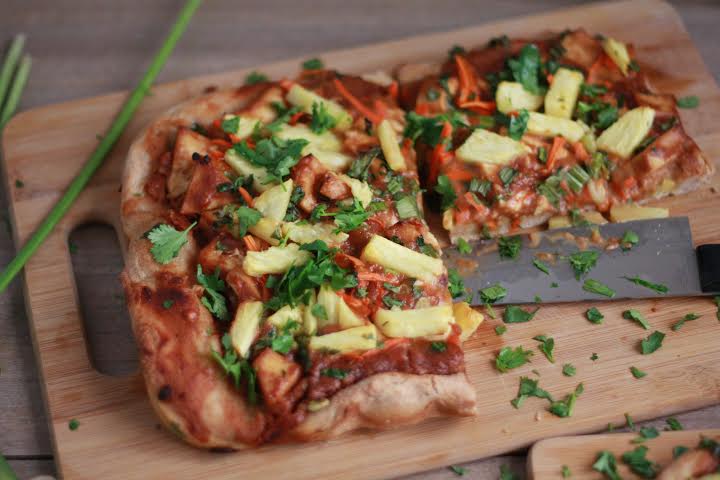 Ingredients:
One pre-made dough (Mine was from Trader Joe's)
For the Sauce:
1/3 cup crunchy peanut butter
1/4 cup coconut milk plus 2 Tablespoons
2 Tablespoons soy sauce
3 large garlic cloves
1 teaspoon grated ginger
1 Tablespoon agave
1 Tablespoon lime juice
For The Pizza:
6 oz tofu cut into small cubes or triangles
1/2 cup chopped pineapple
1/2 cup chopped cilantro divided into two parts
1/2 cup carrots chopped into tiny matchsticks
1 green onion chopped
My dough needed to sit out to rise for 15 minutes. Do what your dough says to do, and preheat the oven according to its package, mine was 400°.
Start making sauce by adding all sauce ingredients and tofu into a pot and stir together under lowest heat (just to take some of the bite out  of the garlic).
Chop all pizza toppings, remembering to keep an eye on the sauce. Stir so as not to burn.
Spread dough out on a baking sheet and top with sauce (with tofu in it) and add all toppings, reserving 1/4 cup of cilantro
Bake until pizza crust is golden brown. Mine baked for 20 minutes. Once it's done, top with remaining cilantro.