By Kim Sujovolsky, Guest Contributor
Kim Sujovolsky is the founder of Brownble.com, an online resource for aspiring or longtime vegans who are looking for guidance and inspiration in the kitchen.
Ready to try a new flavor combination? Give this hardy, flavorful Maple and Mustard Glazed Tempeh a try!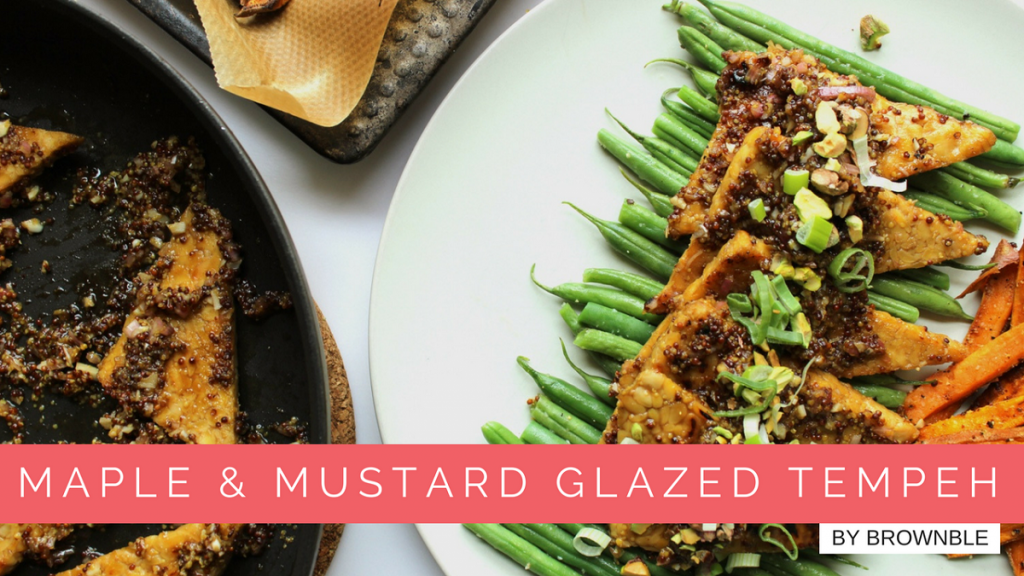 Maple and Mustard Glazed Tempeh
Yields 2-4 servings.
Ingredients
1 package of tempeh
4 tablespoons maple syrup
6 tablespoons grainy mustard
2 tablespoons balsamic vinegar
4 tablespoons water
1 shallot, finely minced
2 garlic cloves, finely minced
Some shelled pistachios for topping
Some chopped scallions for topping
A drizzle of oil for the pan
Directions
Cut the tempeh into triangles—or any shape you might like, this is just for presentation—and place it in a steamer basket over a pot with boiling water. Cover it with a lid. Let the tempeh steam for 12 minutes.
Remove the tempeh and pat it dry with a paper towel if needed. Place it in a bowl.
In a separate bowl, combine the maple syrup, grainy mustard, balsamic vinegar, water, minced shallots, and garlic. Whisk until combined. Set aside.
Heat a non-stick pan over medium-high heat, and add a drizzle of oil.
Place your tempeh pieces in the pan and heat until one side is golden brown. Flip and repeat on the other side.
Once the tempeh is golden brown, pour the maple mustard sauce on top, and let it reduce slightly.
Remove from the pan and serve the tempeh topped with some of the sauce that's still in the pan, the chopped pistachios and scallions, and your favorite sides. Enjoy!