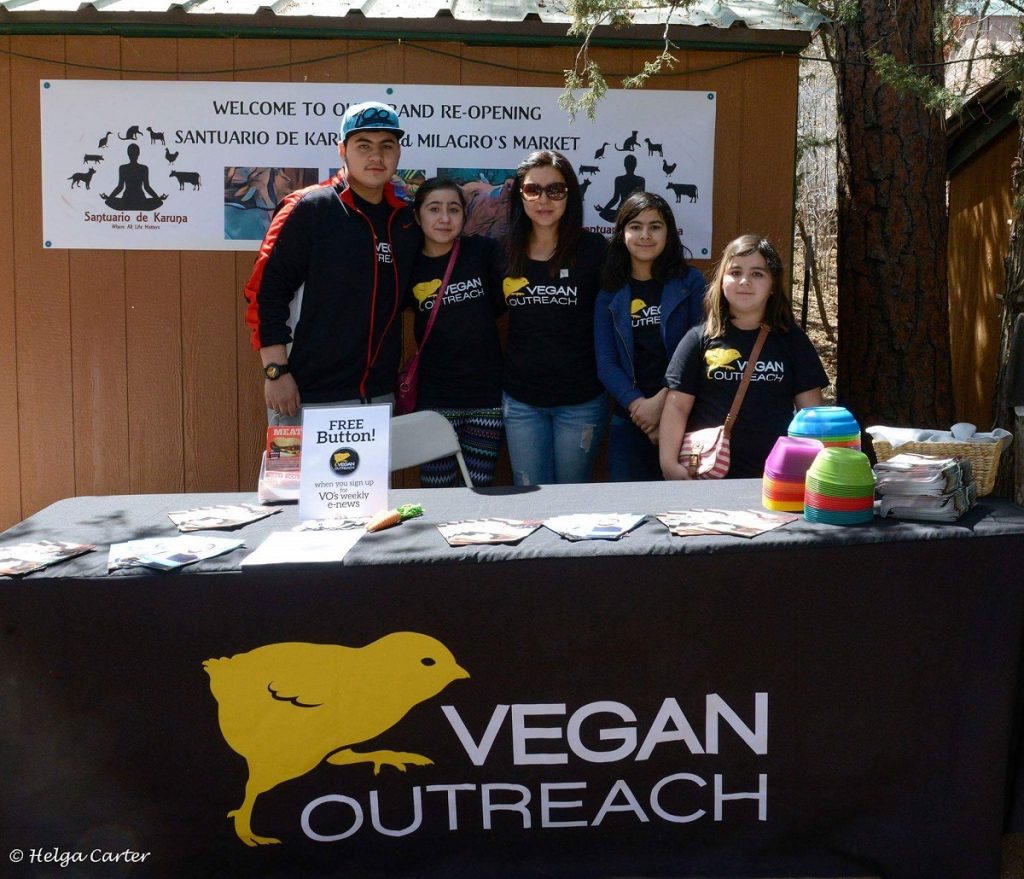 We're putting a spin on our Activist Profile series by introducing not just one Outreach Coordinator, but an entire family of passionate animal advocates. Greater New Mexico Community Events Coordinator, Victor Flores, his wife, Karla Reyes, and four children, Adrian, Jovana, Marina, and Adriana, have done amazing work for VO since first getting involved as volunteers in spring 2016. From community organizing to leafleting, the passion this family has for helping animals is beyond compare.
Combined, this family has leafleted at 21 campuses and distributed 21,856 leaflets. Let's get to know them a little bit better!
Where does your family currently live, and what do you do as the Greater New Mexico Community Events Coordinator?
Victor Flores: We live in the mountain town of Tijeras, NM, about 20 minutes outside of Albuquerque, NM. As Greater New Mexico Community Events Coordinator, my job is to work with local communities to provide a variety of events that promote and educate on vegan living.
We host meals and food sampling events, show Animal Equality's iAnimal Virtual Reality footage, and collaborate with other local organizations. We also leaflet universities and colleges in New Mexico and parts of Texas.
What got your family interested in animal rights and veganism?
Karla Reyes: A few years ago, I came across videos online that showed the treatment of animals in farms and slaughterhouses. From that moment on, I decided that my family couldn't support the exploitation of animals for food or any other reason. I'd always taught my children to treat animals with kindness, so it was only natural that they didn't want to continue eating animals after what we had learned.
I first volunteered to leaflet with Vegan Outreach in the Spring of 2016 at the University of Texas in El Paso, TX. Victor came on board and had the idea to start a local support group for vegans and vegetarians. Together, we started participating in various local events doing outreach, organizing potlucks, vegan food samplings, community meals, and viewings of vegan documentaries.
We continue to work together in our outreach efforts. I help Victor with the events he plans for Vegan Outreach and he helps me with my projects.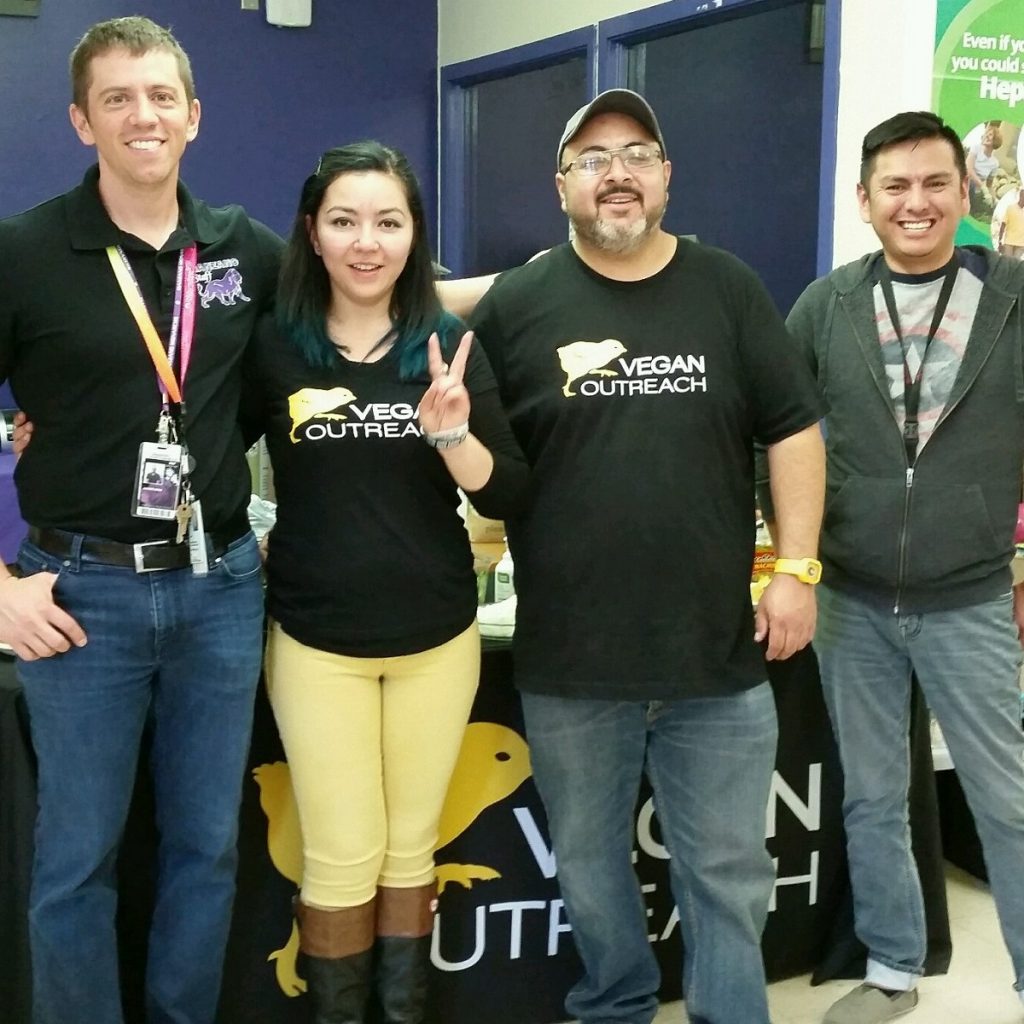 How has your family played a role in the work you do for VO?
Victor: From the beginning, our outreach has been a family effort. Karla actively participates in the planning and organizing of the events we host. And our children have always been an important part of everything we do. They contribute with ideas and help with different activities. My family's support is extremely important. When we have doubts about a certain project or idea, we rely on each other to figure out the best way to go about it.
Do you have a favorite family outreach experience?
Karla: I have several favorite family outreach moments, especially when my kids have come out with me to leaflet at the University of Texas, El Paso and Central New Mexico Community College.
Victor: Working the Red and Green VegFest in Albuquerque, NM as a family was great, as well as several other events. The Mac Down in Santa Fe, NM was a super busy and fun event, with our son as DJ Seitan and our daughters as Flowers for Animals. The Conscious Eating and Hip Hop event was also one of my favorites!
The kids' favorite event was the Mexican-American Community Event at El Palote Panaderia in Dallas, TX.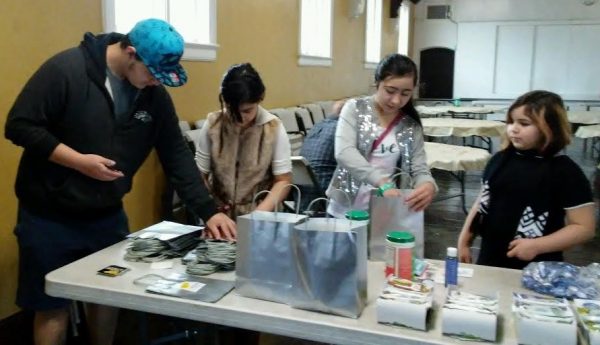 What have you found to be the most difficult and rewarding parts of your outreach?
Karla: I realize that we're bringing awareness to others with a message that is not always welcome. Countering others' beliefs that we're entitled to use animals is one of the most difficult topics I deal with. I think the key is to not lose sight of our goal and to do the best we can to get people to make compassionate choices. It feels very rewarding when I see someone willing to change.
Victor: The most difficult thing is getting our foot in the well-established groups in the local communities. Getting over the stereotypes is a hurdle sometimes. The most rewarding thing is seeing people enjoy vegan food and showing that we don't need animals to enjoy what we eat.
Having my family around is always great, and sharing our story as a family has always been really impactful for a lot of other people who are considering going vegan.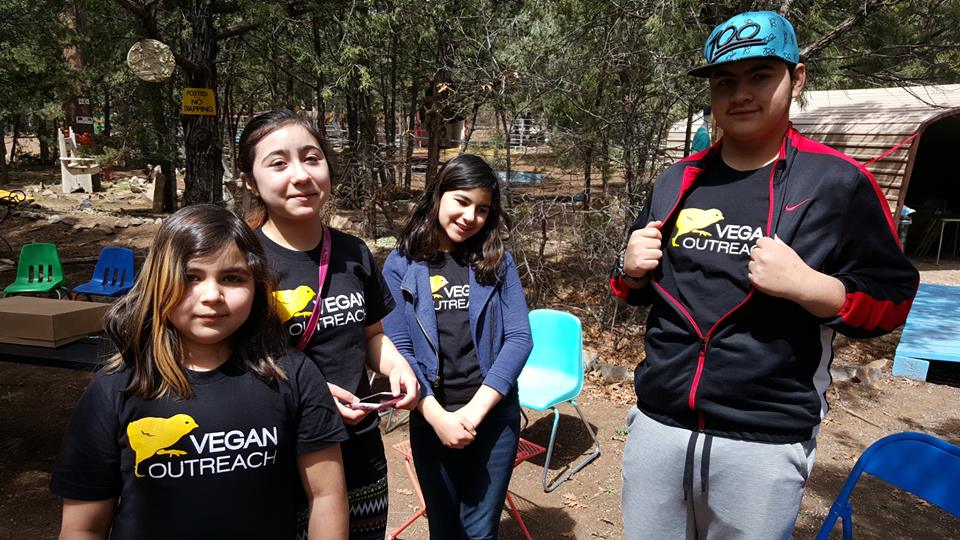 A big thanks to Karla, Victor, and their kids for demonstrating the power of familial activism!
For readers in New Mexico and Texas, be sure to keep an eye on our Facebook Events page—this vegan family might be coming through your area to host an outreach event or leaflet a college campus!