By Lori Stultz, VO Rocky Mountain Outreach Coordinator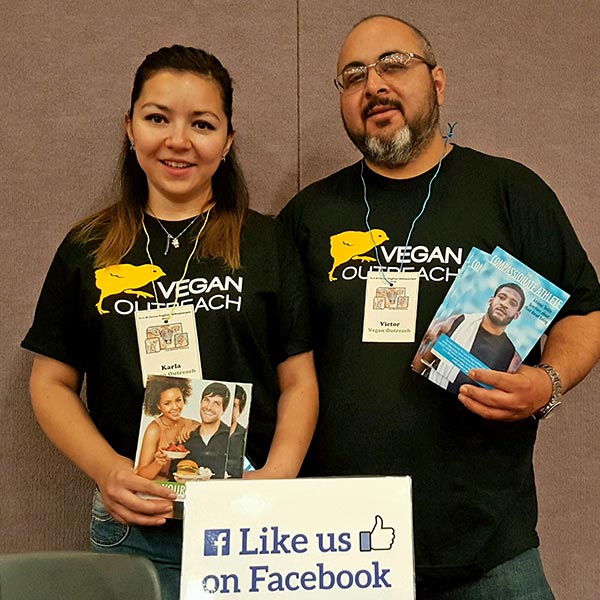 Last spring when I was leafleting in the American Southwest, I stayed with an incredibly kind and strongly motivated family whose newfound mission was to save as many animals as possible.
When I met Karla Reyes and Victor Flores, their four children, and the rest of their lovely family, none of them had been vegan for even a year, yet their passion and enthusiasm to raise awareness about animals was as strong as those who have been in the movement for years.
Karla's mother and aunt live in Texas in El Paso, which is where I stayed, and Karla, Victor, and their kids live about two hours northeast in New Mexico in a small mountain town called Cloudcroft.
I'd never even heard of the town until I met Karla and Victor, and I remember wondering to myself whether or not they were actually being serious when they talked about living in a place called Cloudcroft. Maybe I'm the only one that thinks the name of this town sounds like a space alien video game?
The town of Cloudcroft and the surrounding area has a combined population of about 2,000 people. Needless to say, after Karla and Victor went vegan, they didn't have a great selection of restaurants and grocery stores to enjoy tasty vegan meat and cheese alternatives. More importantly, there wasn't an established vegan community nearby that this family could connect with.
Despite living in a small town where the words "animal rights" and "vegan" were pretty much unheard of, Karla and Victor started seeking out people who'd be interested in hearing about veganism—whether it was for health, animal, or environmental reasons.
The couple initiated the Otero Veg society—Otero being the county where Cloudcroft is located—and they started tabling at various events in and around New Mexico and Texas.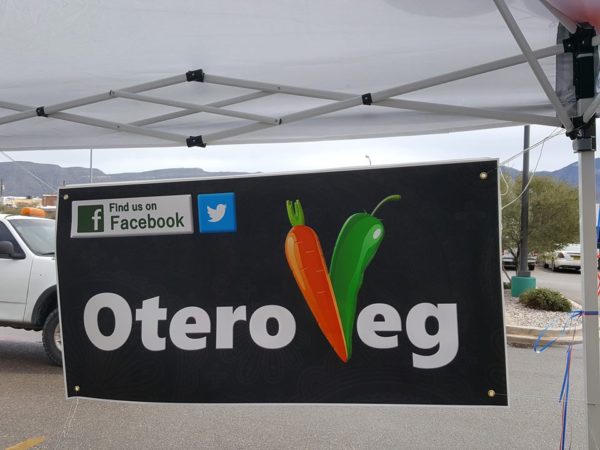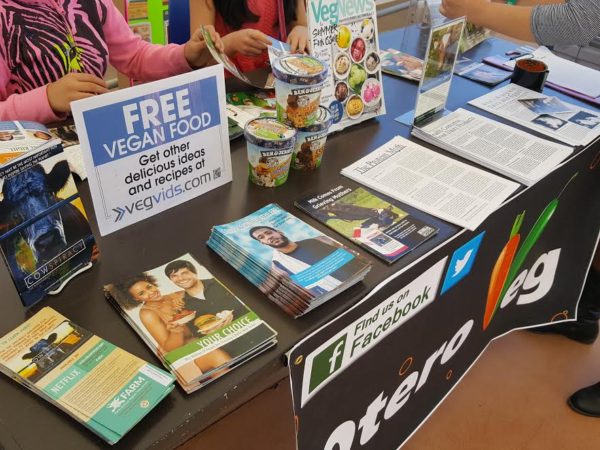 A little more than a year has gone by since Victor and Karla started their community building, and the changes they've made in and around Cloudcroft are unprecedented. A few weeks ago, I received the following message from Victor in an email—
Since you last visited the area, our group has grown. And since the Earth Day Fair, we have been non-stop! We've done a few health fairs and cancer 5Ks, shown movies, hosted numerous potlucks, and we've convinced two restaurants to prepare vegan dinners for anyone wanting to come.

Our first potluck had 15 people, the second one had 22, and the last one we did at a park had 24. The Asian dinner we hosted had 26, and today's Greek dinner had 32!

We are also organizing our first Thanksliving potluck for November and we have a few other things planned for the future. We have met with Albertsons and they are bringing in tons of vegan options after we gave the store suggestions and helped them promote their new vegan food products. They now carry Gardein, Beyond Meat, Sophie's Kitchen, Carla Lee's Nut Tacos, Daiya, Follow Your Heart, Lightlife, and tons of other things we have told them about. They are now stocking raw cashews, nutritional yeast, and vital wheat gluten for some seitan!

We've also been active in nearby Alamogordo, NM, population about 30,400. We were at the New Mexico State University Alamogordo Diversity and Inclusion Fair and I got the university to let me leave pamphlets in the students' lounge permanently,

Some members of the group will be tabling at another health fair at a popular resort casino in the area! We are slowly starting to get the help, instead of just me and Karla being out there by ourselves! Good things are happening!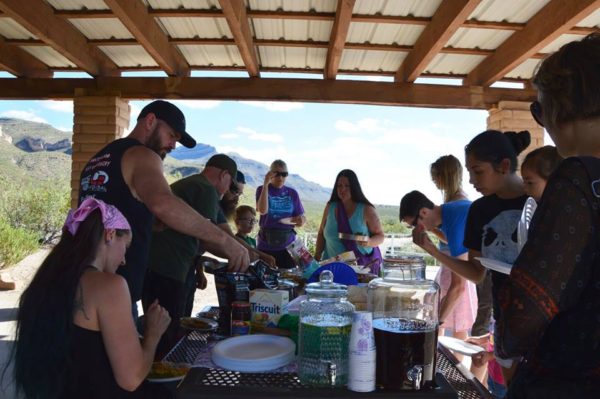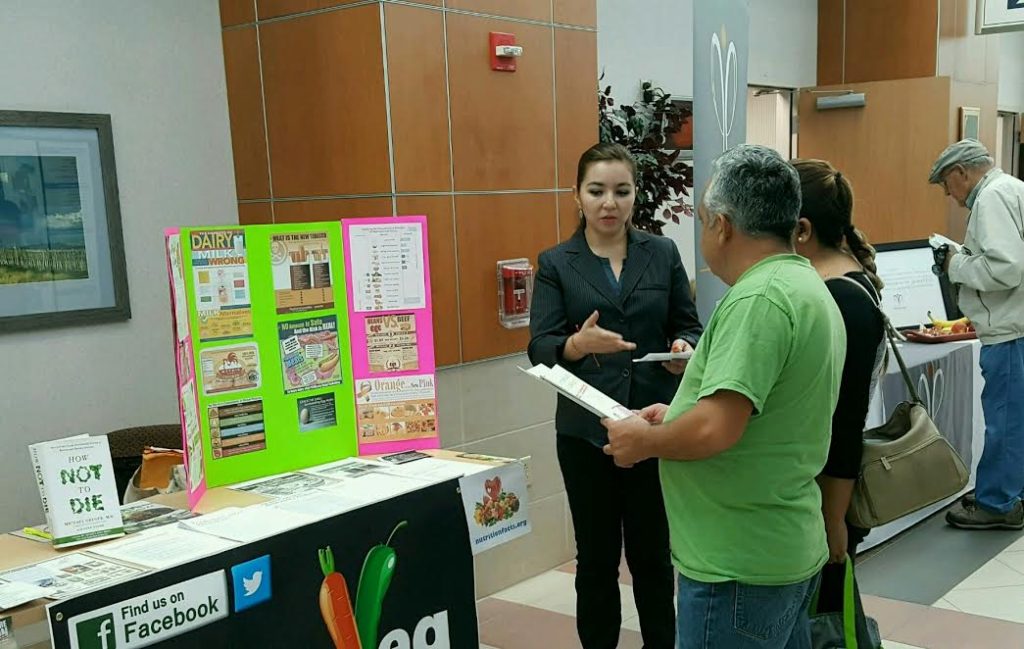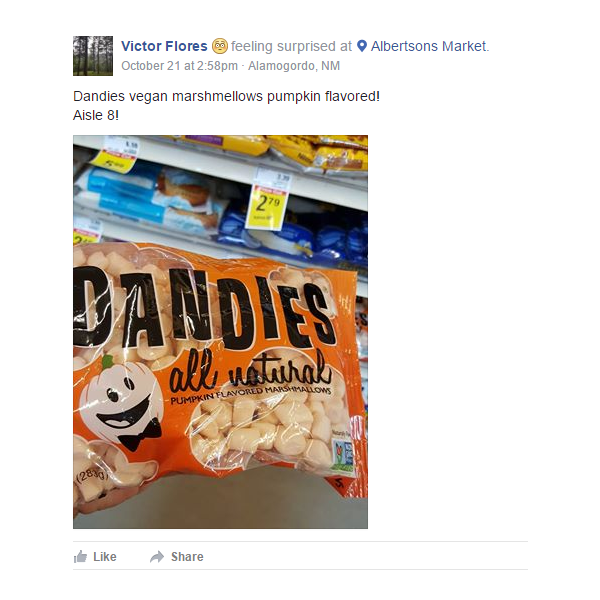 Karla and Victor's incredible efforts remind me of a quote I once read—"We all have a super power—it's called initiative."
Their story is a great reminder that no act is too small when it comes to helping animals and forming a community of people who are like-minded. It's also a good reminder that your environment, even if it seems unlikely, can change starting with only one or two voices.
Thank you, Karla and Victor, for being an ongoing inspiration in my personal vegan journey and now to several other people who have learned about your inspiring work in and around Cloudcroft! Please keep it up!