By Lori Stultz, Outreach Coordinator
Vegan Outreach has partnered up with Herbivore Clothing's Michelle Schwegmann and Josh Hooten to give one lucky Vegan Outreach supporter a copy of Eat Like You Give A Damn: Recipes for the New Ethical Vegan!
This cookbook also happens to be written by Michelle and Josh, a busy vegan couple managing a business and a household. They write:
Often we are asked for the 'one cookbook' that would be good for new vegans…. and we think this is it. From breakfast through dessert, simple to sorta fancy (but not really fancy because we are not!), healthy to decadent and always, ALWAYS totally yummers. We honestly live on these recipes. Baked oatmeal? At least twice a week. Kale salad? All the time. Beet burgers, tahini dressing, spinach salad, tofu feta, Sweetpea snickerdoodles… better go, I am getting hungry.
Along with the cookbook, Michelle and Josh are also going to send a combo pack of Herbivore Clothing's stickers, buttons, and magnets.
This giveaway will run from Tuesday, May 17 through Saturday, May 21. We'll announce the winner next Tuesday, May 24.
And while you wait for the results of the giveaway, we thought we'd give you a little taste (literally and figuratively) of Michelle and Josh's book. This No-Bird Noodle Soup recipe comes directly from Eat Like You Give a Damn and sounds absolutely delicious!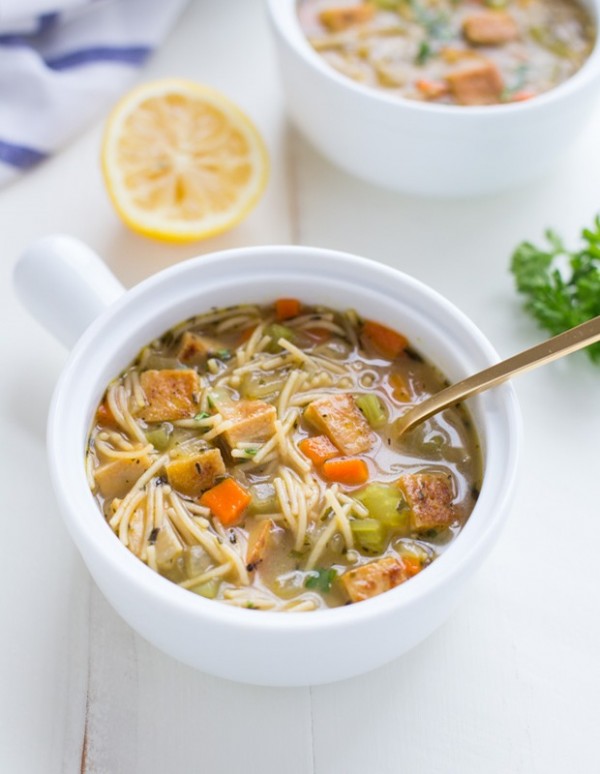 No-Bird Noodle Soup
Serves about 4.
Ingredients
Tofu Chicken
1 teaspoon olive oil
8 ounces extra-firm or super-firm tofu, cut into ½-inch cubes
1 tablespoon reduced-sodium tamari
1 tablespoon nutritional yeast flakes
Soup
1 teaspoon olive oil
1½ cups finely chopped carrots
1½ cups finely chopped celery
1 cup finely chopped onion
2 cloves garlic, minced
1 bay leaf
1 teaspoon dried thyme
1 teaspoon dried parsley
Freshly ground black pepper
6 cups no-salt-added chicken-style broth
8 ounces angel hair pasta, spaghetti, or fettuccine noodles, broken into bite-sized pieces
Salt
1 tablespoon lemon juice
Directions
To prepare the tofu, put the oil in a large skillet (cast iron if you have one) or mist with cooking spray and heat over medium-high heat. When hot, add the tofu; it should sizzle. Don't crowd the tofu (cook in batches if your skillet isn't large enough to hold the full amount). Let it cook undisturbed until crispy and brown on the bottom, about 5 minutes. Turn the pieces over and let the other side cook undisturbed until crispy and brown, about 5 minutes. Remove from the heat.
Sprinkle the tamari over the tofu and shake the skillet to coat all the pieces evenly on both sides. Sprinkle half the nutritional yeast over the tofu and shake the skillet to distribute it evenly. Turn the tofu over and sprinkle with the remaining nutritional yeast.
To prepare the soup, heat the oil in a large soup pot over medium heat. When hot, add the carrots, celery, onion, and garlic. Cook, stirring frequently, until the onion starts to brown, about 5 minutes.
Stir in the bay leaf, thyme, parsley, and a few grindings of pepper. Add the broth, increase the heat to high, and bring to a boil.
Add the pasta, decrease the heat to medium, and cook, stirring once or twice, for 6 minutes.
Stir in the reserved tofu and any nutritional yeast in the skillet. Cover and cook for 10 minutes. Season with salt and additional pepper to taste. Stir in the lemon juice just before serving.