By Lori Stultz, VO Rocky Mountain Outreach Coordinator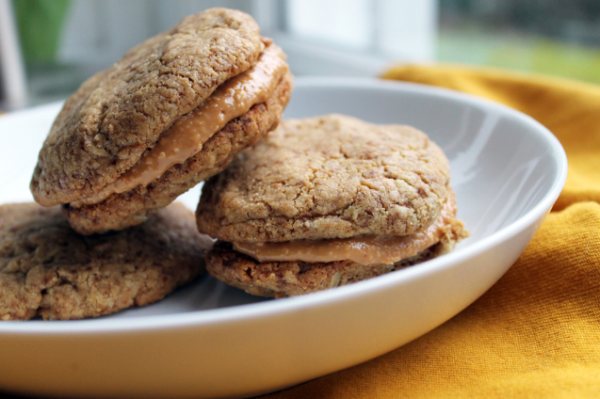 If you're a peanut butter fan then this Peanut Buttery Sandwich Cookie is sure to hit the spot!
And if peanut butter isn't your thing, try swapping it out with your favorite kind of nut butter! The cookie will still meet your sweet and savory expectations!
A huge thanks to Renee Press with Fire and Earth Kitchen—the genius behind all this deliciousness—for letting us share yet another one of her fantastic recipes!
Peanut Buttery Sandwich Cookies
Yields 7 sandwiches or 14 cookies.
Ingredients
½ cup coconut oil
⅓ cup creamy peanut butter + ½ cup for filling
⅓ cup brown sugar
2 ½ tablespoons vanilla extract
2 tablespoons flax meal
¼ cup water
½ teaspoon salt
½ teaspoon baking soda
½ teaspoon cinnamon
3 tablespoons rolled oats
1 cup all-purpose flour (gluten-free or wheat)
Directions
Preheat oven to 350°F and line a baking sheet with parchment paper.
In a medium bowl, combine coconut oil, ⅓ cup peanut butter, and brown sugar. Cream together using a fork.
Add vanilla extract, flax meal, and water. Mix well to combine.
Add salt, baking soda, cinnamon, oats, and flour. Stir well to incorporate.
Roll dough into golf ball sized balls and place on parchment paper. Gently flatten with the palm of your hand. Leave a few inches between each ball of cookie dough.
Bake for 12-15 minutes until the cookies are golden and lightly crisped on bottoms.
Remove from oven and let cool thoroughly—10 to 15 minutes—before adding the peanut butter filling. Once the cookies are cool, gently coat the bottom of one cookie with a tablespoon or so of peanut butter and spread with a butter knife. Attach second cookie and gently press to adhere. Enjoy!