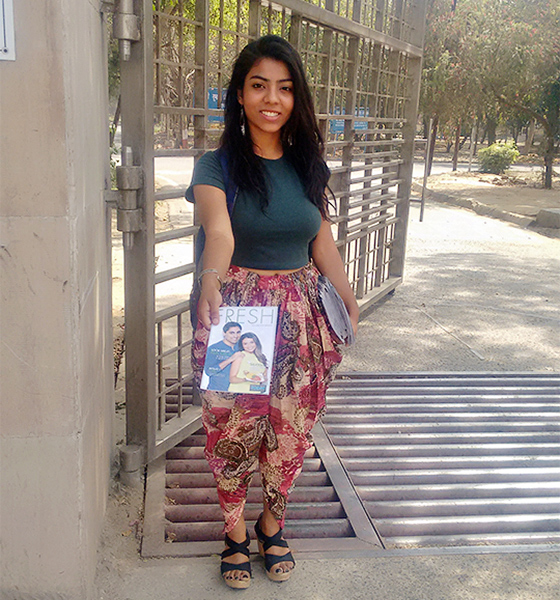 Continuing our series of activist profiles, today we talk to Pooja Rathor. In January 2016, Director of Outreach Vic Sjodin and Kimberly Moffatt embarked on Vegan Outreach's first tour of India. There they met Pooja, who soon joined Vegan Outreach as our first India Outreach Coordinator! In the spring semester, she leafleted 23 different schools, reaching more than 15,000 students. We're looking forward to seeing how many more booklets she can hand out this fall! Read on to get better acquainted with Pooja.
Where are you from and where do you live now?
I was born and raised in Delhi, India, and I live there now as well.
What got you interested in animal rights and veganism?
When I was 3 years old, I rescued an abandoned puppy. He was covered with mud. When I brought him home, my mother was shocked, but I kept on saying, "Please don't get angry!" That was my first instant connection with an animal.
I have rescued caged rabbits, rats, pigeons and numerous dogs since then. After watching a video of pigs on their way to slaughter, I cried a lot that night, imagining the torture they would go through. I knew I had to do something more effective to reduce their suffering. That's how, after researching, I came to know about veganism.
How did you get involved with Vegan Outreach and leafleting?
After learning about veganism, I wasn't able to stop myself from becoming an activist. Eventually I became familiar with the Federation of Indian Animal Protection Organizations (FIAPO). I started leafleting as a volunteer for FIAPO. In January 2016, I met Victor Sjodin and Kimberly Moffatt while they were on their Vegan Outreach tour of India. Through them I learned about Vegan Outreach and their amazing work.
Do you have a favorite leafleting moment to share?
Recently I went to Christ University in Bangalore. Two girls came back after receiving leaflets. They told me they had found the same leaflets at Carrots, a vegan restaurant in Bangalore, and after reading the booklet they both became vegan. They were so excited and happy to meet me!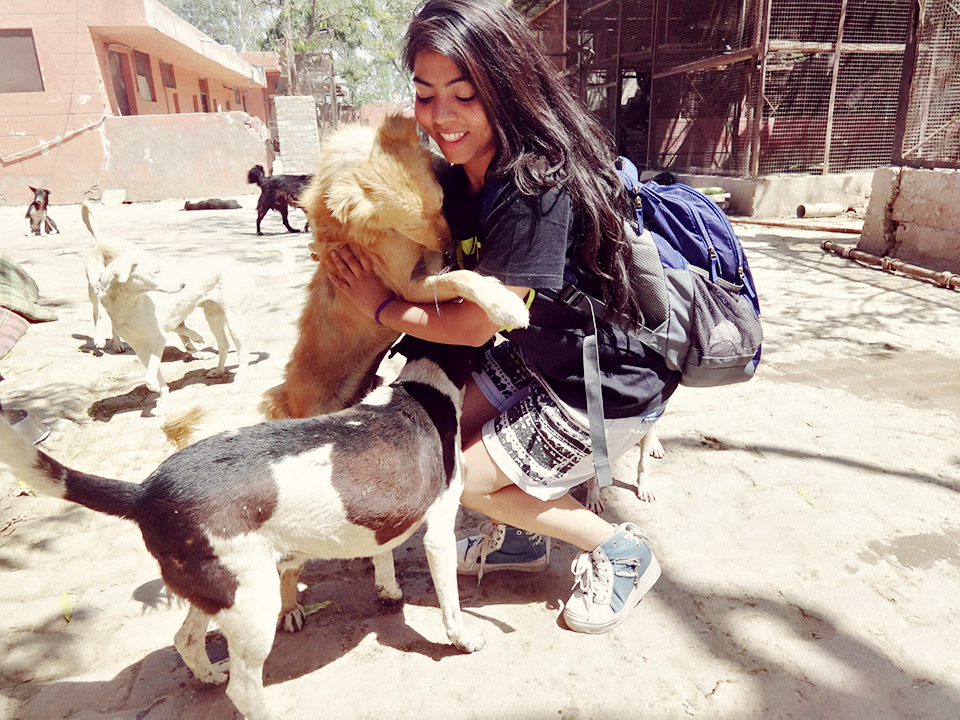 What do you do for fun when you're not leafleting?
I doodle, watch movies, spend time with my friends and family, and feed and pamper my stray dogs, cats and cows.
Do you have anything else you'd like to add about leafleting?
Be genuine and just keep a big smile on your face while approaching people. Even if they don't take the leaflet, just say thank you—often after that they come back to get a leaflet.