By Lori Stultz, VO Rocky Mountain Outreach Coordinator
Let's be honest, amongst the various kinds of green veggies, asparagus probably wouldn't receive the "most likely to be consumed" award. Even among my veggie-loving friends, I rarely hear, "I love asparagus!"
This asparagus dish will appeal to even the toughest asparagus cynic! Parents, I'm looking at you, too. I strongly encourage you give this Sesame Drenched Asparagus dish a "go" with your kiddos—they might just ask you for a second helping.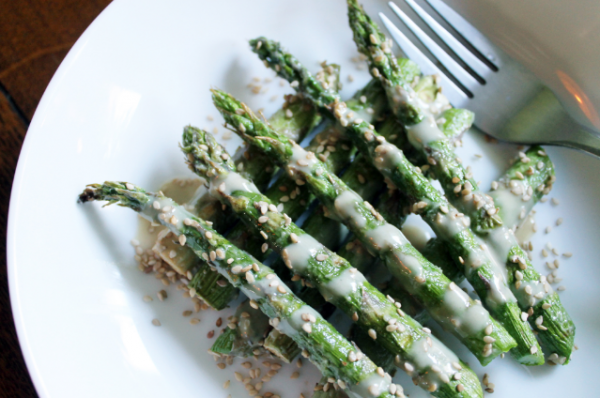 Sesame Drenched Asparagus
Yields 4 servings.
Ingredients
1 bunch of fresh asparagus
¼ cup sesame seeds
¼ cup tahini
1 lemon
½ teaspoon salt
Freshly ground black pepper, to taste
Directions
Preheat oven to 450°F and place washed and dried asparagus spears on a baking sheet. Place in the oven and bake for 10 minutes until bright green and tender. There may brown in some spots, but that is OK.
While the asparagus is baking, toast sesame seeds in a skillet on low heat—they burn easily! Stir them continuously, until lightly browned. This could take anywhere between 5 and 10 minutes. Take the seeds off the heat and set them aside.
When the asparagus is done baking, place the spears on a wide plate and drizzle tahini and lemon juice over the top. Toss them to coat. Sprinkle with salt and toasted sesame seeds and toss again. Sprinkle with freshly ground black pepper and serve immediately.
This is an original recipe by Renee Press at Fire and Earth Kitchen.