By Jenny Engel and Heather Bell, Guest Contributors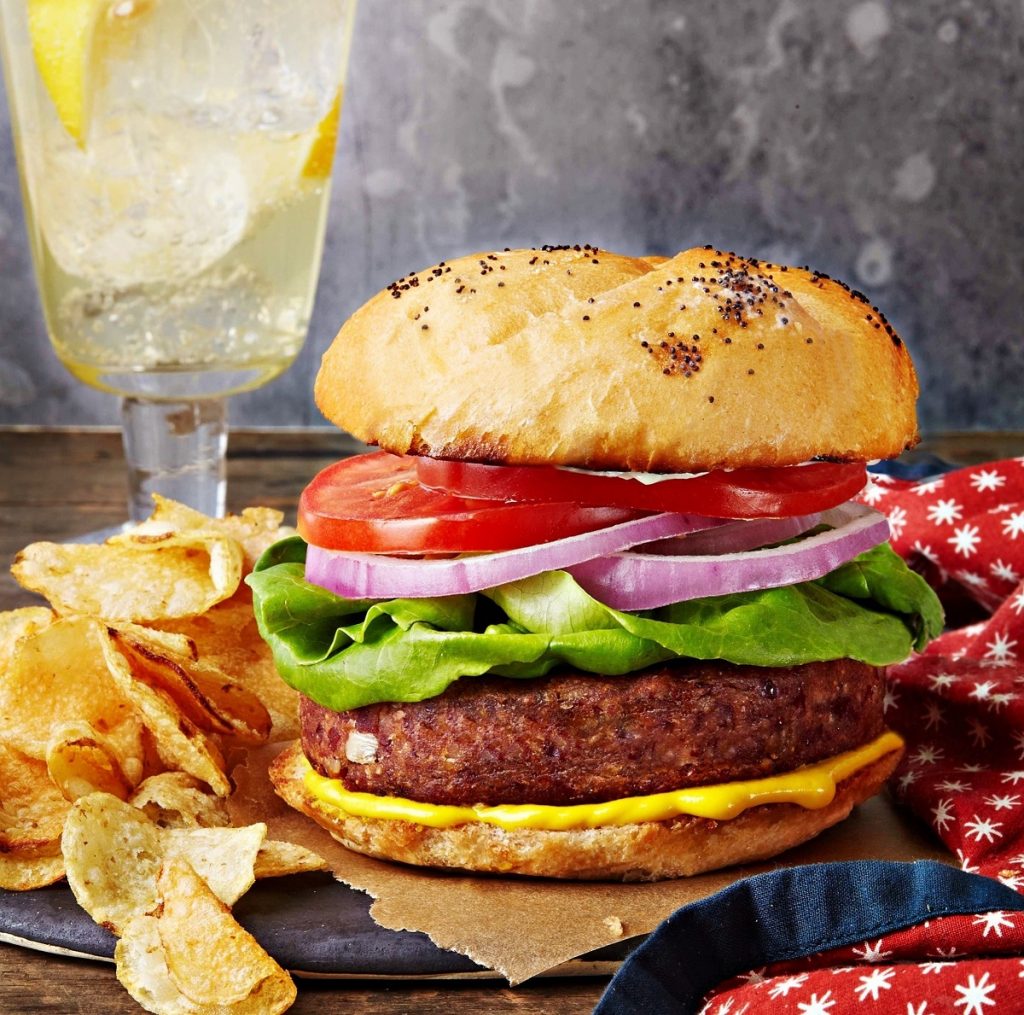 Beans are one of the vegan foods that wear many hats. They can disguise themselves as burgers, dips, and even meringue. We use red beans as the main ingredient in this burger because the color is spot on, the texture comes out meaty—in the most vegan-y way possible—and it's a fantastic base for a wide variety of toppings.
Quick and Easy Red Bean Veggie Burgers
Yields 4-6 patties.
Ingredients
1 (15 oz) can kidney beans, rinsed and drained
1 teaspoon dried minced onion
¼ teaspoon garlic powder
¾ teaspoon sea salt
½ teaspoon freshly ground black pepper
3 tablespoons vegan Worcestershire sauce
2 tablespoons freshly squeezed lemon juice
1 tablespoon brown rice syrup
½ cup rolled oats
½ cup unbleached flour or cornmeal
1 to 2 tablespoons neutral-tasting oil
4 to 6 vegan buns, split
4 to 6 (4″ square) pieces romaine lettuce
4 to 6 slices tomato
Choice of ketchup, mustard, pickle relish, barbecue sauce, or other toppings
Directions
In a food processor, combine beans, onion, garlic powder, sea salt, pepper, Worcestershire sauce, lemon juice, and brown rice syrup. Pulse 5 times. Add oats and flour or cornmeal, and pulse until mixture holds together.
Heat a large skillet and add oil. With damp hands, form the burger mixture into patties and place in pan. Cook for 3 to 5 minutes on each side, or until browned.
Toast buns until golden brown. Place a burger on each bun bottom, top with lettuce, tomato, other desired toppings, and remaining bun half.
Recipe Tips and Variations
Always thoroughly rinse and drain canned beans. They're much more digestible after the bubbles are washed away and it will prevent your belly from hurting.
Jenny and Heather are co-owners of Los Angeles-based vegan cooking school Spork Foods, which travels to universities, health care companies, hotels, markets, and restaurants all around the world to teach chefs how to prepare tasty vegan meals.
You can learn more about Spork Foods and Jenny and Heather's cookbook on Facebook, Instagram, and Twitter.