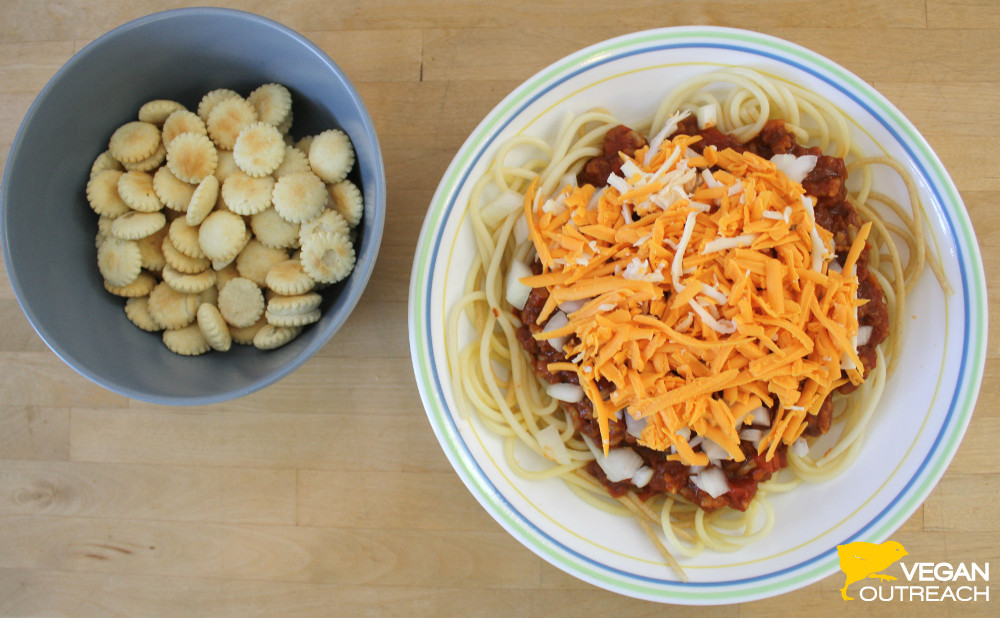 By Toni Okamoto, Recipe by Alex Bury
This week we celebrated the birthday of Vegan Outreach's cofounder and Executive Director, Jack Norris. You can read more about him by clicking the link attached to his name, but all you really need to know is that he loves turtles (specifically Richard, his companion turtle, who we recently found may be female), playing ultimate frisbee, and eating Cincinnati chili.
To celebrate Jack's special day, his wonderful wife, Alex (who is also a dedicated animal rights activist and talented vegan chef),  made our office his favorite meal. Below, you can see a photo of how happy her thoughtfulness made Jack.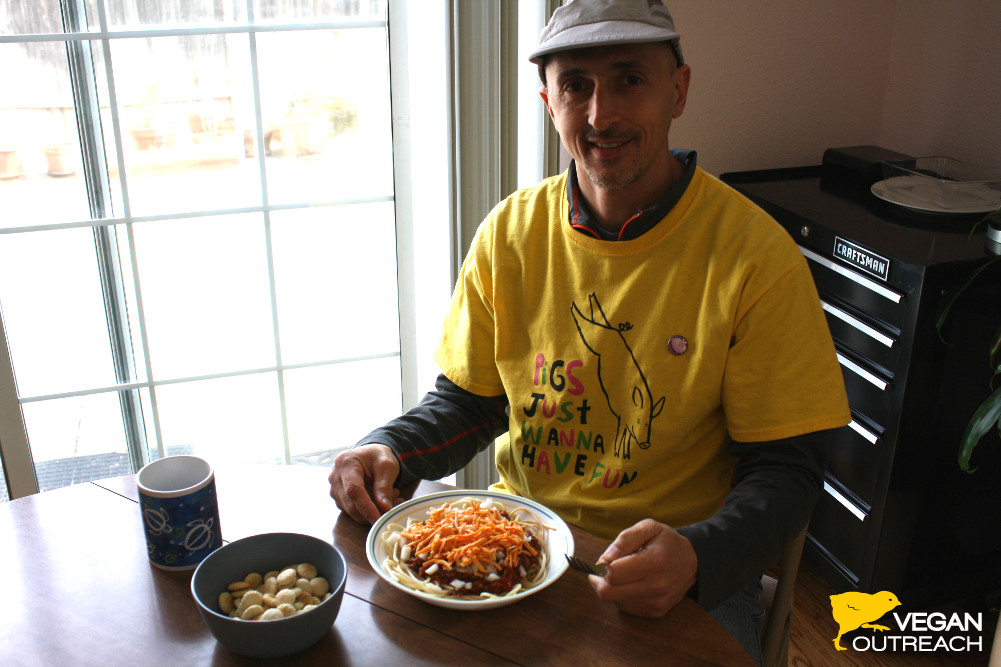 Our Office Manager, Josie, and I were very skeptical about chili being served on spaghetti, but thankfully Jack is a true Cincinnatian and walked us through the proper serving presentation. The order being: pasta, chili, onions, vegan cheese, and crackers (right before you eat it).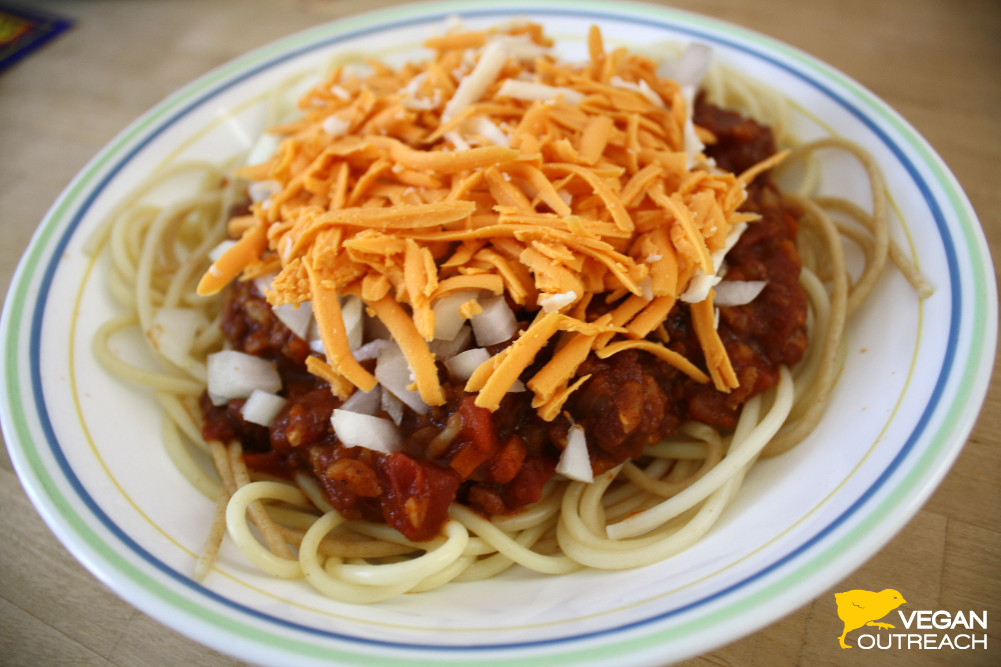 The recipe was so delicious that I asked Alex to share it with the world. Here it is, we hope you enjoy it as much as Jack and the Vegan Outreach staff!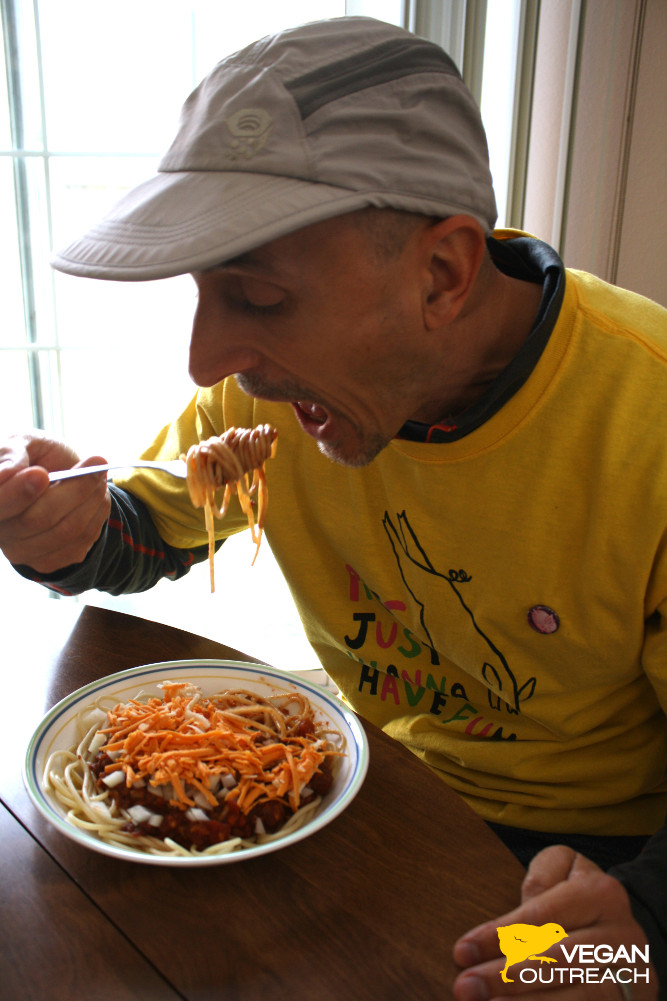 Ingredients:
1 whole yellow onion, diced small (and separated into 2 batches)
1/2 carrot, diced very small
1 tbsp canola or safflower oil
1 packet Cincinnati Recipe chili mix
2 cans diced tomatoes (get one that's "fire roasted" if you can)
1 can tomato sauce
1 package spaghetti
1 package of your favorite vegan ground meat (Beyond Meat, Lightlife, Gardein, etc.)
1 package of your favorite vegan cheese, shredded (I used Follow Your Heart cheddar, but Daiya also works great)
1 bag oyster soup crackers
Directions:
Sauté half the diced onion and the diced carrot in the oil, on medium heat, for 5 minutes.
Add the spice mix. Stir to coat with oil and toast it a little bit.
Add the tomato products right after. Bring to a simmer and cook for 10 minutes.
Cook the spaghetti according to package directions and drain.
Add the crumbles. If it seems too thick, add 1/4 cup water or so. Simmer for another 10 minutes.
Serve the chili over the spaghetti. Top with shredded vegan cheese, diced onions, and oyster crackers.