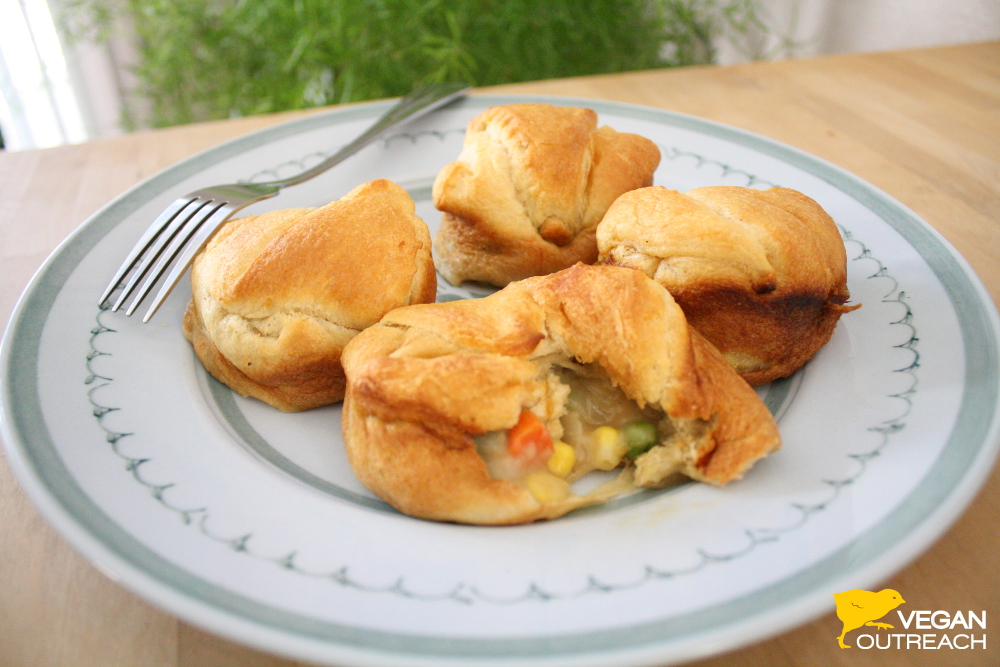 By Toni Okamoto
I was browsing around Pinterest and was inspired by this recipe. The ingredients in that are obviously not vegan, so I tried to make a much better version. This is what I came up with!
In my mini pot pies, I used frozen peas and corn with fresh diced carrots and potatoes. I steamed the veggies for about 8 minutes before adding them to the gravy.
Ingredients:
2 cups water
2 vegetarian bouillon cubes
4 tbsp oil
1/4 cup yellow onion, diced
4 tbsp flour
1 package of crescent rolls (8)
1 1/2 cups mixed frozen or fresh veggies
Directions:
Preheat oven to 375°F.
Start by either boiling or microwaving the water and bouillon cube until it's a well mixed broth, then set it aside.
Over medium heat, put oil and onions into a small sauce pan and cook until the onions become translucent. Lower the temperature, add flour and stir until your roux has a smooth consistency. Add broth and stir over low heat until it thickens.
Line cupcake tin with dough triangles. Add cooked veggies to the gravy and let them cook again for 3 to 5 minutes. Spoon the gravy/vegetable mixture into the dough triangles and wrap the dough. Bake for 10 to 12 minutes. Remove from oven and let sit for 5 minutes.