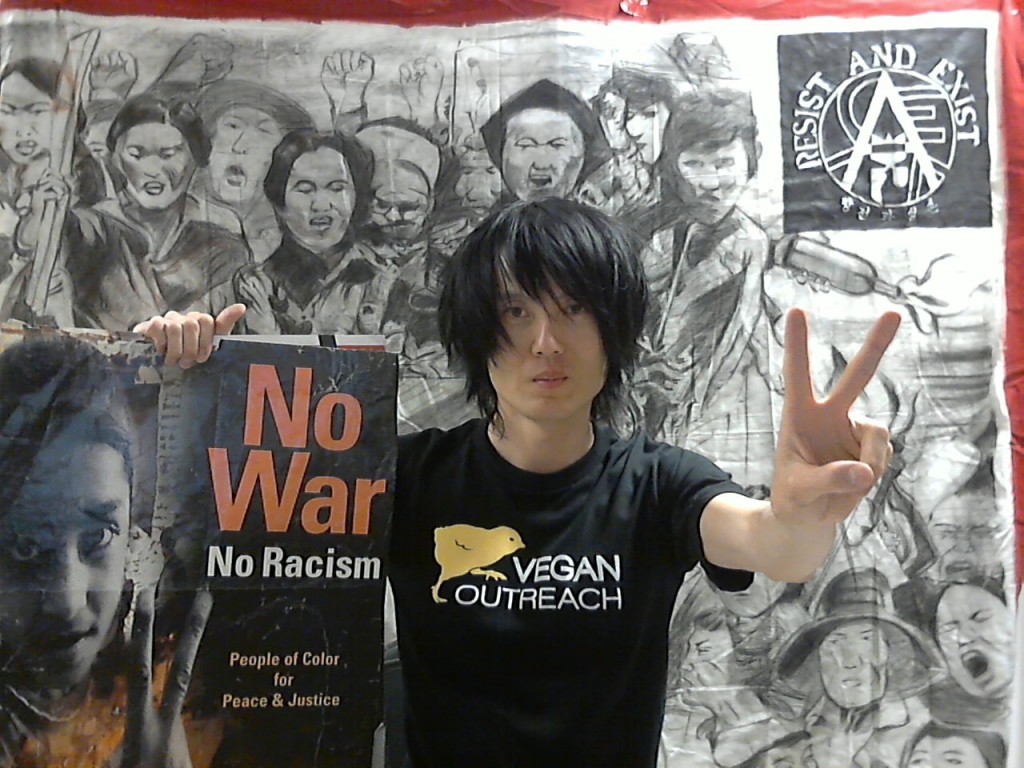 By Josie Moody, Office Manager
Today we are fortunate to interview Jang Lee, who founded the animal rights punk band Resist and Exist in December 1990, and who still tours today. We were reintroduced to the band after they traveled from their Los Angeles base to Oakland, California and Reno, Nevada on a mini-tour along with English band Conflict. In addition to their instruments and vegan food, they also packed Vegan Outreach literature to distribute along the way! Jang took a break from singing just long enough to share his experience, hope and activism with us.
How long have you been vegan, and what made you decide to go vegan? What about the other members of your band?
I have been vegan ever since the late 1980s. I started off becoming a pseudo-vegetarian in late 1985, because at that point I had learned what it meant to respect animals in all forms. Yet, I would say in 1986 I became a strict veggie because prior to that my aunt and dad thought I was going to die and a couple of times I had eaten meat because they would hide little chunks of meat in my food.  My pen pal Todd from "Pollution Circus" wrote me a 4 to 5 page letter on why I should stop eating eggs and cheese, and he sent educational Xeroxed brochures that inspired and helped me. Other members of Resist and Exist, including Jen, Jimmy, Chris and Roman are all vegetarians. Our drummer Roman just became a veggie and has been going strong for 10 months now.
Your band has been around a long time, and you sing about oppression on various levels. What positive changes have you seen in the animal rights world, and what is your biggest frustration? Have your views and methods of communicating about veganism changed over the years?
I became interested in animal rights when I was 16 years old in 1985.  At that time I could not find any cruelty free stuff. The only non-animal tested products were by Beauty Without Cruelty by mail order and it was expensive. It was near impossible for me to go to health food stores because they were few and far away, and I didn't have a car, nor did my friends. My aunt and I had to shop at Korean grocery stores to get tofu or soy milk.  In the 80s places that carried veggie stuff were not available, but now that has vastly changed, because now you can easily access these products at most grocery stores. At that time I could never imagine there would be options like this. Now, what is more radical is that now there is Vegan hip-hop, VPOC (vegan people of color) on social media, vegan athletes, and more. Things are becoming more radical and barriers are being broken.  In the old days it seemed that not eating meat was exclusive to Buddhist monks, Hindus, and hippies.  I am really glad that not eating meat is becoming mainstream.  To answer your other question,  I don't get that frustrated anymore because I believe in positive energy and I practice meditation and yoga. I know how to deal with a lot of pressure and stress generally now.  And I try to stay away from drama and negative people.
What's your favorite place to eat, and what is your favorite meal there? What's your favorite go-to food when you are on the road?
This is a difficult question to answer because I have been to all the states in America except Alaska and Florida and have eaten at many different places. I have stopped by many vegetarian/vegan restaurants and health food stores along the way.  I have to admit that nothing seems to beat Flore in the Silverlake neighborhood of Los Angeles, California. Any of their sandwiches and raw vegan cheesecakes are delicious, but I recommend to not eat too much because just two doors down is a freshly squeezed juice bar called Nature Well .
In the past, Resist and Exist has been on many punk rock tours and we've played over 400 shows.  When we are on the road Jen and I always pack stuff in advance, including bananas, apples, oranges, raw nuts, spinach, bell peppers, avocados, and all sorts of our favorite vegetables, fruits or other snacks. I usually just eat these raw.  Jen often brings organic bars.  This is so essential for any veggie band traveling.  Always having a cooler with healthy foods and snacks for back up is a must, in case there are no veggie places to eat in certain areas.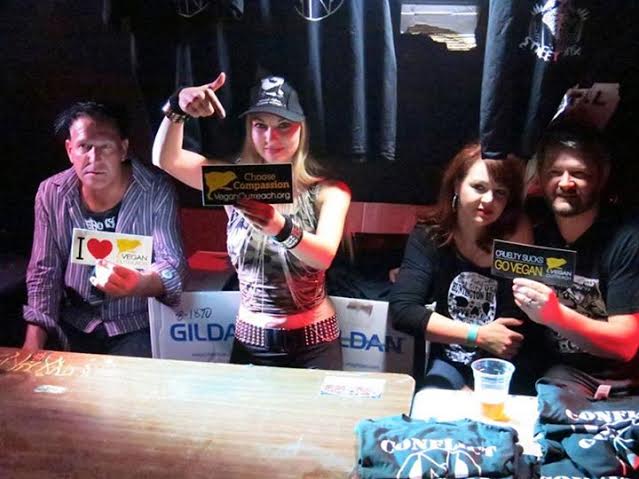 Why is Vegan Outreach one of the organizations that you support, and whose literature you pass at your shows?
Actually, Vegan Outreach supported the band first.  I used to contact Vegan Outreach for help every time I  organized any event.  When Nikki of Vegan Outreach used to live in Los Angeles she would have Vegan Outreach set up a table at Anarcho Punk Fest, and she would speak between bands. If I am not mistaken, the last tabling she did for us was at Rock Against Gentrification in L.A. before she moved. If you happen to be a promoter or a member of a band reading this, I think it would be a good idea to always have speakers in between live bands to make the show more educational.  Personally, I don't want to see people go home empty handed after any show.
What's the origin behind the name of Resist and Exist?
That slogan comes from an old vegetarian peace punk band called Anti-Sect from England.  They were heavily into animal rights and in 1982 they had a song called "Resist and Exist." A man named Dig used to write an England Anarcho Punk scene report to a magazine called "Maximum Rock N Roll" in the 80s, and he would always close it with the words "resist and exist".  The phrase stuck in my mind, and it was a powerful radical slogan.  We used it as a band name because we are inspired by the 80s Anarcho Punk scene, and would like to keep running with that torch.
What are other social justice movements you are passionate about? Do you see parallels between those and animal rights?
My friends and I became involved in Anarcho/Peace Punk music and thought in the 80s. At that time The Anti-Apartheid movement, protesting against nuclear weapons, Women's Liberation, supporting Native American Indians in Big Mountain,  Animal Rights, and saving the earth were all apart of the ideology in the music and scene.  Everything is connected.  We went to all sorts of different forms of protests, benefit shows, and supported different causes.  Simply, no one is free when others are oppressed.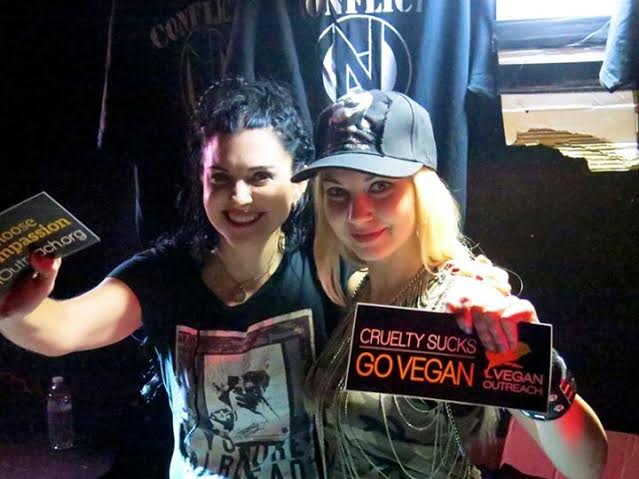 Is there anything else you'd like to add? For example, advice for people who are thinking about going vegan, or a message you'd like to convey to our readers?

Yes, when I have time I organize benefits and free small festivals with workshops and speakers covering a spectrum of issues. You can check out some of my past work on my web site, www.diyzine.com. If you are just becoming vegan, try different types of vegan foods like Indian, Ethiopian, Middle Eastern, and from everywhere. Don't always eat the same things because it gets boring.
Take a cooking class, or make your own food at home. It is way more rewarding and more fun, because you can experience different flavors and cultures and  be around a support group or vegan friends.  Throw a vegan potluck party and vegan picnics, and network with other folks, make new friends you can share that experience with. When you get together with a bunch of people who have a positive energy and healthy lifestyle and are conscious, it is always something that creates a spark for new ideas and a better life.
Where can we find you on social media?
You can download our songs for free on reverbnation.com. Our EPs and albums are out of print.
Our web site is www.diyzine.com where you can click on the "Resist and Exist" logo.