This semester, Lori Stultz, VO's Rocky Mountain Outreach Coordinator (below, right), has traveled to 49 different schools, handing out 28,636 booklets, and Holly Brown (below, left) has handed out 8,465 booklets at 21 different campuses!
On February 26, Lori teamed with Alma Williams, Michael Battey, and Ayesha Mohiuddin (below, left) and together they reached more than 1,600 students at the University of Houston:
I had three wonderful, local activists join me and we saturated the campus with literature. Most of the students were very receptive and all of us had conversations with students and professors who stopped to ask questions about farmed animals, or conversations with individuals who were already vegan/vegetarian but were looking for a community in Houston to get involved with.

I think my favorite part of the day was when I overheard a student say, "They used Photoshop on this picture," pointing to one of the photos of Robert Cheeke. "There is not a way this guy doesn't eat meat." I jumped in and talked to the student about vegan athletes and protein, and told him that, yes, Robert Cheeke is in fact that big! I also caught a student athlete reading the Compassionate Athlete [below, right]. He sat there for a good 10 to 15 minutes looking through the booklet.
On March 17, Holly (below), Lori, and local activists reached more than 1,500 students at Middle Tennessee State University. Lori reports:
A big thank you to first-time leafleter Jasper Ohde, who recruited his friends Jordan Davidson and Demon Rogers. Both Jasper and Demon are students at MTSU and in the US Army Reserve. I have a feeling that anyone who received a leaflet from them was surprised to know they didn't eat animal protein.

We heard from students who wanted to transition from vegetarian to vegan, and an equal number who wanted to start transitioning to a vegetarian diet. Holly and I gave these folks Guide to Cruelty-Free Eating booklets and told them about the Vegan Mentor Program.

Right as we were about to call it a day, I had a student return to me with a booklet I had given him a few minutes before and he simply asked, "Where do I even start?" I have to admit he looked pretty overwhelmed. We started chatting about slowly cutting back on animal food products, and Jasper jumped in to give him his number and enthusiastically volunteered to hang out with him and provide support as he transitions. I talked to Jasper later in the day and he and the other student were already texting each other about vegan food.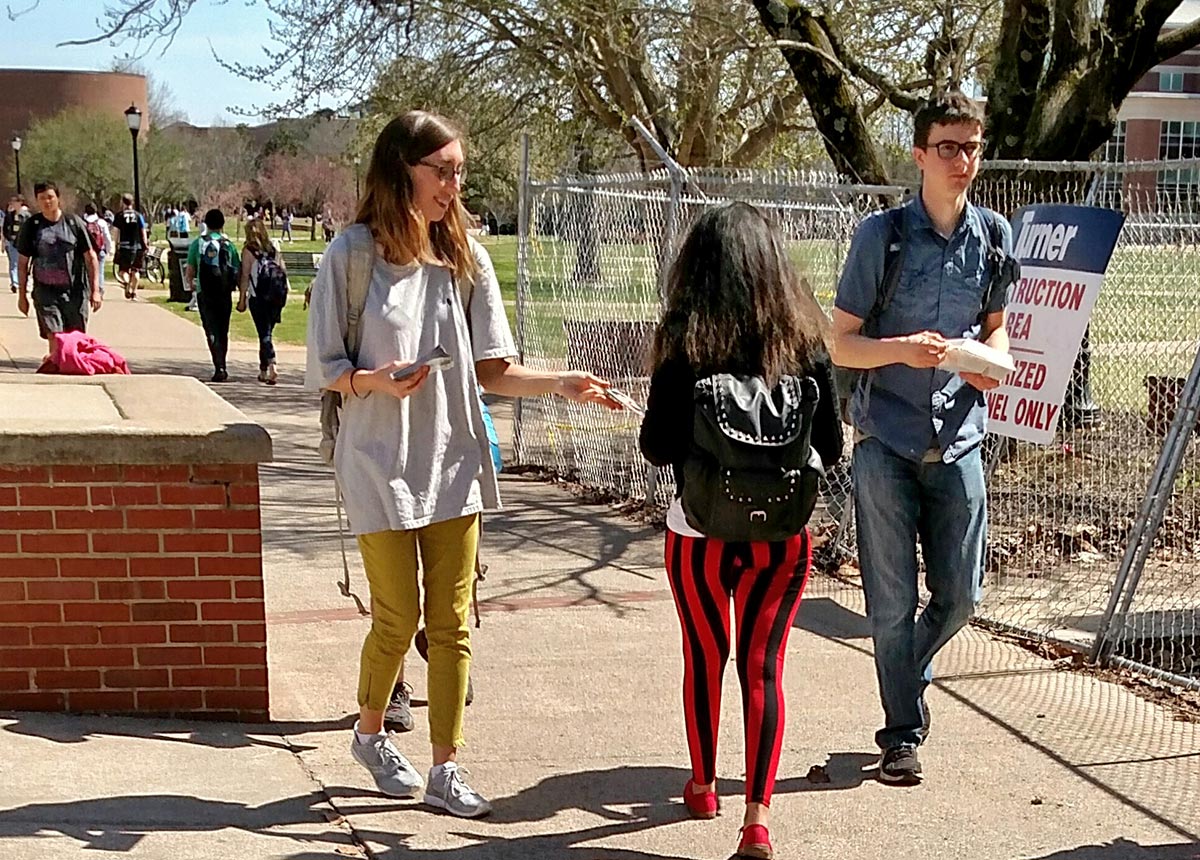 On March 23, Lori and Holly handed out 827 booklets at East Tennessee State University:
Holly and I had a very positive experience at ETSU. One student stopped to let me know that she went vegetarian after receiving our leaflet in the past. And later in the day two male students stopped to thank us for being there, which was very surprising because both looked like farmers/ranchers. One of them told us that he tries to eat vegetarian as much as possible. After we called it a day we were walking through the student union and saw a few students sitting at the tables reading through the booklet.
Help inspire more students to go veg: Donate to Lori's Team Vegan page and receive dollar-for-dollar matching!