Activists Taylor Holman, Brian Alexander, Alix Pulido, and David Pinski are four of this semester's most prolific Adopt a College leafleters: Taylor has handed out 8,390 booklets at 16 different schools; Brian, 8,101 booklets at 12 schools; Alix, 7,987 booklets at 12 schools; and David, 7,541 booklets at 9 schools!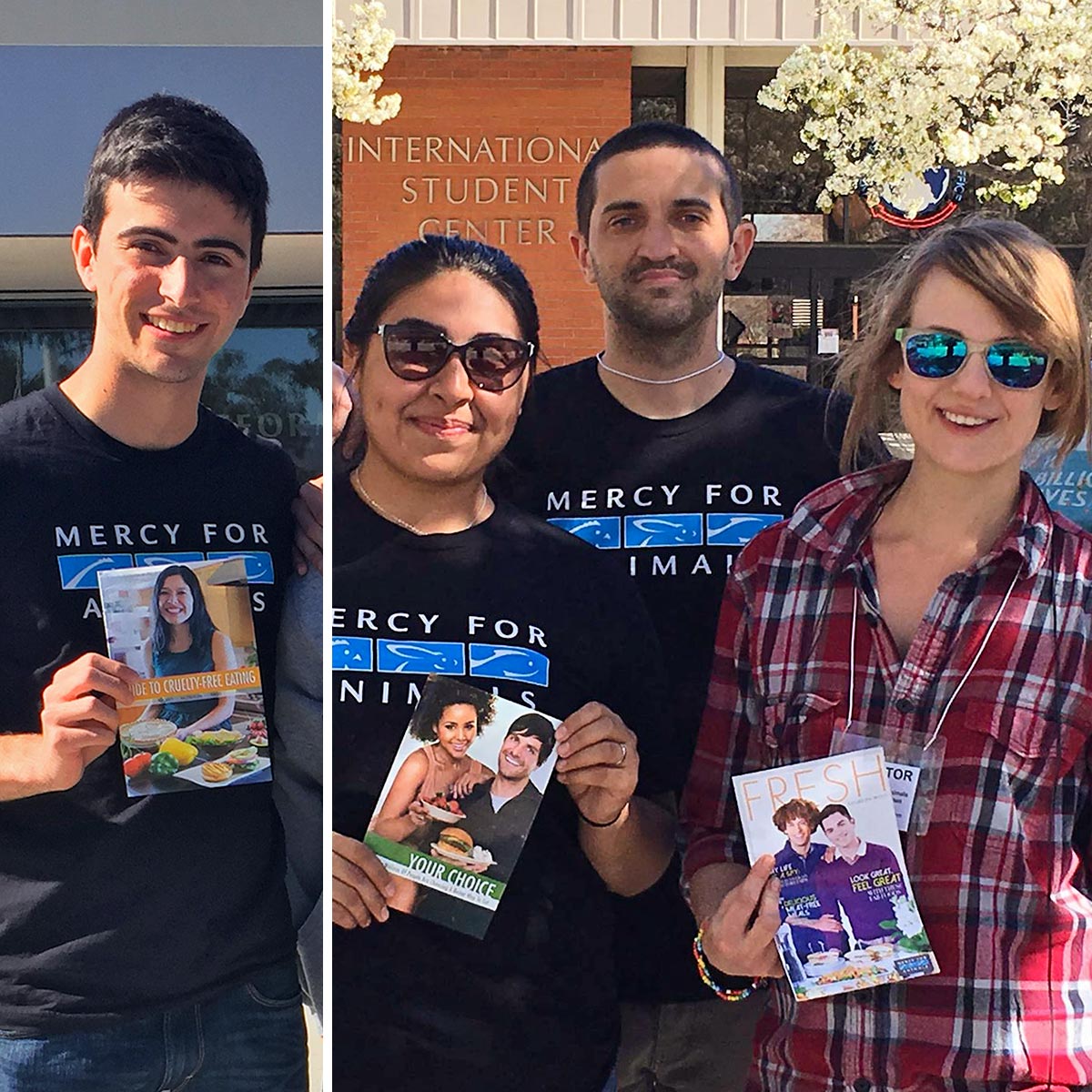 Above (from left) are David at Cal State Dominguez Hills, and Alix, Brian, and Taylor at Chaffey College.
On February 16, Taylor and Brian teamed up at Los Angeles Pierce College (above) and set a new one-day record for the campus, handing out 1,189 booklets!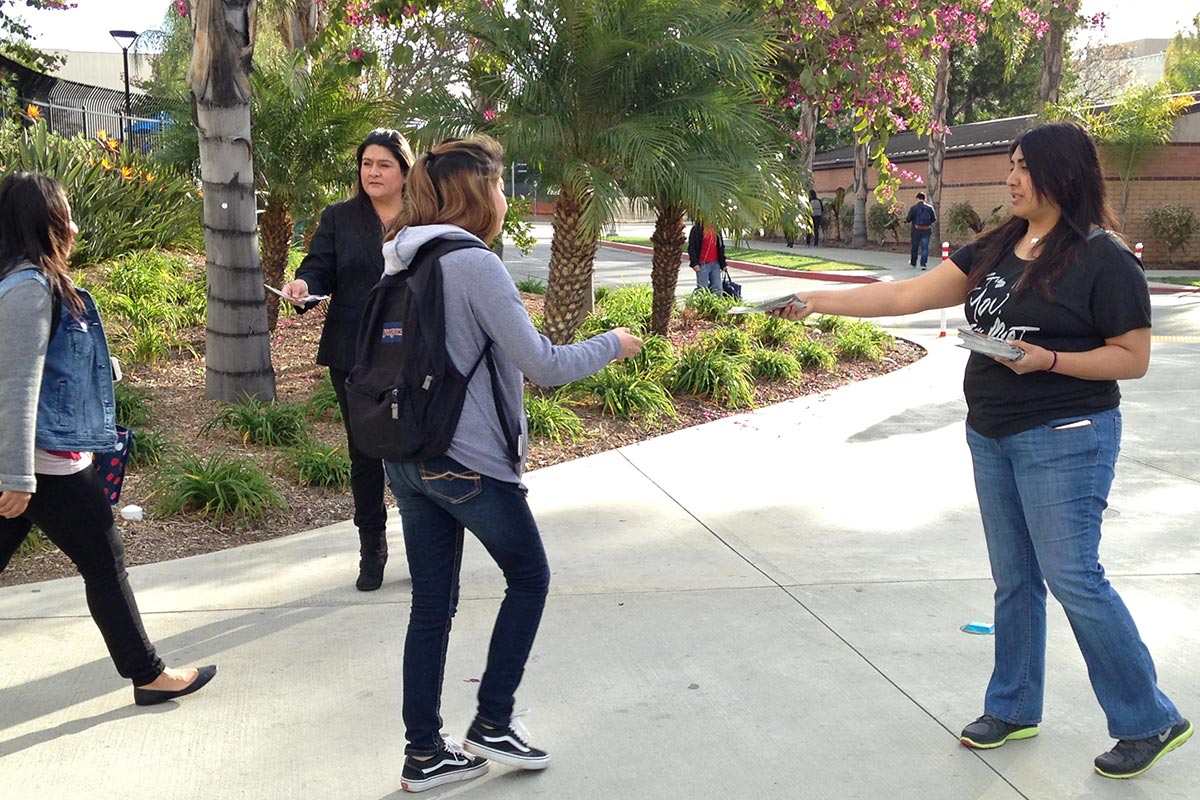 On January 27, Alix, David, VO Outreach Coordinator Steven Litrov, and fellow activists handed out 3,370 booklets at Cal State Fullerton. Steven reports:
We heard from several vegans and vegetarians on this bustling day! Alix invited her mom, Gina [above], to leaflet for a couple of hours (she did awesome), and two members of the Herbivore Club on campus joined for about an hour, too. One of the members, Javier Chavez [below], said he was influenced by a leaflet received at Mt. San Antonio College to make the switch!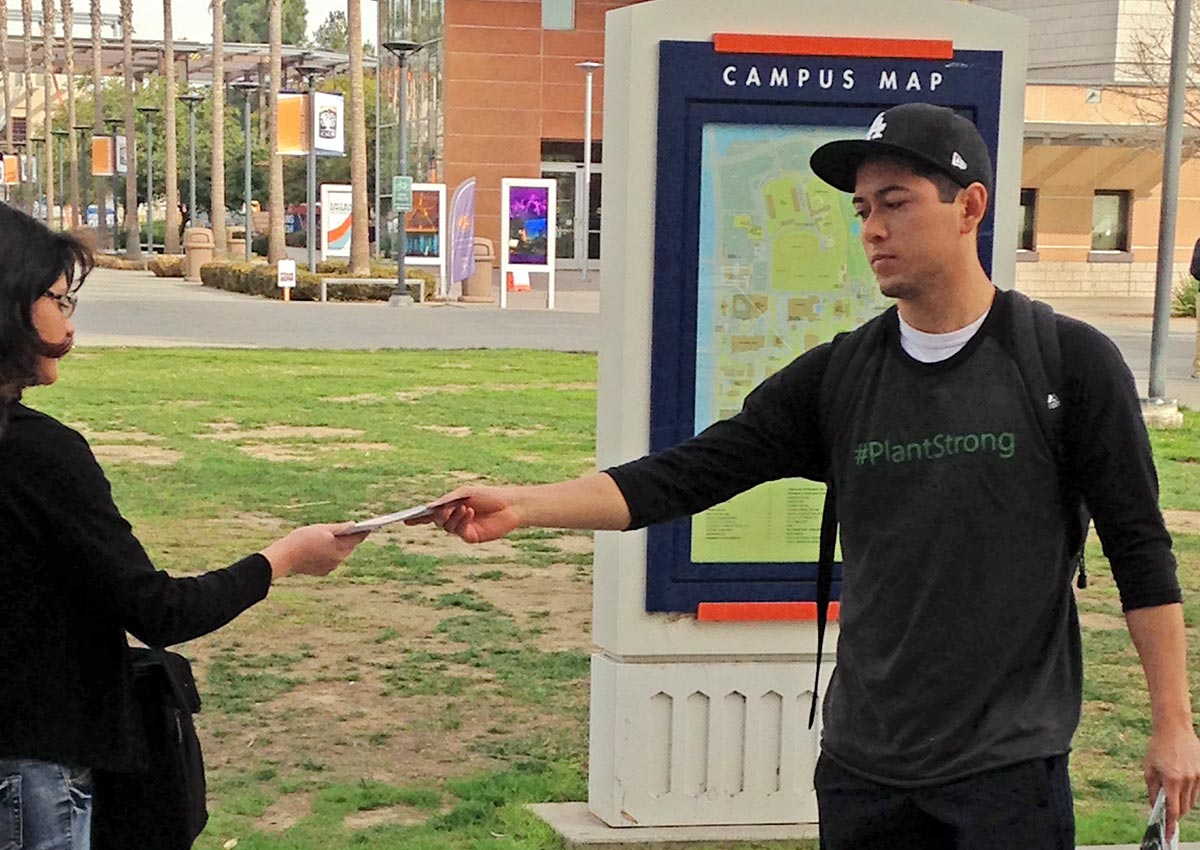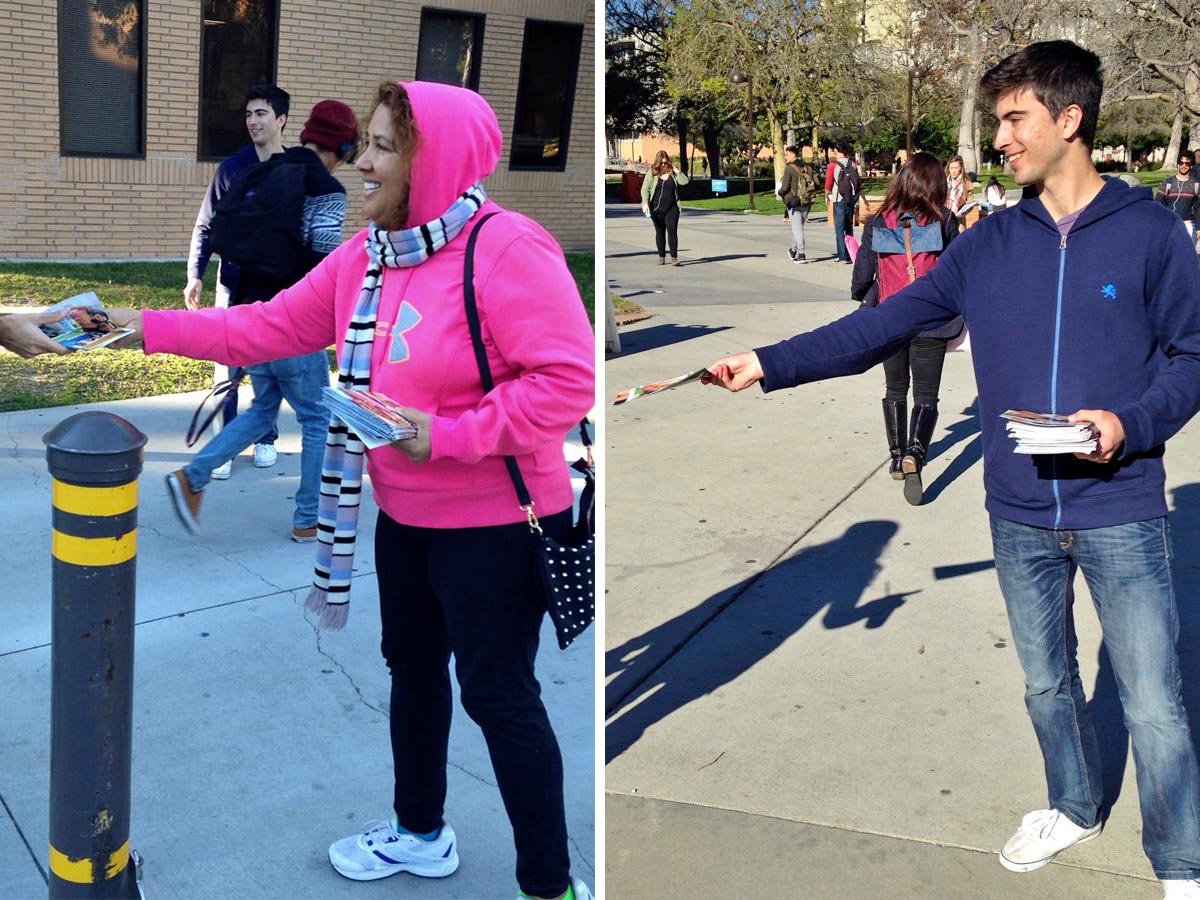 David, Steven, and fellow activists reached more than 4,100 students at Cal State Northridge on January 25. Steven writes:
Huge day here on the first day of the quarter! Had a ton of volunteer help, including Laura Sanchez [above, left], who stuck it out all day long with a smile despite the weather, aches, and huge crowds. David Pinski [above, right] continues to impress with his persistence and ultra-straight arms and smiles. We were also joined by first-time leafleters Yuliana Miranda [below, left] and Pamela Whistley [below, right, and first from the left with Laura and David], who rocked it for a couple hours towards the end of the day.
We met two students who had been influenced to go veg from leaflets, including our volunteer Yuliana, who was leafleted at this school four to five years ago and initially didn't read the booklet, because of the frightening images, but later did and did more research. Then Laura met another student in passing who went veg after getting a leaflet – awesome!
Both Yuliana and Javier not only changed their diets after receiving booklets, but also became Adopt a College leafleters! If you'd like to get booklets into more students' hands, please consider taking part in VO's Team Vegan campaign.
The more money raised, the more animals spared from suffering. And now through June 30, all donations up to $200,000 will be matched, dollar for dollar!