By Alex Bury, Organizational Development Consultant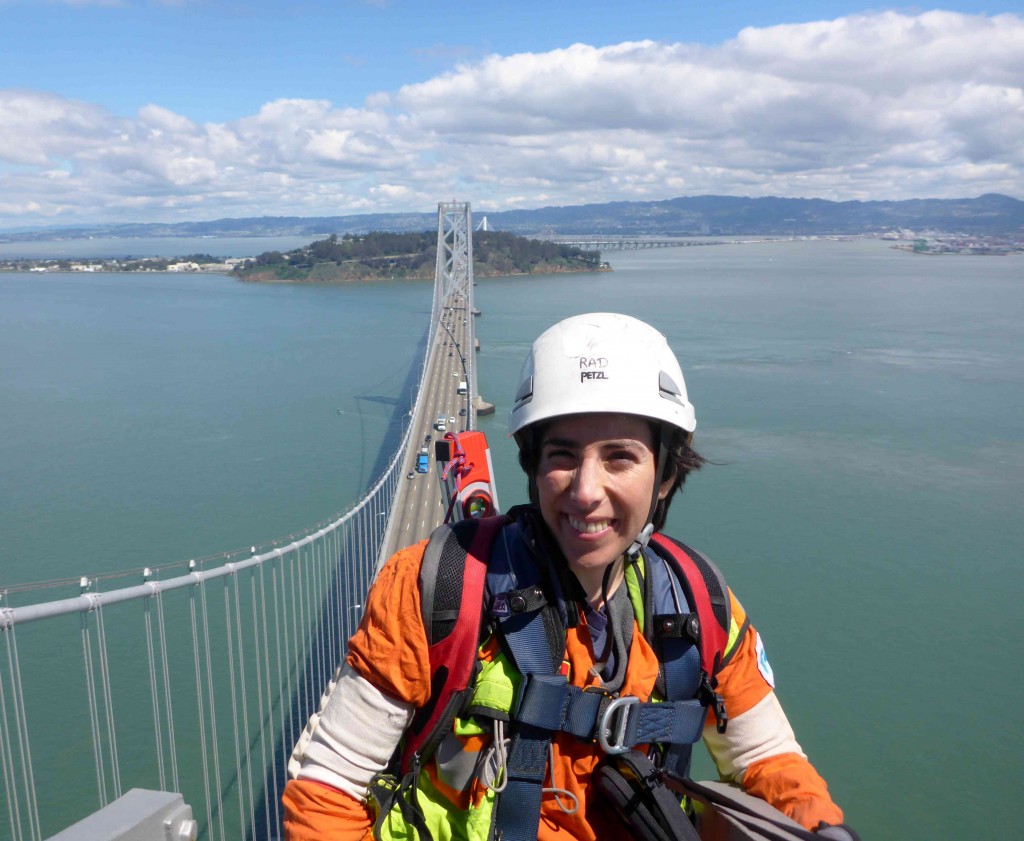 Rachel Donovan is a longtime Vegan Outreach donor, activist, Team Vegan fundraiser, and organizer.
The first time Rachel and I met was romantically confusing. We both attended an event hosted by a fabulous local donor. Rachel was hoping to meet a vegan guy named Alex who posted to the San Francisco Bay Area Vegetarian list. I, on the other hand, was not there to meet anyone, especially Jack Norris, who I considered much too serious for my tastes. I planned to spend most of the event ignoring him and hanging out with my friends.
By the end of the event, Rachel had made her first donation to VO, had forgiven me for leading her to believe there was a new vegan guy in town, and I had told my friends, "I'm going to marry Jack."
Rachel is involved in veg advocacy in many ways and succeeded at getting everyone in her office to celebrate Oakland Veg Week.
Rachel recently started the busy Facebook group Let's Go Vegan-ish. I love what she's doing with it! It's a warm and welcoming way to introduce people to plant-based eating. She posts restaurant tips, travel food, new products, and more. She gives people permission to do the best they can and not give up if they fall off the wagon for a while.
If you're vegan, please join Rachel's group and post in it to inspire people who are thinking about going veg!
While VO is expanding our Vegan Mentor Program, Rachel's Facebook group is another important tool to fight the veg recidivism problem. Here is my interview with Rachel—
Alex Bury: Tell us a little about yourself. I hope you'll include something about your amazing job.
Rachel Donovan: I'm a civil engineer who really wanted to be an artist and illustrator of children's books. Maybe I'll still get to do that some day, but for right now I'm a bridge inspector.
If you look up, you might see me climbing or rappelling with my compadres. Besides work, I'm into sleeping, reading books, rock climbing, swing dancing, and going on urban hikes and bike rides. Plus, my sweetheart plays bass in a David Bowie cover band, and I'm his biggest groupie!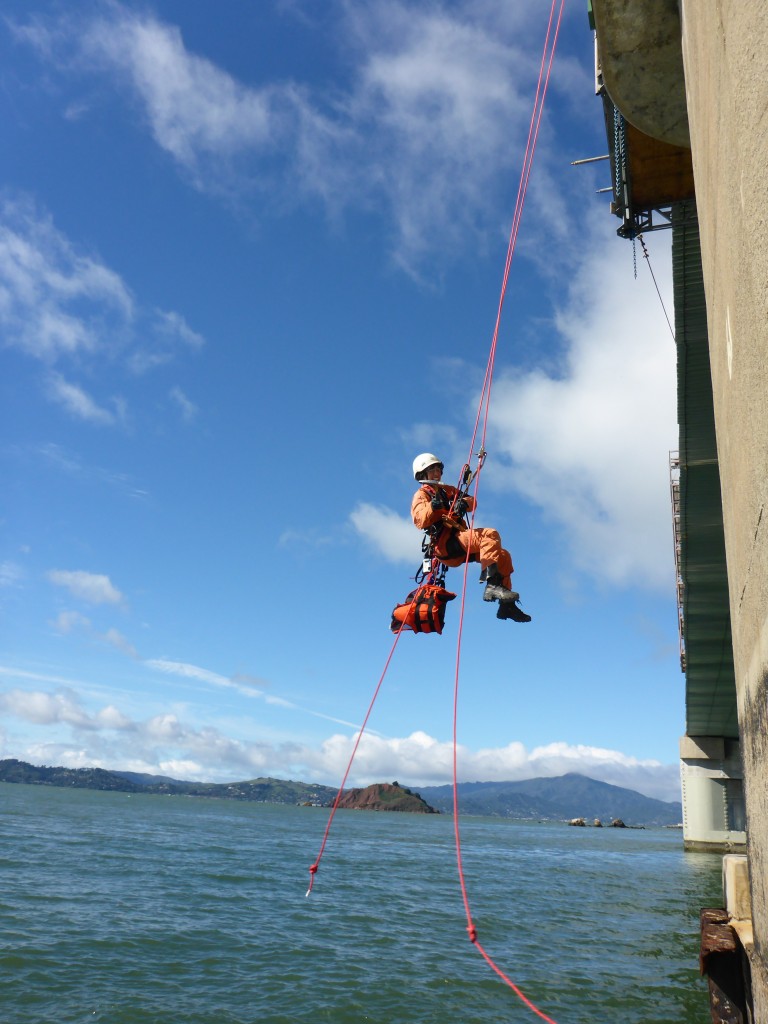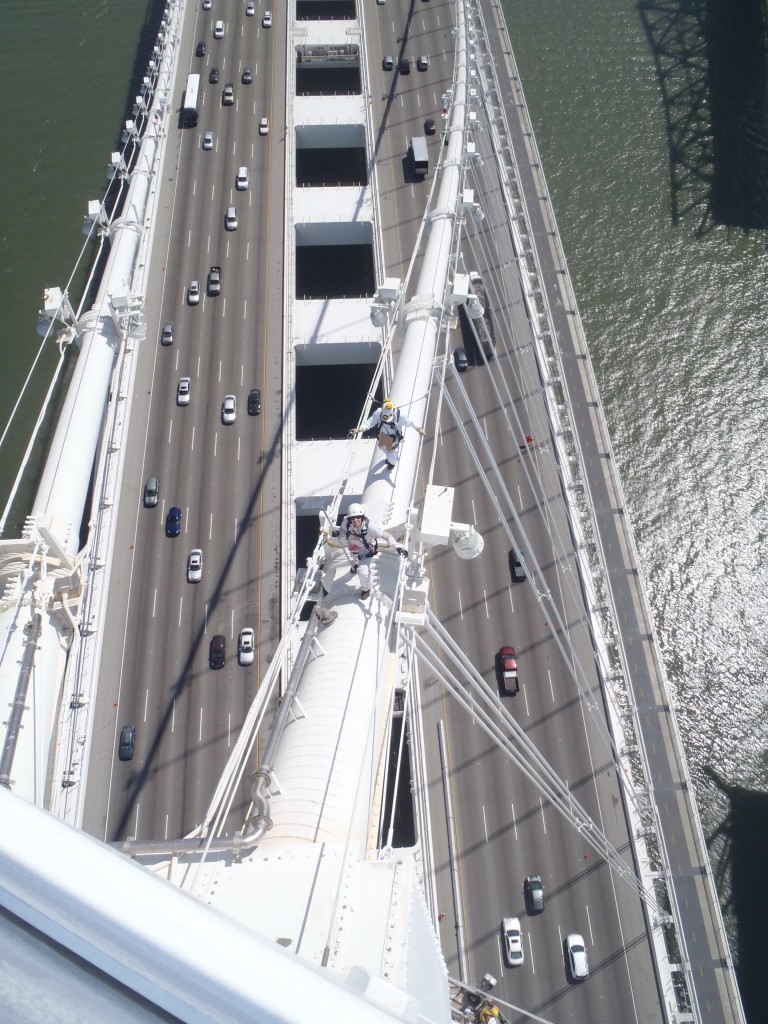 Alex: Tell us about Let's Go Vegan-ish!
Rachel: Prior to July 2005, I had enjoyed the food at vegan events, but I had been turned off from going vegan because it seemed too rigid. When I read Erik Marcus' book Meat Market: Animals, Ethics, and Money, I felt compelled to go vegan. I tried being a strict vegan for a few years. There were occasions when it seemed silly to insist on being vegan, but I insisted anyway…and I felt bad about hurt feelings, misunderstandings, and other problems that sometimes arose.
Being super strict became more challenging when I moved in with my partner in 2008. He is not vegan, and he does most of the grocery shopping and cooking. Although he's very careful to make everything vegan, sometimes a non-vegan ingredient gets overlooked and he takes it really hard. I never wanted to have to tell him that we needed to throw out the entire dish.
Over the years, I had seen many instances when it would be useful and practical to be more flexible and in fact knowingly consume non-vegan things once in awhile. However, I struggled with this because based on books I've read and interactions I've had with other vegans, the logic runs like this: if you care about animals, you'll be vegan, and if you knowingly consume non-vegan products (no matter how infrequently), then you're not vegan. I felt stuck.
In 2009, I read The Animal Activist's Handbook: Maximizing Our Positive Impact in Today's World, by Matt Ball and Bruce Friedrich. I read it twice and highlighted and starred several passages. If you have access to the book, check out pages 55 to 60, the section entitled, "Personal Purity vs. Effectiveness for the Animals." You would not believe the excitement I felt as I read these paragraphs, which explain why, for helpful animal advocacy, we need not be "all or nothing" vegans. My heart was jumping up and down…"Yes! This is it!"
Since that time, I've been looking for a community that promotes vegan ideals while embracing and welcoming those who have not and perhaps will not (for whatever reason) make a pledge to go 100% vegan all the time. This is what I call going vegan-ish, or "as vegan as you wanna be." I felt there should be a place where people could ask honest questions about the how's and why's of making vegan choices, without being judged for being too vegan or not vegan enough. As a result, I started Let's Go Vegan-ish—first as a blog, then as a Facebook community page, and now as a Facebook public group! Right now we have 200+ members. I hope that more people will join the group and feel comfortable asking questions and sharing great vegan finds. I would like the information we share to be welcoming, thought provoking, and inspirational for people no matter where they may live.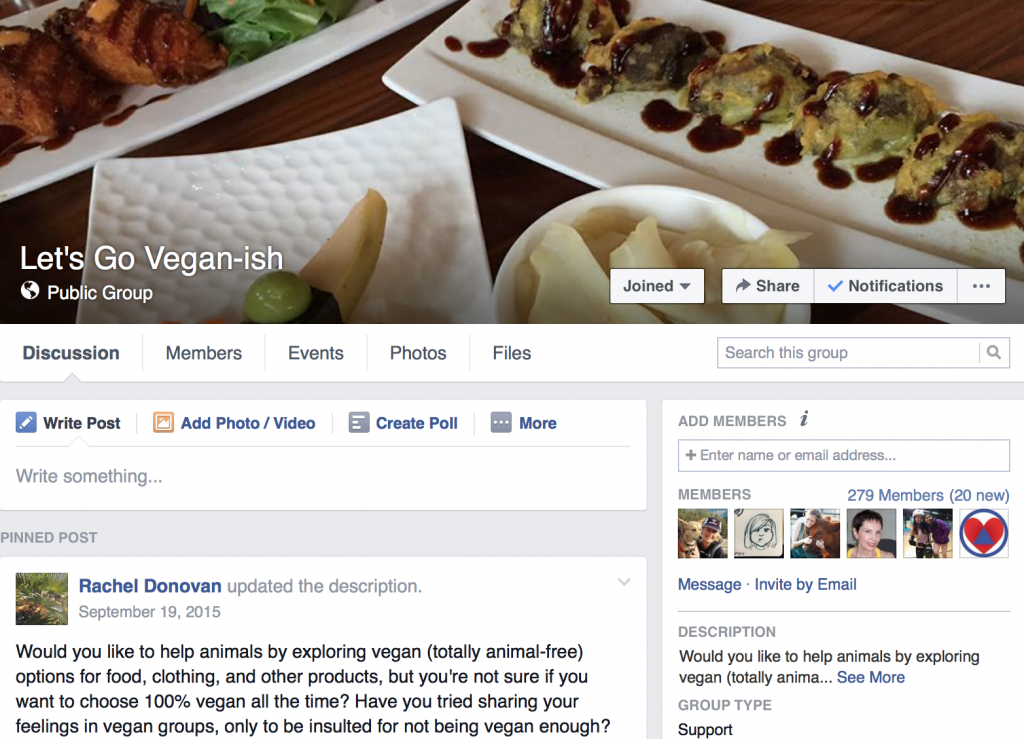 Alex: How did you get involved in the world of animal protection? How about with Vegan Outreach?
Rachel: This article in the January 2002 edition of E Magazine, "The Case Against Meat" was what got me started. I had been a long-time environmentalist, but I never thought about the connection to animal agriculture before reading that article. Upon reading the article, I became vegetarian-ish. Most people thought I was vegetarian because they never saw me eating meat, but in fact I wasn't. I had not made any vow to stop eating meat. I had simply read the article and thought, "OK! Just as I avoid car and air travel, I should also not eat meat unless there's no other option!" As it turns out, there was nearly always a vegetarian option wherever I went, so indeed I appeared to be vegetarian.
To learn more about vegetarian foods, I joined Bay Area Vegetarians. It was through Bay Area Vegetarians that I received an advance reading copy (in brown paper cover) of Meat Market by Eric Marcus in 2005. And that's when I went vegan for the animals—or, more precisely, vegan-ish!
I first learned about Vegan Outreach at a Bay Area Vegetarians event in February 2007. Upon seeing Jack Norris' presentation on vegan diets and the work Vegan Outreach is doing, I knew right away that this was an organization I wanted to support.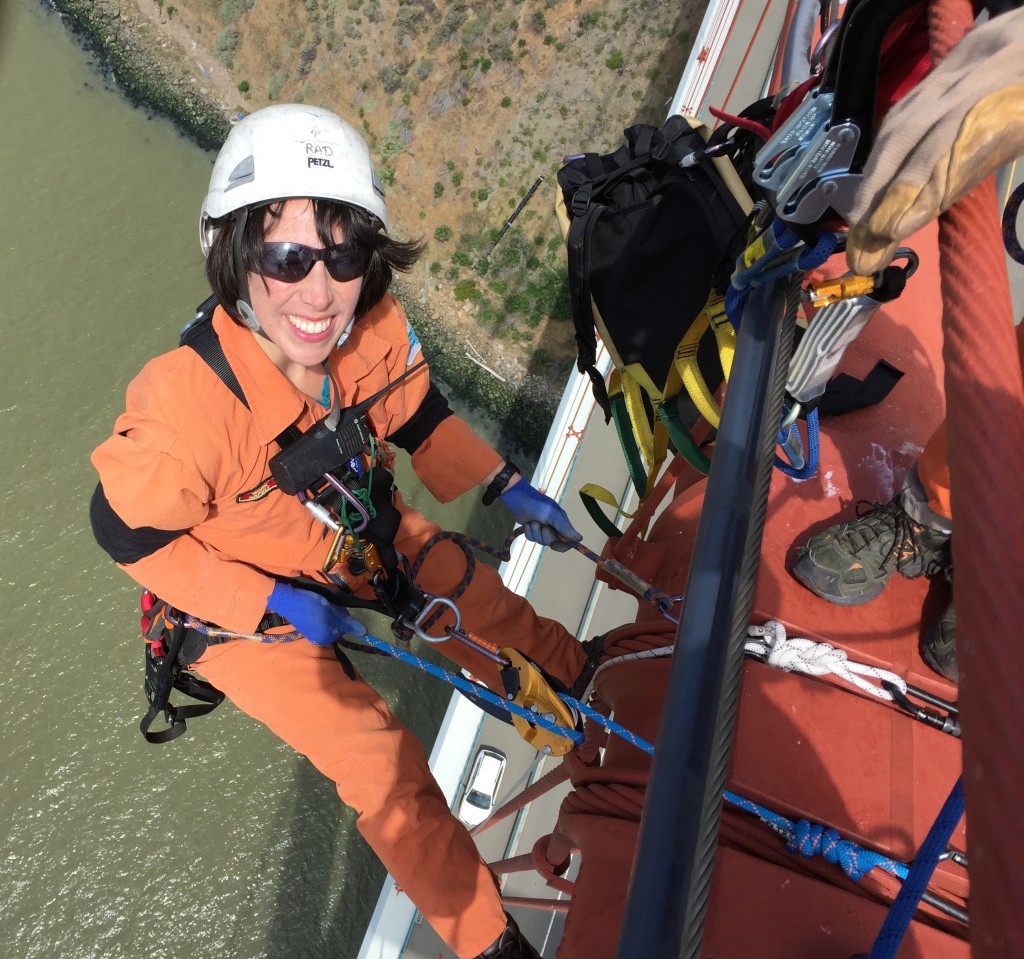 Alex: You've been donating to VO since 2007! That's amazing. Thank you! What first inspired you to give, and what has kept you doing so?
Rachel: I support Vegan Outreach because they have a pragmatic approach to opening hearts and minds about how we can make a difference in this world. I truly believe that the shift we are seeing toward vegan products being more available in the U.S. is connected to Vegan Outreach's work. Flyers such as VO's Even If You Like Meat encourage people to make vegan choices when possible, even if they do still eat meat sometimes.
I feel these kind of incremental changes are what will make the difference. If we can decrease the demand for meat, eggs, and dairy, to only 10% of what it is today, or 5% or 1%—imagine the billions of animals who will be spared a lifetime of suffering. Imagine how much lighter the world will feel when it no longer bears the burden of so much pain and suffering.
When it comes to activism for the animals, I believe strongly in philanthropy. I do like to participate in activism when I can, but generally it's more effective for me to spend my time working to earn money. This allows me to donate more to charitable organizations, including Vegan Outreach.
I would like to be like Cesar Chavez and pass away having very little money to my name because I gave it all away in my lifetime. If I do pass away unexpectedly, don't worry I do have Vegan Outreach listed as one of the benefactors for whatever is left in my bank account!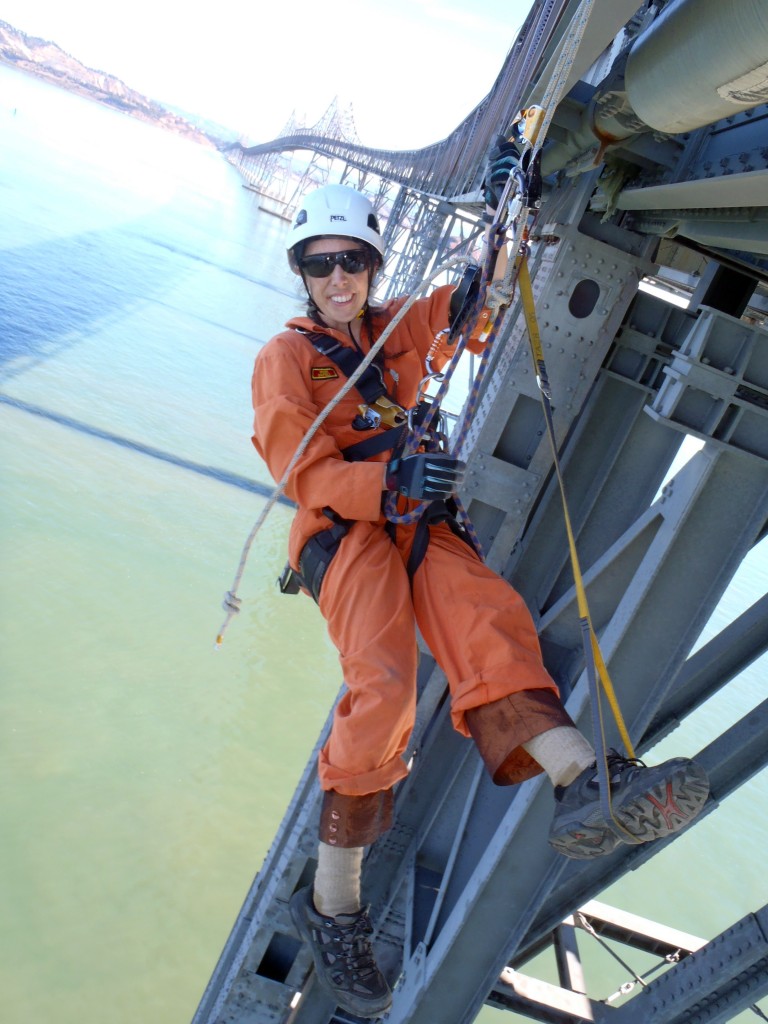 Alex: Thank you so much, Rachel, that's really awesome about your will!
Rachel, you have stepped up many times over the years to help us meet a challenge match or pull off an event. You're a huge part of Vegan Outreach and I hope you know how much we all appreciate you. Thank you.
One last question: What is your favorite vegan meal?
Rachel: Vegan buffalo wings, vegan Reuben sandwich, and vegan chocolate peanut butter milkshakes from The Chicago Diner!
Alex: Rachel, I'm grateful we met, to know you still, and to work with you to help animals. Thanks for a wonderful interview and stay safe when you're up on the bridges!
Readers—please contact Vegan Outreach if you'd like to make VO a beneficiary in your will.