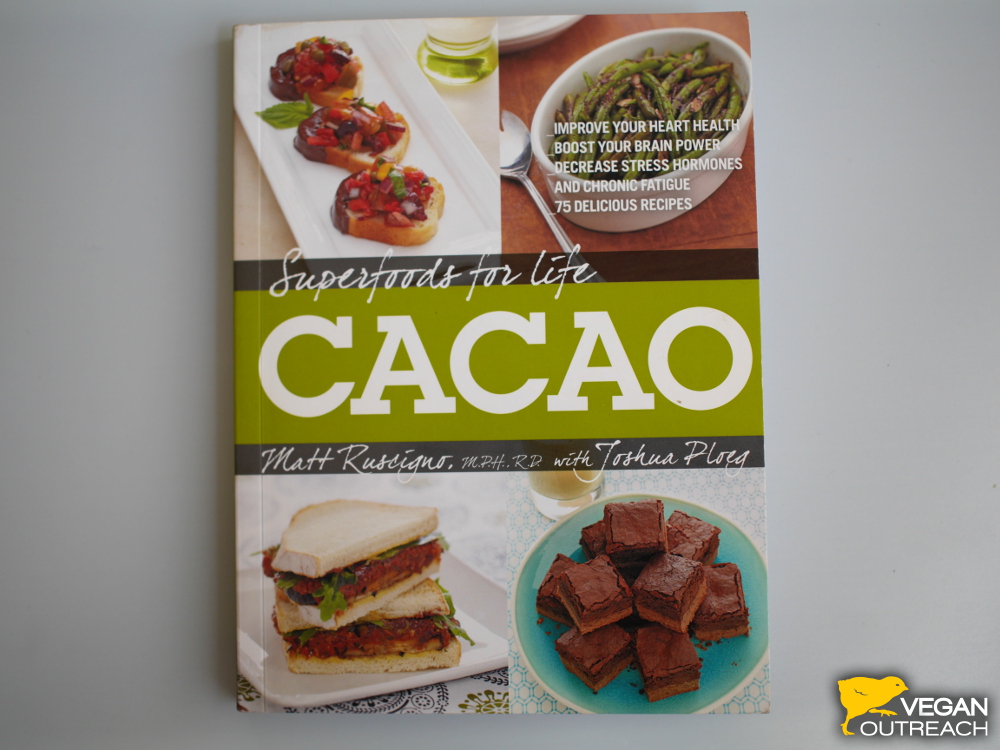 Reviewed By Toni Okamoto
First of all, the author of this book, Matt Ruscigno, is amazing! When the tour promoting Superfoods for Life: Cacao
 came through our area, I went with VO Executive Director Jack Norris to see him speak at Timeless in Oakland. He was extremely knowledgeable and entertaining.  He's heavily involved in activism for both animals and humans, he is a super athlete who rides thousands of miles on his bike, he's a well-known vegan Registered Dietitian, and is a generally nice guy! In addition to co-authoring this fantastic book with Joshua Ploeg, he also has co-authored books with big-time chefs like Isa Moskowitz.
But if that isn't enough to make you want to go out and buy this book, the recipes will definitely help you make up your mind! The master chef behind the food portion of Superfoods For Life: Cacao is Joshua Ploeg, occasional fellow Sacramentan and 100%-of-the-time talented cook. He's exceptionally creative with pairing ingredients, and has you mixing amazing spice blends you would have never thought of on your own.
My favorite thing about this book is the diverse range of recipes. It caters to different levels of cooking, different comfort ranges in your palette, and has many options for varying budgets. Below are the recipes I chose to try, and both were amazing!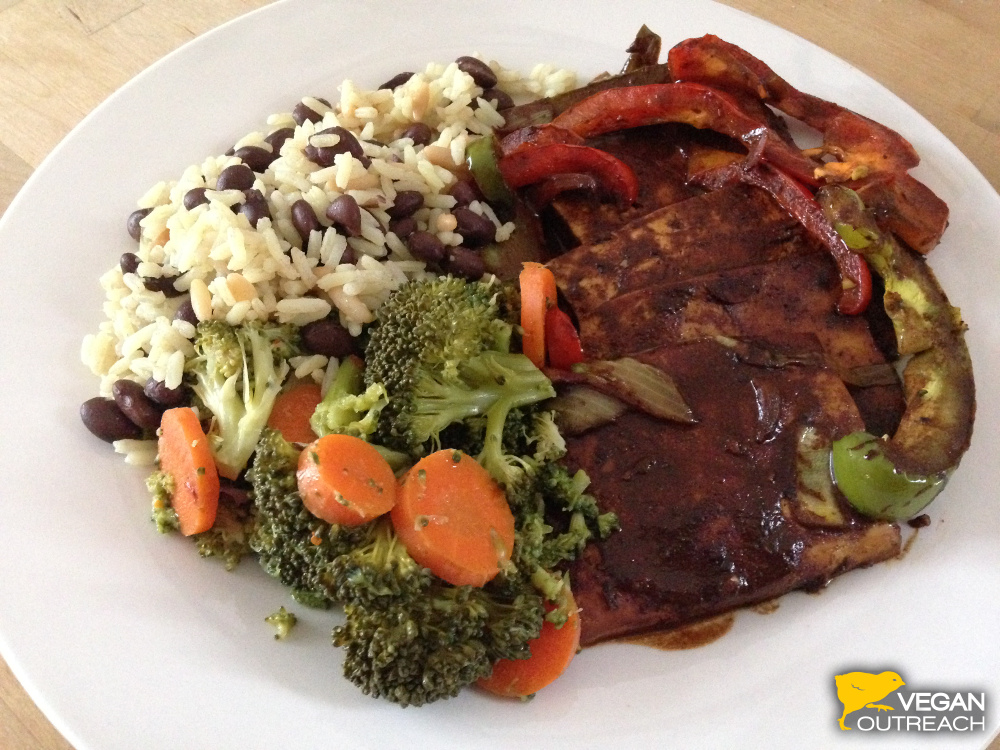 Tasty Cocoa Jerk Tofu
If you like spicy, this recipe is for you! You could probably skip the hot sauce if you don't, but it is REALLY good. Since Josh is a friend of mine, I messaged him and asked what veggies I should pair this dish with and he recommended spicy broccoli and carrots. I just steamed them and added some red chili flakes and they were delicious.
Ingredients:
For the sauce:
2 teaspoons curry powder
1 teaspoon chili powder
1/2 teaspoon each black pepper, cinnamon, and all spice
2 tablespoons hot sauce
1/3 cup cocoa powder
1/4 cup tamari
1/3 cup vegetable broth
2-3 crushed garlic cloves
1 tablespoon agave nectar
2 tablespoons olive oil
1 tablespoon lemon juice or balsamic vinegar
2 tablespoons hoisin, or tamarind, or plum sauce
1/2 teaspoon salt, or to taste
1/2 teaspoon ground oregano
For the tofu:
16 oz firm tofu
1 onion, sliced
1 red and 1 green bell pepper, each sliced
Directions for the sauce:
Blend together the sauce ingredients in a blender and set aside.
Directions for the tofu:
Cut the tofu block into 4 sections and then cut each of these into 4 strips. Mix the tofu with the vegetables and sauce in a casserole dish or other flat-bottomed vessel and allow to sit for an hour.
Add the tofu and bake, turning once, for 30 minutes, adding a bit more liquid if you need or want this dish to be saucier. Increase the heat to broil and broil for 5 to 7 minutes to finish.
Suggestions:
Serve this dish with seasoned black beans and rice. Some fried plantains would work well, too! Garnish with grated chocolate and scallions, if desired.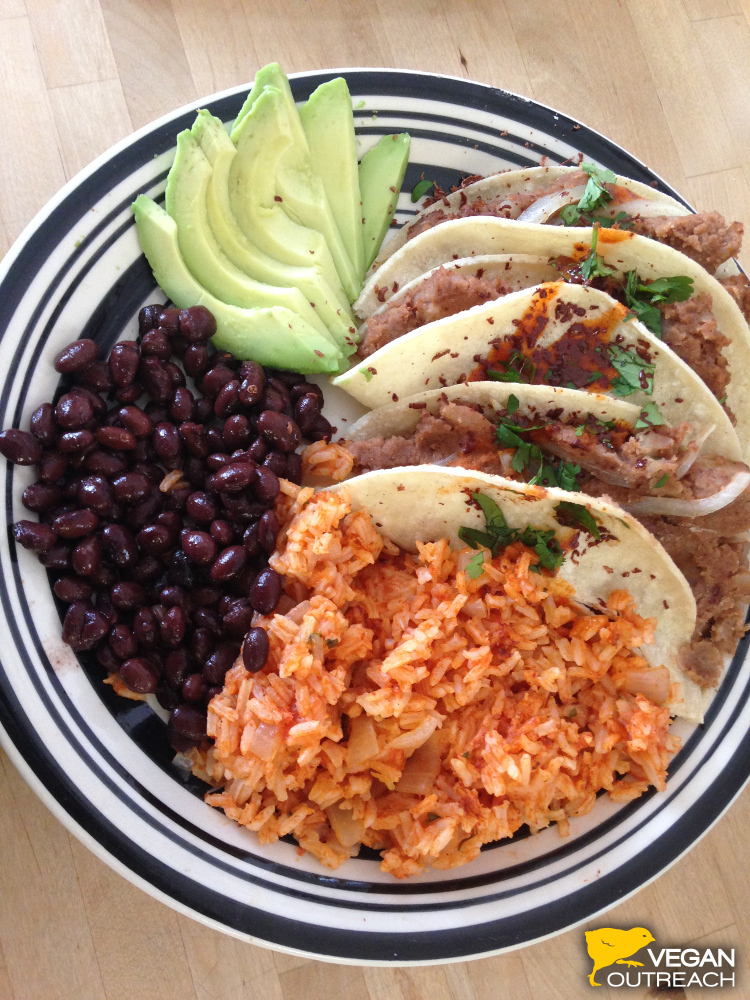 Cocoa Potato Tacos
These tacos were very inexpensive to make and the cocoa powder added a complexity that basic potato tacos usually miss. I wish I had dressed them up with more veggies (I'd add tomatoes and lettuce), but they were still tasty paired with black beans and Mexican Rice.
Ingredients:
1/2 teaspoon salt
1 teaspoon chili powder
1 tablespoon cocoa powder
2 teaspoons olive or canola oil
2 teaspoons lime juice
2 cups cooked mashed potatoes
2 minced garlic cloves
1/2 cup sliced onions
2 tablespoons grated bittersweet chocolate, more to taste
2 to 3 tablespoons minced fresh cilantro
8 to 10 corn tortillas
Olive oil, for brushing and sauteing
Lime wedges for serving
Directions:
Stir the salt, chili powder, cocoa powder, oil, and lime into the mashed potatoes in a medium mixing bowl. Set aside.
Saute the garlic and onions in a little oil in a large skillet over medium-high heat for 2 minutes. Add the mashed potatoes, lower the heat to medium, and cook, flipping until browned in places (this will take around 4 minutes per "side"). Scoop into the tortillas (about 1/3 cup per tortilla), sprinkle with grated chocolate, cilantro, a little lime juice, and chile sauce and fold over. Cook in very light oil in a skillet over medium heat, turning once, until crispy on both sides (around 2 to 3 minutes per side). Or alternately brush with oil and bake at 400 degrees, turning once, for 7 to 10 minutes or until the shells are browned. You can also not bother with the oil if you don't wish to.
Suggestions: The One-Hour Mole or the Enchilada Sauce variation if the Chocolate Marinara from this book go very well with these tacos, as does salsa or avocado. For a spicy kick, add 2 tablespoons chopped sliced jalapenos to the saute.