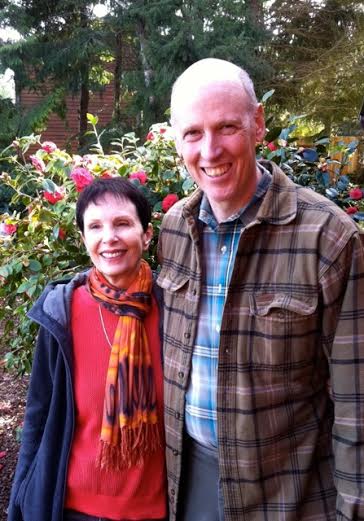 Welcome to another edition of our Supporter Spotlight posts!
We have so many supporters, all of whom have interesting stories about how they got involved with animal advocacy and Vegan Outreach! These posts let us take a moment to shine a spotlight on our members, whose hard work and generosity truly enable the work of VO.
This time we talk to Jean Bettanny and her husband Tom. They've supported Vegan Outreach in many ways over the years, and it's such a pleasure to work with them to reduce suffering. Let's get to know them!
Tell us about yourselves, Jean and Tom.
I am a retired computer programmer / hair stylist, age 70. Tom, my husband of 30 years, age 55, is an intellectual property attorney. We love Latin and Swing dancing, Dj-ing local dances, tennis, travel, movies, bridge and online chess. In addition, Tom is a boating and outdoor enthusiast.
I also volunteer for Vegan Outreach, have burned and distributed thousands of factory farm DVDs, write letters to the editor, and speak up for animals whenever I can.
Share with us the story of your vegan journey.
Tom and I are in our 21st year of plant-based eating and could not imagine going back to the standard American diet (SAD). Even as a child, the thought of killing innocent animals for food bothered me, but I bought into the myth that meat, dairy and eggs were required for human health. Indeed, these foods were listed as the major food groups when I was in school. Butter had its own food group!
Tom had experimented with veganism as a teenager and was also sensitive to the treatment of animals.
In 1995, at age 50, I gathered the courage to read Diet for a New America by John Robbins. It sat unopened on my bookshelf for 6 years because I knew I would have to finally confront details of the nightmarish cruelty inflicted on farmed animals. The book was life-changing however, by making it clear that one could be perfectly healthy on a vegan diet, and that was enough to make the change a no-brainer. We continued our research, reading many other authors, Peter Singer, Gail Eisnitz, Carol Adams, Howard Lyman, etc. and learning how to "veganize" our meals.
How did you first get involved with Vegan Outreach?
I supported all the animal rights groups I could find before discovering Vegan Outreach around 2000 via internet search, and was so impressed with their philosophy that I decided to focus exclusively on this organization.
What inspires your support of VO?
The Henry David Thoreau quote appearing in Vegan Outreach's early literature: "There are a thousand hacking at the branches of evil to one who is striking at the root."
The root cause of 99% of animal suffering is eating them. By focusing exclusively on veganism and targeting the audience most receptive to change, I believe Vegan Outreach's grassroots approach is the best strategy to reduce the most animal suffering in the shortest amount of time with the least amount of resources.
What advice would you give to someone reading this who is considering adopting a vegan diet?
Vegan recipes and advice on how to "veganize" your existing recipes are readily available on the internet. I would advise every aspiring vegan to watch Michael Greger's video Maximum Nutrition. Near the end of the video he demonstrates how to prepare some easy meals to get you started.
If, like me, you don't care for cooking or complicated meal preparation, keep a freezer full of Amy's frozen sandwiches and meals, veggie sausages and salami, baked tofu, seitan, Trader Joe's vegan meats, frozen fruits and veggies and just heat everything up quickly in the microwave oven. If you don't want to buy meat analogues, cook a large pot of rice or other grain and serve with beans and veggies, flavor with olive oil and nutritional yeast (tastes like Parmesan cheese) and spices.
For snacks, keep on hand varieties of nuts and seeds, fresh fruit, corn thins, bread, nut butters, cereal, soymilk, raisins, etc. A typical small meal for me is a microwaved sweet potato with margarine.
Finally, share with us your absolute favorite meal.
Jean: A large bowl of fresh or frozen mixed berries (thaw in microwave) topped with vegan sour cream and maple syrup. I have to add that I'm addicted to nutritional yeast flakes and sprinkle it on everything from veggies, potatoes, grains, popcorn, etc.
Tom: Tofu Reuben sandwich – toasted sourdough bread with a slab of tofu sautéed in onions, sauerkraut, mustard, Vegenaise and pepper with a Greek-style salad on the side.
Thank you, Jean and Tom, and thank you to all our wonderful supporters!