By Jackie Day, Guest Contributor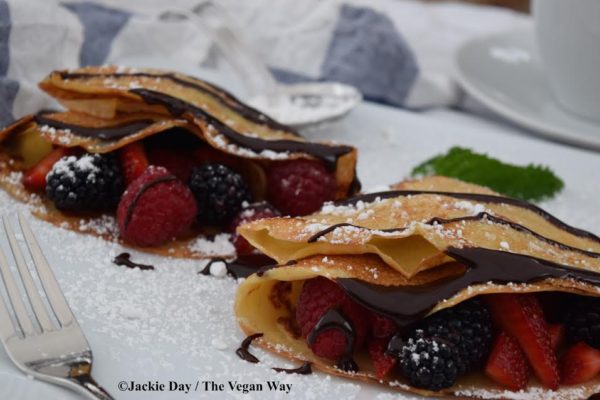 Oooh, la laaah, these are so good! I created this recipe with the novice crepe maker in mind, so they're a tiny bit thicker, and slightly smaller than traditional French crepes, making them easier to flip. If making crepes is old hat for you, feel free to add a bit more nut milk to make them thinner. And don't fret if the first one doesn't turn out perfect. It's called the "chef eats first" rule: gobble it up, and move on to the second! Nom, nom, nom.
Be sure to read through the directions before beginning to make these, so you're not caught off guard by the "wait" time.
Sweet Sunday French Crepes
Yields 4-6 small crepes.
Ingredients
1 cup unbleached all-purpose flour
2 teaspoons sugar
1 ⅛ cup almond milk
¼ cup fresh orange juice
¼ teaspoon sea salt
1 tablespoon aquafaba
1 teaspoon pure vanilla extract
Oil or vegan butter, for the pan
Warm jam or fresh berries, for the filling
Melted vegan chocolate chips and powdered sugar, for topping (optional)
Directions
In a large nonreactive bowl, mix together the flour, sugar, almond milk, orange juice, sea salt, aquafaba, and vanilla. Try to get out as many lumps as possible. Now here's the real hard part: let the batter sit for at least 15 minutes. The reason this is necessary is so that the liquid permeates into any remaining lumps of flour. No one wants lumpy crepes.
Once the batter has "rested" for 15 minutes, give it another mix, and heat up a little bit of oil or vegan butter in a 12″ nonstick pan on medium heat.
Gently add about ⅓ to ½ cup of the batter to the center of the pan, then lift, tilt, and rotate the pan immediately to create a thin, even circle of batter. It's good to leave about an inch or so of space around the crepe so you'll be able to get a spatula underneath to flip it.
Once the crepe has a few bubbles, and is lightly golden on the edges, gently move around the crepe with a spatula. Once loose enough around the entire circle, gently flip it over to the opposite side. The second side will likely only need about a minute or less to cook.
Gently lift the crepe out of the pan and place on a plate. (If your plates are cold, I recommend placing them in the oven on "warm" before you begin so your crepes stay warm as you make more. Just make sure they're oven-safe plates and that the oven is set at the lowest setting).
Continue making crepes in the same manner until you use up the batter.
To serve, spread warm jam on the crepes and then roll up. Or fill each crepe with fresh berries, and fold. Drizzle the crepes with melted vegan chocolate chips (Trader Joe's has vegan dark chocolate chips) and/or dust with the powdered sugar if desired. Bon vegan appétit!
This is an original recipe from The Vegan Way by Jackie Day that has been published with permission.