By Victor Sjodin, Director of Outreach

We've got big plans to save a lot of animals this semester!
Vegan Outreach's Outreach Coordinators have their vehicles packed—with thousands of leaflets and plenty of good vegan snacks—and are hitting the road to begin their spring semester leafleting tours.
Trailblazing Jamila Alfred will resume her tour of historically black colleges and universities in the Southeast. Yuri Mitzkewich will also be in the Southeast territory, but he'll add many Texas schools to his spring tour—a first for him.
Steve Erlsten will be promoting peace on the plate all over California, southern Oregon, and Reno, NV. And rookie-no-more Sean Hennessy, has a big semester planned in Ohio and the surrounding areas.
Kimberly Moffatt will leaflet Virginia, Upstate New York, and Pennsylvania. Lori Stultz is also back in action—she'll cover Colorado, Wyoming, and Arizona.
Rachel Shippee will be making sure that everyone in Michigan hears the vegan message. And Lana Smithson will cover Maine, New Hampshire, Vermont, and parts of the Boston, MA area.
We're happy to announce a few new additions who will help leaflet in the remaining areas in the U.S. Longtime volunteer, John Deetjen, will cover the Upper Midwest, and Chris Shapard will be in Eastern Washington, Idaho, Utah, and Montana. The dedicated Cristina Myers Cuadrado will be leafleting in several states, including Virginia, Tennessee, North Carolina, South Carolina, Georgina, and Florida.
Our stand out volunteers, Victor Flores and Karla Reyes, will visit schools in their home state of New Mexico, as well as Oklahoma and the cities of El Paso and Lubbock, TX. Past volunteer, Alexis Clark, will be in New Jersey, and in New York City and Long Island, NY.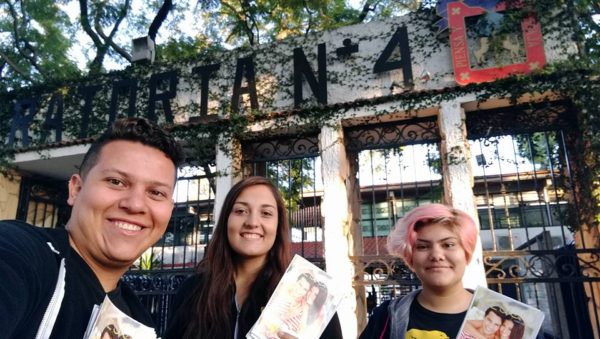 Outside of the United States, Emmanuel Márquez will lead another tour all around Mexico—focusing on cities that have not been leafleted much in the past.
Jevranne Martel is starting off in British Columbia and will continue to spread the good word across the continent all the way to Halifax, NS. Jev's tour will be a special one for Vegan Outreach, as she'll visit schools in far east Canada that have never been leafleted before.
Sam Tucker will again hit the Brisbane, Melbourne, and Sydney metropolises in Australia. He'll also be in Auckland and the rest of New Zealand. Pooja Rathor will be distributing booklets in the Indian states of Punjab, West Bengal, Madhya Pradesh, and Rajasthan. Siddharth Sharma will cover Uttar Pradesh and Uttarakhand states in northern India.
Everyone here at Vegan Outreach is super excited about this spring's outreach team! We want to give a huge thank you to everyone—donors, hosts, and volunteers—who supports these hard working and dedicated activists. You all play a vital role in our work.
Safe travels everybody!